Harsin hires former Broncos Yates, Sanford Jr. as coordinators
New Boise State coach Bryan Harsin has tapped the team's network of alumni for both his new offensive and defensive coordinators.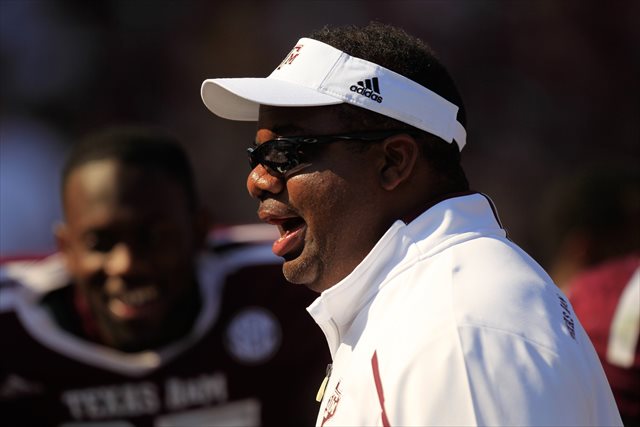 New Boise State coach Bryan Harsin knows that returning to coach at one's alma mater can be a special opportunity -- after all, Harsin himself quarterbacked the Broncos from 1995 to 1999.
So it's no great surprise that Harsin further tapped the network of Bronco alumni to fill both of his coordinating positions, naming Texas A&M co-defensive coordinator Marcel Yates Boise's new play-caller on defense and Stanford assistant Mike Sanford Jr. as the team's new offensive coordinator.
Sanford Jr. spent three seasons in Palo Alto as running backs and then quarterbacks and receivers coach, while Yates had been at Texas A&M for two seasons after coaching Boise's defensive backs from 2006 to 2011. Both coaches played for the Broncos, Yates in the secondary and Sanford Jr. at quarterback.
"It's an honor for me and my family to come back to Boise State," Yates said in a statement. "As excited as I am, I understand I have big shoes to fill. Coach Petersen and his staff have left Boise State in a great position, and I am elated about the opportunity to help continue this success."
Along with previously announced assistants Andy Avalos and Scott Huff, Harsin has named four of his new staff members -- and all four played football at Boise State. So say this for Harsin and his staff: theyre won't be any misconceptions about the Bronco program or he job at hand. 
Getting Leavitt back was obviously high on Cristobal's list of priorities

Cristobal's first game at Oregon ended the same way Chip Kelly's did

Conner Manning and the Panthers dominated the Hilltoppers in the Cure Bowl
You can only go to the well so often before it dries up

The Trojans beat LSU earlier in the year and now have their first 11-win season as a FBS t...

Saban has never been a fan of the early signing period and made it clear that hasn't chang...