Harvey Updyke denied reduced restitution payments to Auburn
Judge rules that Harvey Updyke must continue to pay $500 per month despite being unemployed.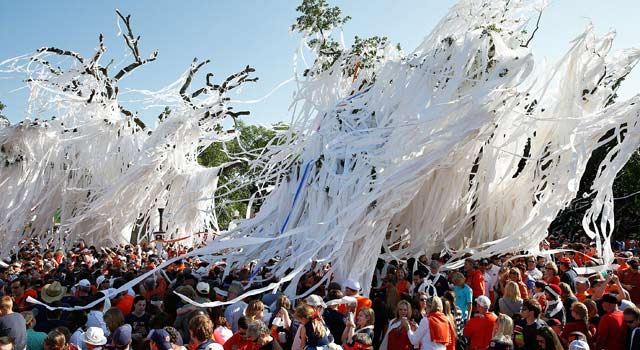 Last month, Harvey Updyke was ordered by Lee County Circuit Judge Jacob Walker III to pay Auburn University $796,731.98 in restitution for having poisoned Auburn's famous Toomer's Corner oak trees.
Unemployed and living in Albany, La., the chances of Crimson Tide diehard Updyke ever repaying Auburn the full amount are nil. But he'll get closer than he'd like after Walker denied Updyke's request for leniency on his monthly payments Tuesday, al.com reported.
Citing "substantial hardship" in regards to her client's finances, Updyke attorney Margaret Brown had requested his monthly payment be reduced from $500 to $50 -- a figure at which, per al.com, "it would have taken the 65-year-old Updyke more than 1,300 years to repay the debt."
In asking Walker to deny the request, prosecutors argued that Updyke had not provided sufficient evidence of hardship to reduce the restitution amount.
After pleading guilty to poisoning the Toomer's oaks in March, Updyke was sentenced to six months in jail (he was released in June) and five years' probation. Failing to make his monthly restitution payments could result in having his probation revoked.
Schiano would have made $4.4 million in Year 1 with annual raises as part of a six-year de...

Dykes spent this season as an offensive analyst at TCU

The "Wyoming Wild Man" notched six tackles for loss as a junior in 2017
Zaycoven Henderson was charged with aggravated assault with a deadly weapon

Patterson is a former No. 1 recruit in the country

Baker Mayfield and two Sooner teammates made the first team