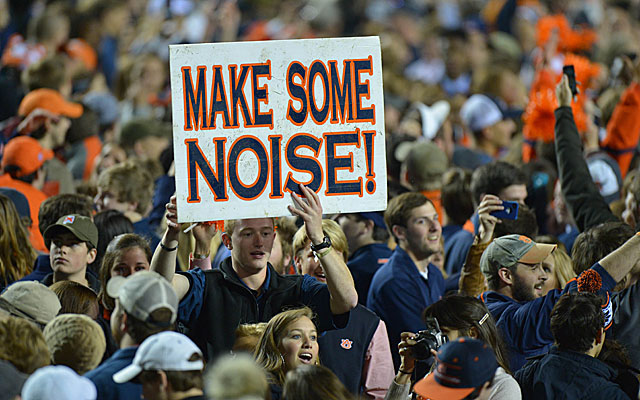 There is a theory floating out there relating to college football that is as scary as it is real.
In the 1950s, geoscientist M. King Hubbert coined the term "peak oil," the time when oil production is at its maximum, half of the planet's supply has been used. From that point earth's most valuable natural resource is in decline.
Scary and real because it's going to happen, if it hasn't already. Apply that to our favorite sport. Is it blasphemous in these heady times to ask whether college football has reached its peak? Was the dramatic rise of the game in the past 16 (BCS) years as good as it gets?
As fun and bright and promising as the playoff era seems, it's still an athletic IPO. Conference realignment is all but over. All the conference rights fees -- except for the Big Ten -- are negotiated far into the future. Legal concerns loom regarding the head trauma issue.
It's time for the game to reprove itself. Historically, there's something about college football that does not endure. There's a reason there hasn't been a back-to-back Heisman winner since the mid-1970s, or that no team has ever won three consecutive national titles in the wire service era.
We've enjoyed transformative players such as Tim Tebow, Cam Newton and Johnny Manziel in recent years. Can we continue to count on such compelling figures?
Or is it the game itself?
Six months until that first playoff season, we're going to at least raise some of those peak oil issues ...
• Already cracks -- small ones -- are appearing in attendance.  While another national attendance record was set this season (38 million total), average per-game attendance was flat -- up an average of only 230 persons per game. (Even with a record 7.5 million fans watching the SEC last season, the overall average attendance increased only 136 folks per game.)
• There is a freak-out factor regarding student attendance. Overall, it seems to be down. The Big Ten is No. 2 in overall attendance to the SEC. But as ESPN.com's Darren Rovell pointed out, mighty Michigan has seen a concerning decline in student attendance.
The lack of WiFi in decades-old stadiums is giving students a reason to stay away. Win, lose or flask, students love to text, Instagram, Snapchat -- stay in touch.
The larger concern is that current students choosing to stay home in front of HDs won't be infected with that college spirit that causes them to become donors years from now.
• As promising as the coming playoff is, there are still uncertainties. Take the venerable Rose Bowl. In the playoff era, it may be changed forever. College Football Playoff executive Bill Hancock expressed concern on Jan. 1 that the Granddaddy of Them All may not sell out next year.
• Is the SEC's stranglehold good for the game, or not? 
Basically how much is too much? Industry experts agree that television is oversaturated with college basketball. Hoop heads may delight in Syracuse-Duke or an undefeated Wichita State, but those are spikes in an otherwise flat-line of a regular season. All that really matters is March.
College football ratings are through the roof, but does any of this portend a peak oil stage? In the BCS era, college football became the nation's No. 2 sport behind the NFL. 
"The question is not how big can it get, but at what cost?" Michigan State AD Mark Hollis said.
Hollis is considered perhaps the No. 1 idea man in college sports. It was his idea to match Michigan State and North Carolina basketball on the deck of an aircraft carrier. Michigan State-Kentucky in 2003 set a (then) world record for hoops attendance at Detroit's Ford Field.
He had the brilliant concept of playing four basketball games at once on the floor of AT&T Stadium, site of this year's Final Four. For a variety of reasons, his idea didn't take hold.
Hollis has built flourishing championship programs in men's basketball and football, some would say, in the shadow of rival Michigan. One thing can be said: MSU is little brother no more.
"I don't see a decline in football or college basketball," Hollis said. "Where I see the decline is the ability of the athletic department to fulfill the mission of a broad-based program.
"You put more and more emphasis on those two sports, it has a dilution factor that starts to take you away from an academic setting to one of commercialism."
Balancing the academic mission vs. a for-profit business model is behind every major issue in college athletics these days: the O'Bannon lawsuit, concussions, coaching salaries, rules violations.
The amateur enterprise exists in a market-driven environment. Hollis eloquently addressed the "peak oil" question last year.
"The popularity of the sport is at an all-time high," said Dean Jordan, a well-known media consultant who has worked with the ACC, Big Ten and Big 12, among others. 
"Our competition is people's time," Jordan added. "We have to have a product where the value to the buyer and the experience is worth that person's time. As long as we have that, then we'll be OK.
"I don't think that we're at a tipping point. I think we're at an exciting stage of the game."
Judge for yourself:
The playoff: It's here because of the sport's popularity. ESPN and the commissioners wouldn't have assembled a 12-year, $7 billion entity if there wasn't upside.
The question is what unintended consequences lay ahead. The national discussion over which teams are (perceived to be) screwed will be at least as loud as the BCS.
With coaches' contracts now increasingly including bonuses for making that playoff, careers will be impacted because of the opinion of that 13-person selection committee.
A four-team playoff doesn't cure all ills, but an eight-team bracket, critics say, that would ruin everything.
Are we stuck in playoff purgatory?
O'Bannon: The NCAA is going to have to address the landmark lawsuit in some sort of way.  If a settlement includes some sort of professionalization of players, does that turn off the public?
We're virtually assured in the future of a cost-of-attendance stipend that will pay athletes ... because they're athletes. If the Johnny Manziels of the future are able to profit off their likeness (jersey sales, autographs), does that pollute the amateur purity of the sport?
Imagine Johnny Football becoming Johnny Inc. -- while he's still in school.
The SEC issue: Like it or not, that SEC Network is launching in August.
It is the result of micro economics. Within wildly popular college football, the SEC is the most intensely followed conference. ESPN is betting there is no such thing as SEC fatigue, to the point the cable network is reportedly asking for $1.30 per cable subscriber within its 11-state footprint. That's more than the Big Ten and Pac-12 networks.
You may have been sick of seven straight SEC national championships (streak broken in January). But the success of the network may be based on the belief that the SEC is going to compete for a national championship every season.
The Big Ten Network has thrived. The SEC Network looks promising, but there are cautionary reminders -- the defunct The Mtn. and  struggling Longhorn Network.
Virtually every FBS game is now televised whether it's streaming on the Sun Belt site or multiple games on BTN. That wasn't the case at the beginning of the BCS.
The regular season: The playoff stakeholders are determined to protect it. They believe that a four-team playoff doesn't impact, say, Ohio State-Michigan to the point that Urban Meyer (for example) is resting his starting quarterback because the Buckeyes are already in.
Consider that last season, the Iron Bowl would most likely have been for seeding in a four-team playoff. In that scenario, Bama could have been chasing four national titles in five years while winning the SEC only twice during that span.
Isn't that impacting the regular season?
Studio football: The concept being, that the TV experience has become so compelling that attendance matters less and less. The upshot being that the living room and HD become the experience instead of game day.
Thus, studio football. Hey, even the mighty NFL has become vulnerable.
"I don't think it [studio football] is OK," Hollis said. "The value of TV is to see the experience and the enthusiasm, the full stadium, the student body."
"Every game is on HDTV," Jordan said. "When you get a situation where the in-home experience is a 60-inch flat screen with an easy chair with a cooler full of beer, that becomes tough to pass up."
It's hard to make the studio football case when the SEC, Big Ten, ACC and Pac-12 set overall attendance records in 2013. But some of that has to do with conference realignment. The SEC and ACC should have set records. Those conferences grew in membership.
"There's always a saturation point," said former Big 12 commissioner Dan Beebe. "Maybe there has to be a retreating from the (ticket ) cost, along with enhancing that in-stadium experience that you can't get at home."
Everyone spoken to for this column agreed with Football Bowl Association executive director Wright Waters. That in-stadium experience trumps all. The color, history, tradition and tailgate of the game should override the concern of wiring 80-year old stadiums with WiFi. Waters called it a "wrestling match" matched against the possible overexposure of television.
"Attendance is a component," he said. "It's not the component.
"If we don't have people in the stands we lose some of the feel for game. Does that mean smaller stadiums being built? The atmosphere is what drives people to spend money to go to the games.
"Does TV take away from that or is TV an infomercial for people to go in the future?"
The answer is obvious for some. Infomercials for mops may be annoying but they grow college football. Next year there will be a record 38 bowls. With three more FCS teams jumping up to FBS (129 total), there will be more bowl eligible teams to fill those 76 spots. Appalachian State (average 25,000) and Georgia Southern (15,000) may drag down the national attendance average, but they also will be warm bodies for lower-level bowls.
And if you think those lower-level bowls are unwatchable, someone is flipping on the set. TV ratings were up in 56 percent of all bowls (70 total games) the last two seasons.
Screens: Increasingly we consume our games, entertainment and news on tablets, phones and computers. The so-called TV Everywhere concept is great for the consumer, but how does it impact a possible college football tipping point?
Those apps may end up being nothing more than value added for consumers.
"TV Everywhere is a mechanism to keep people from dropping their cable systems," one cable industry expert said.
But college stadiums have to be wired to keep the modern consumer. NFL stadiums tend to turn over faster, and thus are more likely equipped with latest technology.
One answer might a combination of elements in a modern, wired, smaller package.
"I wonder if 20 or 30 years from now the experience on TV is so great that the next phase of stadia is going to be 50,000 seats," Beebe said. "It becomes a demand to get those seats. Instead of 85,000 seats, it starts to change down ...
You pack it in and it's a raucous atmosphere. That is good for the experience and for TV."
Doesn't sound like peak oil, more like a sport that is still peaking.