Hawaii announces return to 'Rainbow Warriors' nickname
One of the most colorful nicknames in college football is back after Hawaii announces all school teams will be called the Rainbow Warriors.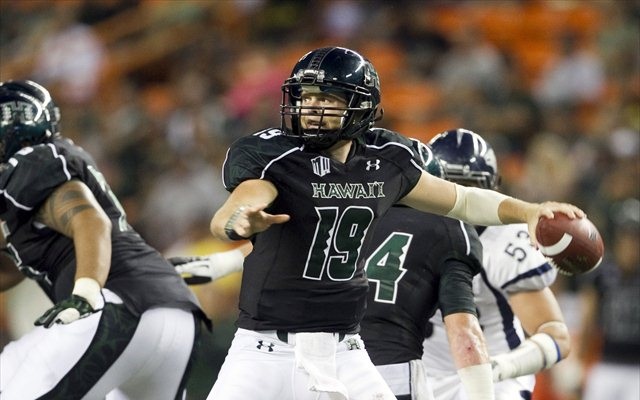 Plenty of college football teams have worn throwback jerseys the last few years. But it appears Hawaii will be the first to adopt a throwback nickname.
Per the Honolulu Star-Advertiser, Hawaii athletic director Ben Jay announced Tuesday that all of the school's men's athletics teams will once again be known as the Rainbow Warriors -- including the football team, which has used the nickname "Warriors" since 2000. The school's women's teams will continue to be known as the Rainbow Wahine.
"I've been asking since I was hired here [in December] who we are and what is most representative of the islands," Jay said. "Those three words -- Warriors, rainbow and Wahine -- are representative of who we are."
Unusually, the school's men's teams have gone by a variety of nicknames since former coach June Jones moved to remove the "Rainbow" from the football team's nickname in 2000. The school then elected to let each men's program decide for itself what to be called -- some choosing "Warriors," some choosing "Rainbow Warriors," and the baseball team continuing as the "Rainbows."
The resulting confusion led to Jay announcing in February that all men's teams would be known as the "Warriors," a move that he said on Tuesday "generated a lot of discussion" among Hawaii supporters -- and, it would appear, led to Tuesday's reversals.
With the "rainbow" restored to the nickname, the next question for the football team becomes: will it abandon the black-and-green uniform motif associated with the "Warriors" name and return to the bright-green-and-multicolored look from the decades prior? Via UniWatch, here's what the Rainbow Warriors looked like in 1959:
The sooner these reappear, Warriors -- er, Rainbow Warriors -- the much, much better.
Guice is dealing with a 'minor injury' that has not been specified by coach Ed Orgeron

Professional college football bettors are loving Jim Harbaugh and Michigan against Purdue

Temple knocked off USF last year to claim the division title
These are the best bets to make in Week 4 including Florida-Kentucky and Oklahoma State-TC...

Two players died as a result of playing college football on Saturday

Gary Danielson previews this week's SEC on CBS Game of the Week from Nashville