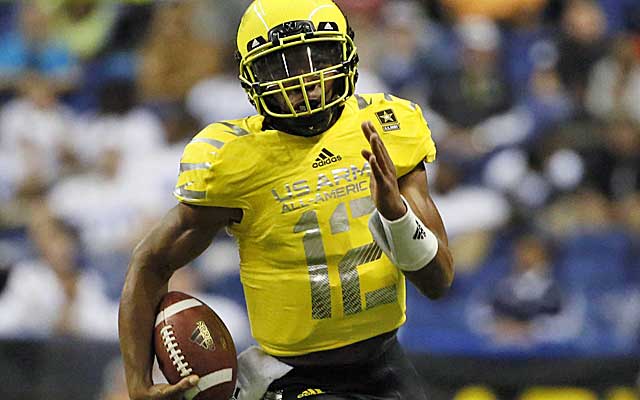 More college football: Bruce Feldman | Dennis Dodd | Jeremy Fowler | Latest news
Jerrod Heard was the nation's No. 2 ranked dual-threat QB recruit in the Class of 2014. He'd been committed to Texas since before his junior year of high school. Obviously, a lot of things at UT have changed since then, but Heard, who grew up a big Vince Young fan, is still excited to be a big part of the Longhorns future.
Last week, Heard, now up to 205 pounds, used to his spring break to spend a week with his family in San Diego. Heard was one of the dozen quarterbacks training with private QB coach George Whitfield. Heard's big focus was to continue to develop his pocket presence, he says. We also chatted about the challenges of being a Texas commit last year with so much uncertainty surrounding the program; which schools came after him the hardest and the pressure of being a Texas QB signing on to play for the home-state Horns these days.
Q: How tough was last year on you, dealing with the recruiting process while you're hearing all these rumors about Mack Brown and what was supposedly going on with the Texas program?
Heard: I definitely had to have patience. I didn't want to rush things or really panic over what other people were telling me. I just had to wait and see, but when I heard it was (Charlie) Strong and (quarterbacks coach) Shawn (Watson) coming in, I was pretty settled and excited to hear they were coming in.
Q: Did they recruit you at all from Louisville?
Heard: Shawn said he did, but I committed pretty early.
Q: Which schools came after you the hardest when there was that time window that Mack was out and Texas didn't have a head coach?
Heard: Probably Baylor, Boise State and Missouri. They were just seeing where I was at and if I had made that decision to go somewhere else.
At that time period, I didn't know what was going to happen and who Texas was going to hire. I just had to be patient.
Q: Was there any kind of offensive system that someone could've brought in that might've steered you off of Texas?
Heard: No, not really. I felt like I could easily adjust to a system and still have my athletic abilities to still make plays. Coach Watson does run the West Coast offense spread and that's kinda what we ran at (Denton) Guyer (High School). I felt really accustomed to that and liked his ideas of what he brings to the game.
Q: How much pressure is there as a Texas kid as a big-name QB recruit to wear (the burnt orange) these days when lots of people are talking about Texas A&M or other programs in the state more than UT?
Heard: There's definitely a lot of pressure. It's not just going to Texas, but it's the history of Texas quarterbacks. There's a lot of great quarterbacks who went onto The League from Texas. You get a bar that you have to be set on. It's a really nice pressure to have though.
Q: Who handled your recruitment for Texas?
Heard: (Bryan) Harsin.
Q: And he tried hard to get you to go to Boise State with him after (the one-time Longhorn OC) was hired as the Broncos new head coach?
Heard: Yeah, he tried to get me to go to Boise. We have a good relationship. We always kept in communication because our relationship outside of the recruiting was pretty strong. I told him my reasons and that I'm all for keeping your word and it was pretty good.
That's also a pretty long way from Denton. (laughs)
Q: Have you talked to Mack since he got let go?
Heard: No, I haven't but I do see him on Twitter, though. I follow him on there.
Q: When you got up to UT now, how much different does the vibe seem than it did before?
Heard: It's a different feeling. It's more uplifting. You can feel more presence. It's just a whole different vibe.
Q: More intense?
Heard: You can say that. You know how Coach Strong loves discipline and the rules are pretty strict in there.
Q: What are the goals for 2014 that you have for when you get to Austin?
Heard: They are whatever the coaches want me to do. Of course, I feel like I can play. Like coach said, it is up to me, but it's also how the situation goes.
The (QB) job is an open situation, especially with the new coaching staff and a new system coming in. It's an open job, so I'm going to try and get in, get my opportunity and take over.