Heart of Dallas Bowl Primer: Oklahoma State vs. Purdue
On paper, it's a mismatch. But can the Boilermakers prove the doubters wrong against Oklahoma State in the Heart of Dallas Bowl?
There are 35 bowl games. Here's everything you need to know about one of them.
Oklahoma State (7-5 overall, 5-4 Big 12)

On the one hand, no one was expecting the Cowboys to repeat their 12-1 Big 12 and Fiesta Bowl championship glory of 2011 without Brandon Weeden, Justin Blackmon, and a host of other former contributors. On the other, when the Cowboys look back at 2012, they'll still gnash their teeth over how close they came to making it another truly special season. If not for special-teams issues, they could have easily defeated Texas, and they blew not one but two double-digit leads against Oklahoma. Win those, and the Cowboys are 9-3, probably playing the actual Cotton Bowl instead of the Zombie Cotton Bowl* and gearing up to unleash a fully primed J.W. Walsh in 2013. As is: Defeating Purdue will be a necessity to avoid making 2012 a full-fledged disappointment.
At their best: Another consequence of dropping the Texas and Oklahoma games: the lack of a true marquee victory on the Cowboys' resume. Which is not to say Mike Gundy's team didn't put up a couple of their usual eye-popping final scores, most notably the 59-21 demolition of Texas Tech on Nov. 17. Clint Chelf connected with Isaiah Anderson for scores of 66, 60 and 33 yards, and the Cowboys blocked two punts to put OSU up 52-14 before the end of the third quarter.
At their worst: It took just two weeks for the shine to come off of true freshman quarterback Wes Lunt. The Cowboys went to Tucson in early September and fell to Rich Rodriguez's Wildcats 59-38. Lunt threw for 436 yards but also tossed three back-breaking interceptions, one of which was returned for a key second-half touchdown. He would eventually cede the job to Chelf and Walsh with a 6-to-7 touchdown-to-interception ratio.
Headliner: One of the few 2011 stars still on the Cowboy roster, tailback Joseph Randle, kept doing his big-play thing, earning first-team All-Big 12 honors after rushing for 1,351 yards and 14 yards. Gundy's aerial circus kept stealing the headlines, but it wouldn't be nearly as effective without Randle continuing to demand maximum defensive attention.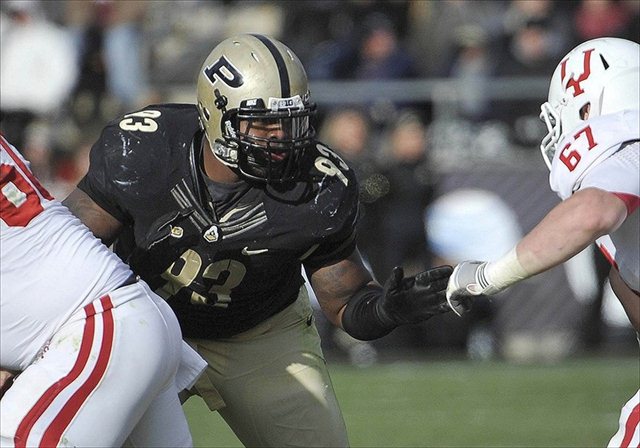 Kawann Short is about to make a large, large salary. (US Presswire)
Purdue (6-6 overall, 3-5 Big Ten)

Bowl seasons usually aren't anything to sneeze at for Purdue. But with expectations running high for the Boilers entering 2012 -- and losses like "44-28 to Minnesota" suggesting a 2013 breakthrough wasn't on the horizon -- 6-6 wasn't enough to keep Danny Hope as coach. The Boilers will play in Dallas under interim coach Patrick Higgins, who was only promoted to interim offensive coordinator midseason after the hospitalization of previous OC Gary Nord. The one positive from Purdue's season is that they were highly competitive against top-tier competition -- losing to undefeated Notre Dame and undefeated Ohio State by a combined three points in regulation -- but whatever the ideal conditions are for heading into a bowl game as a heavy underdog, these aren't them.
At their best: While taking the Buckeyes to overtime probably stands as Purdue's best performance of the season, there's little question that the Boilermakers' most satisfying performance was their season-ending 56-35 win over Indiana to keep the Old Oaken Bucket and send the Boilers to the postseason. Robert Marve hit 20-for-29 for 348 yards and four touchdowns, two of them long completions to tailback Akeem Shavers. Now, if he can just do it vs. someone not named Indiana ...
At their worst: 34-7 halftime deficit at Minnesota. 34-7 halftime deficit at Minnesota. 34-7 halftime deficit at Minnesota. 34-7 halftime deficit at Minnesota. 
Headliner: It says something about the decline of Joe Tiller's one-time world-conquering (or at least Big Ten-conquering) spread offense that the unquestioned star of Drew Brees's alma mater is now a defensive tackle. But what a defensive tackle: Kawann Short earned All-American honors and is on his way to becoming a top draft choice after six sacks and 14.5 tackles-for-loss in the face of constant offensive attention.
---
What: The Heart of Dallas Bowl, i.e., the former TicketCity Bowl. More on the name change and the Heart of Dallas nonprofit here.
When: Tuesday, Jan. 1, noon ET, ESPNU
Where: Cotton Bowl, Dallas
Weird: Even though Oklahoma State has played just three bowl games against Big Ten opposition, this isn't the first bowl meeting between the teams. The Cowboys and Boilers collided in the 1997 Alamo Bowl, with Purdue earning a 33-20 win behind quarterback Billy Dickens. (Billy Dickens!)
Line: Oklahoma State -17, the widest spread of bowl season.
Prediction: Given how the Boilermakers played vs. the likes of the Buckeyes and Irish, it's easy to see them making a game of this if they show up motivated and focused. But after Hope's dismissal and with nothing at stake for Purdue, it's easier to see the Cowboys riding Randle and Walsh to a quick two- or three-touchdown lead and the Boilers shutting things down. 
Oklahoma State 45, Purdue 17
*The TicketCity was the bowl created to fill the Cotton Bowl (the stadium) on New Year's Day when the Cotton Bowl (the game) moved to Jerry Jones' space palace. So it's sort of like the Cotton Bowl .. a shambling, undead version of it that we're still glad to have around. 
Florida's roster got a boost on Tuesday with the return of several key members of the prog...

Tom Hutton joins the ranks of former Aussie rules footballers joining the college football...

The freshman is already on Heisman lists after throwing the walk-off score in the national...
These seven teams should make the most noise down the homestretch towards signing day

Air Force was forced to cancel 11 athletic events because of the 69-hour government shutdo...

Olson has a lot of the tools offensive coordinators want in a quarterback