Heated exchange between Winston, Fisher a true teaching moment
Before Jameis Winston led FSU on a last-minute drive to win the BCS title, the Noles' star QB butted heads with Jimbo Fisher. The topic? The two-minute drill.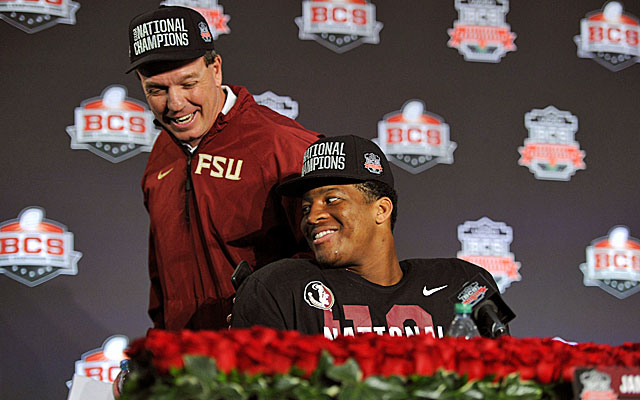 NEWPORT BEACH, Calif. -- It's good to be the king.
That's how Jimbo Fisher described throwing Jameis Winston out of the last practice before Florida State left for the national championship game last month.
Turns out it happened, Fisher admitted it happened and was glad to talk about it during his day-after press conference following Monday's national championship game. Mostly because Florida State's coach had the last word.
"Yes I did," Fisher said. "I sent him to the lockerroom."
Chalk up another loss for teenage petulance. Turns out the two had disagreed over details in a two-minute drill, Fisher said. The coach then described a heated exchange with his superstar quarterback.
"I just saw it [attention] drifted," Fisher told a room full of reporters. "I had some points and he had some points. It's good to be the king.
"He waited on me as soon we came off the field. We had a long discussion. We had it out ... It was his passion for wanting to do something. It was a point I thought I needed to make to him as a young guy.
"He'll be the king one day," Fisher added. "He might throw the coach out."
The two quickly made up after the incident last month. It was as a refreshing look inside the inner workings of FSU if only because Winston himself brought up the subject during his postgame comments. It was a teaching moment that played out on the big stage when Winston led a last-second comeback -- in the two-minute offense.
"That's a storybook moment right there," Winston said.
So much has been written and broadcast about the Heisman winner, it's good to know he could be the typical teenager, talking back to his elders.
"You have to be their coach. You can't be their friend," Fisher said. "We'll be friends ... later on. That's probably the problem with the world today. We want to be our kids' friends and not be their parents and do what's right."
Things seemed to work out. Winston recovered from being thumbed to lead the Seminoles to their first national championship in 14 years.
Fisher now faces the prospect of managing a returning 20-year old Heisman Trophy winner who will be defending a national championship with one foot in the NFL.
"We don't necessarily know he's going to the NFL do we?" Fisher cautioned. "Don't assume now. You know what 'assume' stands for."
Good try, Jimbo. It's obvious Winston could be in the pros right now. He solidified his legend/resume with the ultimate two-minute drill, leading the Noles on the game-winning drive.
The famousness of Jameis ended with a 2-yard touchdown pass to Kelvin Benjamin with 13 seconds left. Prior to that for perhaps the first time in his career, Winston looked flustered. An underrated Auburn defense was physical with him, getting four sacks.
Winston started 6 of 15, but ended 6 of 8 for 77 yards on the final drive.
"Michael Jordan can be 5 for 20. The last five minutes of the game he hits seven shots in a row," Fisher said. "How does a guy do that? I'm not saying he's Michael Jordan but those great guys have something ... they can put that behind them. They know there's a moment in front of them."
Guice is dealing with a 'minor injury' that has not been specified by coach Ed Orgeron

Professional college football bettors are loving Jim Harbaugh and Michigan against Purdue

Temple knocked off USF last year to claim the division title
These are the best bets to make in Week 4 including Florida-Kentucky and Oklahoma State-TC...

Two players died as a result of playing college football on Saturday

Gary Danielson previews this week's SEC on CBS Game of the Week from Nashville