Heath Evans 7-on-7: Talent shines before weather takes over
Thunderstorms forced an early cancellation of the Heath Evans Foundation 7-on-7 Championship, but some of the top teams and players in the state of Florida still managed to put in close to six hours of work on a humid Saturday afternoon where everybody was talking about Oakland Park (Fla.) wide receiver Stacy Coley.
WEST PALM BEACH, Fla. -- Thunderstorms forced an early cancellation of the Heath Evans Foundation 7-on-7 Championship, but some of the top teams and players in the state of Florida still managed to put in close to six hours of work on a humid Saturday afternoon. While there wasn't necessarily a breakout performance at the competition, throughout the day everybody was talking about Oakland Park (Fla.) wide receiver Stacy Coley more than living up to expectations as one of the top wide outs in the region by carrying his Northeast High team deep in the tournament.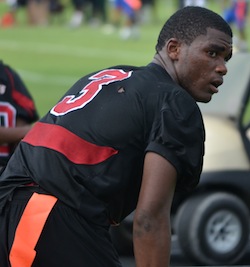 "Our team looked awesome. We keep going 24/7, they're looking perfect," Coley said during pool play. "Our goals (this season) are just to stay focused, take one game at a time and hopefully go to state."

The 6-foot-1, 178-pounder holds offers from Alabama, Florida, Florida State, LSU and Oklahoma along with a host of other powerhouse college programs, and it's easy to see why Coley is being heavily pursed by coaches after attacking defensive backs all day despite his teammates not taking much pressure of him defensively.

"Right now I'm just taking it easy," he said of his recruitment. "Nobody informed me about trips yet, but if they do, I'm willing to go."

Coley was a threat to blow by corners on deep routes or break down on an out to get wide open while running routes for Northeast High. Just as impressive was his leaping ability on balls in the air to go along with his soft hands. He will visit Florida State later this summer for a camp where he hopes to put on the same show for the coaching staff, whom he has gotten to know fairly well over the past few months.

"I talk with Coach (Eddie) Gran, most definitely," Coley said. "He's a good person and has a good personality. He's fun to talk to."

The talented wide out is planning on waiting until Signing Day to make a decision and is already looking ahead to the fall when he can take his official visits, all of which will be outside of Florida.

"I'm thinking about going out-of-state and visiting," he said before listing possible destinations: "North Carolina, Ole Miss, West Virginia and probablyTexas Tech."

The recently concluded evaluation period offered a chance for numerous coaches to stop by and see Coley up close and person. While there were too many to count he did note that a few schools are putting on a fullcourt press to land him and made sure he noticed they stopped by last month.

"USF has come by multiple times, and Florida State, Coach Gran showed me love," he said. "Clemson, Tennessee, they all came by."

After a great day of 7-on-7 action, pretty soon it will be Coley's turn to start visiting schools and narrowing his impressive offer list.

Hargreaves doesn't disappoint, even at safety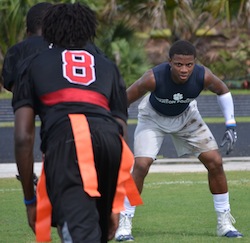 The country's top cornerback made it down to The King's Academy for a little 7-on-7 action, and although Tampa (Fla.) defensive back Vernon Hargreaves III wasn't at his natural spot defending receivers close to the sideline, he still made his presence felt roaming the secondary as a safety. Showing a fluid backpedal and quick hips to help close on the ball, he made it tough for quarterbacks to avoid throwing interceptions -- he had several -- with the five-star playing out of position. That's exactly why he was lining up in the middle of the field.

"It's so they can't throw away from me," Hargreaves said. "If I'm in the middle of the field, they have to throw somewhere (close). It helps my instincts, using my eyes, reading the quarterback. Sometimes you have to guess, sometimes you're wrong. Overall, it's just a good position to work on corner skills, I guess."

Hargreaves also mixed in a little wide receiver for Wharton High's team when needed and proved he was Mr. Everything by snapping for the quarterback on occasion. While his team struggled during the event, it was nevertheless a good experience for the talented corner.

"It was fun," he said. "We lost, but we have to work on the little things like catching the ball, and we had too many turnovers."

The 5-foot-11, 185-pounder finished spring football not too long ago and was happy with the progress he and his teammates made. While there are still a few months before putting on the pads once again, Hargreaves is excited about what Wharton can do in 2012 after the way they practiced and set a few lofty goals as a result.

"It was good. I was healthy the whole time, and that's all you can really ask for," he said. "Everybody wants to get to the state championship, obviously. We want to dominate our district, go deep in the playoffs and all that good stuff just like every other team."

Ranked No. 29 overall in the MaxPreps class of 2013 rankings, Hargreaves holds offers from just about every school in the country but has played his recruitment close to the chest. Programs understandably stopped by during the evaluation period, but it appears that things are not as fast-paced like some assume.

"It's not that crazy right now," said Hargreaves. "At least not as much as everybody thinks it is. I'm enjoying it so I guess it's all right."

Before heading to Palm Beach the corner took unofficial visits to USF and Florida, the first of many this summer as Hargreaves and his family look to explore where he might play at the next level.

"They are two great schools; there's nothing not to like about any of them," the soft-spoken defensive back said. "It was fun."

The Gators are looked at by most as a serious threat to land a commitment from Hargreaves down the road despite keeping quiet about any sort of top five or 10. He stays in regular communication with the staff in Gainesville and talks to defensive backs coach Travaris Robinson and head coach Will Muschamp the most.

"They don't even talk to me about recruiting most of the time," said Hargreaves. "They talk about my family and all of that stuff. School, girls, all that stuff. They're just cool people."

Hargreaves' father is on the staff at USF which adds another layer to the 2013 cornerback's recruitment. The Bulls are certainly expected to contend for the recruit's signature on Signing Day but so far, he really doesn't know as much about the program as many think.

"I took a visit, but I didn't really get into the academics and all that other good stuff," Hargreaves III said. "I've really just seen the practice fields and all that good stuff."

The lockdown corner does not seem close to a decision and has no set date picked out to commit by, preferring to wait until it feels right to do so.

Grace hasn't narrowed it down yet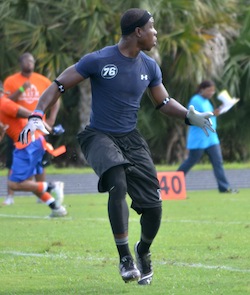 A 7-on-7 is always a tough event for linebackers, but in the case of athletic Miramar (Fla.) product Jermaine Grace, Saturday offered the perfect opportunity to show off what he could do as he worked his way back from an injury.

"I try and be physical as possible and not try to hurt anybody or anything, but I really try to be physical," Grace said. "I want to work on opening up on drops and being able to cover well. That's what this is really for, cover skills and ball skills and all of that, so it's really fun."

Last month's spring football was expected to be a time when the rising senior could refine his game before camps in the summer, but things didn't turn out exactly like Grace had hoped.

"It didn't go too well, actually," he said. "I pulled my hamstring. This [7-on-7 event] is really my first time practicing. But I'm excited right now about everything."

The leader of one of the top defenses in the state, Grace racked up 80 tackles last season as a junior while Miramar made it to the state title game. With a slew of offers before 2012 appeared on the calendar and plenty of coaches stopping by during the Evaluation Period, the talented linebacker is being recruited heavily by Miami, Tennessee, Texas A&M, Penn State and West Virginia among others.

"It's doing pretty well right now; a lot of (coaches) are in my ear telling me what schools to visit or what the top schools are," he said. "I'm just doing research right now. It's just going to take the right school for me and make the right choice.

"I really want to get my degree in engineering or business. I want to be coached well and try and make it in the NFL. I want to learn new things, see new things."

While the talkative Grace has no problem discussing recruiting he hasn't dived deep enough into it yet to have narrowed his list. The summer will be filled with camps and unofficial vists as a result of him trying to figure out who might make the cut and what schools don't match up with what he wants in a program.

"I don't have a top five or a top 10 right now," said Grace. "All the schools that have offered me are my top schools until I take my visits."

The schedule in the coming months isn't set in stone but it appears that Grace, who has already taken in all of the in-state schools, will be looking beyond the Florida borders to go to camps in order to get to know coaches and campuses better.

"I think we'll go to West Virginia, Tennessee, Penn State -- we'll be up there," he said.

Grace cited his teammate, cornerback and Miami signee Tracy Howard, as one reason he will wait until Signing Day to announce his commitment and will likely do so on television.

Jones' strong arm stands out at quarterback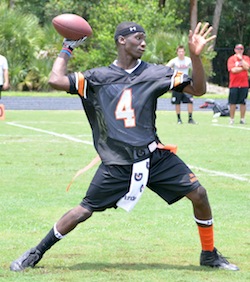 Quarterback was one of the weakest positions at the Heath Evans 7-on-7 competition, but that didn't mean a few couldn't stand out. One of the sharpest signal-callers to make it down for the event was Miami Gardens (Fla.) quarterback Akeem Jones, who showed off a strong but accurate arm to guide his team to the final four before competition was cancelled.
    
"We had fun," Jones said simply.

A 7-on-7 isn't a setting that showcases the dual threat's athleticism, but Jones was still able to launch balls down the field with accuracy while finding holes in zone coverage underneath. The strong showing was a bit of a relief for the somewhat lanky quarterback, who didn't perform up to the level he wanted to at his team's spring game last month.

"Spring game was OK. I came out slow and faced some adversity," he said. "Second half, I picked it up. My o-line, they played a good game. I managed to score three touchdowns, and the receivers played a good game. The team kept me up all game."

The 6-foot-3, 180-pounder plays in one of the toughest districts in the state and has a loaded schedule in 2012, but that didn't stop him from declaring a state championship as his team's only goal this upcoming season. Personally, Jones is "dead set" on playing quarterback at the next level and is hearing from more and more coaches regarding his recruitment prior to his senior year.

"It's picking up big-time," he said. "A lot of schools are talking and a few offers came in. I'm just waiting my turn, and that's all that I can do.

"My last offer was Utah State and then before that, USF. Akron has offered, South Alabama, Boston College, Buffalo and Tulane have offered."

Jones believes Auburn and Florida State might be close to offering him, possibly as an athlete, if he performs well at their camps. USF, which saw their lone 2013 quarterback decommit, has been one of the schools talking to him about coming in at his desired position and as a result the Bulls are held in high regard.

"They want me to come up and play quarterback," said Jones. "On the 14th I'm going up there for their camp. Hopefully I perform well and that's where I'll be looking to go."

Throughout the process education has been one of the things that Jones has kept at the forefront, and while playing college football is a realistic option, the quarterback is looking to make sure it's the right place and not just the right opportunity.

"I want to surround myself with positive, good character people. I want to surround myself with a good coaching staff," he said. "Most of all, I want a great education, I want to be able to get a degree."

Jones will head to Tampa to see USF on June 14th before going to Florida State on the 18th. He'll also head out-of-state to camp at Auburn on July 17th and will go to Alabama and throw for the coaches in Tuscaloosa.

"If I go in with nothing, I want to come away with an offer," he added.

Notes

- The most impressive team from the start of the day to the end was Booker T. Washington High. With a collection of speedsters it was hard for others to throw downfield, and just about every series their offense found a way to score. This won't be a team that will run the ball down your throat in pads but appear built to win at 7-on-7.

- Because the event was called off due to an approaching thunderstorm, Miami Central, Palm Beach Dwyer, Booker T. Washington and Miami-Carol City were crowned co-champions.

- The winner of the Linemen Challenge was Miramar, who beat out Booker T. Washington and Tampa Plant for the prize.

- If Coley and Hargreaves were the top two performers on Saturday, Miami Central 2014 running back Dalvin Cook was a solid No. 3. He took home honors as the fast man at the event and was a scoring machine out of the backfield. Central is stacked at running back with Florida State commit Joseph Yearby also splitting carries, but let's just say there's a reason why Cook has offers from Miami, Clemson and several others already.

- Booker T. Washington was led by 2014 athlete Treon Harris, who was the team's quarterback. While he lacks the height to play the position at the next level and has plenty of athleticism to play multiple positions, it was impressive how he found open targets and got the ball out. He  mentioned Florida State, Miami, Ole Miss and Illinois among the schools recruiting him hardest.

"Elite schools have offered me but I'm not done and have to keep pushing," he said.

- The 2014 class is already considered extremely strong in the state and this event did nothing to change any impression of that. Palm Beach (Fla.) wide out Johnnie Dixon might have been the top junior pass catcher but there were several players that could be drawing attention with a strong season this year.

- It's not often more than one 2015 prospect will stand out but there were two at the Heath Evans 7-on-7 who impressed in Miami (Fla.) wide receiver Devontae Phillips and Pompano Beach (Fla.) receiver Devante Peete. The latter is long, lean and raw but made some impressive catches using his length. Phillips was much more polished and if you didn't know any better, you'd think he was a 2013 recruit. He probably could play safety or corner but was a savvy route runner and has the hands to be a very good offensive weapon going forward.


Oliver's star has already been born, but 2018 is when it will truly be recognized

Craig Kuligowski is reportedly leaving Miami to take the same job with Alabama

BT Potter is about to be very popular in the Clemson locker room
McElwain will coach receivers and help coordinate the offense for the Wolverines

Nathaniel Watson Jr. was involved in a car accident that injured a passenger in early Febr...

The honorable Tom Fornelli presides over the ASU vs. UM case