Heightened scrutiny of off-field behavior is the new norm for coaches
Recruiting troubled players is college football's risk/reward. But Tony Barnhart says recent incidents (plus Paterno and Petrino) put new heat on coaches.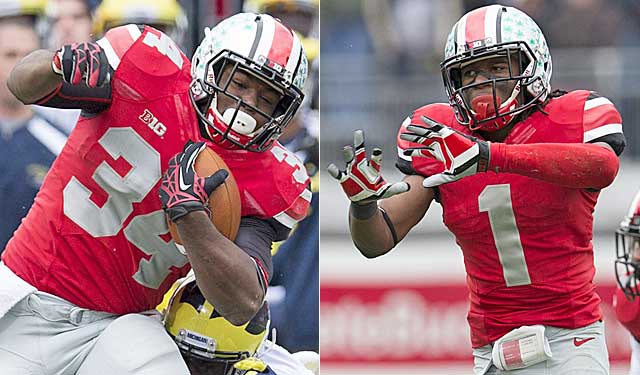 Ohio State coach Urban Meyer seemed surprised, and a bit overwhelmed, when he got hammered at Big Ten Media Days on the subject of player behavior.
In the span of 15 minutes Meyer took 12 questions. Nine of them were about current players and former players who had engaged in anti-social behavior or criminal activity. And yes, the name of Aaron Hernandez, who once punched out a bartender in Gainesville and now sits in a Massachusetts jail accused of murder, did come up.
And it didn't help that right before Meyer arrived in Chicago two of his current Ohio State players -- Carlos Hyde and cornerback Bradley Roby -- were suspended indefinitely. Hyde, Ohio State's best running back, is awaiting the results of an investigation into an incident in a bar where he may or may not have struck a woman. Roby was arrested after a bar fight where he allegedly struck an employee.
So instead of talking about his 12-0 team from a year ago and this team, which will be No. 2 in most preseason polls, Meyer spent most of the day having to defend his reputation. It was not a pretty thing to watch.
If Meyer was surprised by the intensity of the questioning at Big Ten Media Days he shouldn't have been.
Memo to coaches: This is the new normal.
I've been covering this game a long time and coaches have always recruited talented players with questionable character and troubled backgrounds. It has always been considered a risk-reward calculation. Coaches believe that the structure and discipline their program provides will help most of these players. And in many cases they are right.
Handling the fallout from players who still insist on engaging in criminal activity is considered a cost of doing business in the multibillion dollar enterprise that is big-time college football.
In short, if you're making $4 million a year to win college football games, a certain amount of risk is acceptable -- maybe even necessary.
So Urban Meyer is not alone here. Far from it. But he was in the wrong place at the wrong time and got hit by what I believe is a tidal wave of change in what the culture is going to tolerate.
That's because, in this reporter's opinion, the world changed with the Joe Paterno and Bobby Petrino cases.
Both of those cases, regardless of where you come down on the issues involved, made us question whether we as a culture, were giving too much power to college football coaches. Our love of college football, and I'm as guilty as anybody on this, has allowed educational institutions to give these men almost unlimited and unchecked power.
Some coaches handle that immense power with humility and integrity. Some do not.
Some coaches realize when they've made a mistake with a player and move quickly to get him out of the program. Others feel it is their duty to "save" the player from his self-destructive behavior -- even if the player shows absolutely no interest in changing his behavior.
Let's take the case of LSU running back Jeremy Hill. The following facts are not in dispute: Hill has been suspended from the team after pleading guilty to a simple battery charge after an altercation outside of a bar in April. A camera phone caught him punching a guy. He got probation, community service and a curfew.
OK, college kids get in bar fights all the time.
But here's the deal: Hill already was under a court-ordered probation after he pleaded guilty to "carnal knowledge" of a 14-year-old girl in 2012. Hill was expelled from high school for the act and was home schooled for his senior year before signing with LSU.
So Hill already was on probation when he decided to be out at 2 o'clock in the morning and ultimately engage in a bar fight. Did he somehow believe there would be no consequences for getting in a fight when he was already under probation?
The judge in the most recent case looked at Hill and held his thumb and his forefinger close together and said: "You are this far from ruining your life."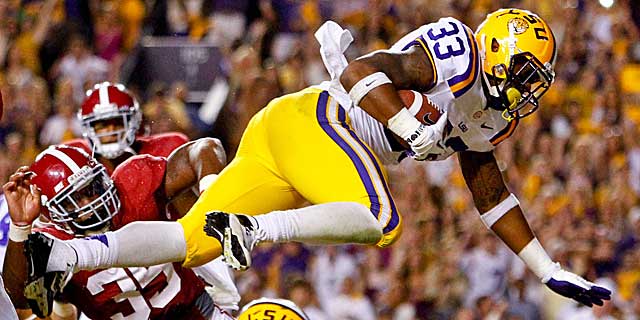 Hill is suspended from day-to-day activities from the LSU football team but not dismissed. It is certainly reasonable to ask why Hill is still in Baton Rouge and why the possibility exists that he will play again for LSU.
Hill has a hearing on Aug. 16 concerning the violation of his original probation. He could be looking at jail time.
Coach Les Miles got off relatively easy when the subject of Hill came up at SEC media days, calling it a "legal entanglement."
I'm not picking on Les Miles or Jeremy Hill. If I had the time and the space I could give you dozens of Jeremy Hills.
The question is why do we have Jeremy Hills? If the goal of these young men is to maximize their skills and get to the NFL, why do they engage in behavior that puts that dream at risk?
And once they screw up, why don't they live in fear that if it happens again they could lose everything?
I'm not a sociologist or a psychologist. I don't know the answer to those questions.
What I do know is that the rules have changed. Coaches have to know that, moving forward, nobody gets the benefit of the doubt. Nobody.
If you bring a kid to campus and he engages in criminal and/or predatory behavior (assault, robbery), he's gone. No second chances.
If a player strikes a woman, regardless of the circumstances, he's gone. If he threatens a woman he's gone. No excuses. No second chances.
Coaches, as John Wooden once said, have the ultimate weapon, and that is the bench. They also have the ability to send a player home. They have the power to control player behavior. They just have to have the courage to use it. And once they use it, coaches have to be backed up by the president.
Coaches, God bless them, can ignore the new rules at their own peril. Urban Meyer had to learn the hard way that he needed to take a sober look at how he handles bad behavior by athletes. I give him credit for admitting that there were things he could have done better.
More coaches would be wise to do the same.
Locksley joined Alabama's staff in 2016

Saban reportedly wants to hire Freeze, but there may be things keeping that from happening

Florida State-Miami will be on Oct. 6, and the Seminoles will play Clemson on Oct. 27
Weis Jr. was an offensive assistant for the Atlanta Falcons in 2017

Lott is joined by three current athletic directors and will serve a three-year term

These are the top guys every school is still chasing