Heisman contenders put voters on notice with big performances
It was quite a Saturday for Heisman contenders, with all of them putting up huge numbers and making the voters take notice.
It was quite a Saturday for Heisman contenders, with all of them putting up huge numbers and making the voters take notice.
Eight quarterbacks and one running back showcased themselves, officially giving the nation a legit Heisman race.
And Johnny Manziel didn't even play! Below in no particular order:
Aaron Murray, Georgia: For the second consecutive week, Murray had himself a "Heisman" moment, leading the Bulldogs to a come-from-behind victory. Last week it was against LSU, this week against unranked Tennessee. His numbers aren't as big as the other guys on this list, throwing for only 196 yards and three touchdowns, but it's what won't show up in the box score. The senior threw the tying touchdown pass with five seconds left and also had an amazing 57-yard run down to the 3-yard line to give Georgia the lead early in the fourth quarter.
Marcus Mariota, Oregon: Mariota entered the CBSSports.com Heisman Watch this weekend at No. 1 and it will be tough to knock him from the top spot. He threw five touchdown passes and ran for two more scores as Oregon routed Colorado 57-16. That gives him 21 total touchdowns in five games -- 14 throwing and seven rushing. For comparison sake, when Tim Tebow won the Heisman in 2007, he had 55 total touchdowns (32 passing, 23 rushing) in 13 games. Mariota is currently on pace to have ... 55 total scores.
Tajh Boyd, Clemson: If anybody forgot about Boyd, he made sure to remind them Saturday. He threw for 455 yards and five touchdowns in only three quarters to lift Clemson past Syracuse 49-14. Boyd tied his school record for touchdown passes in a game and now has 14 touchdown passes in five games.
Teddy Bridgewater, Louisville: Bridgewater once again had no trouble, throwing for 348 yards and two touchdowns in the Louisville's 30-7 victory over Temple. These games are becoming routine for Bridgewater, but he has yet to play a quality opponent, which might end up hurting him.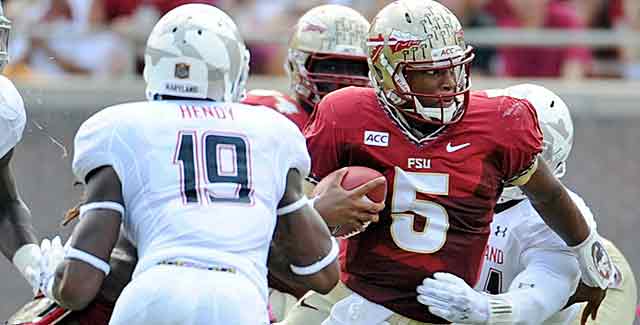 Jameis Winston, Florida State: Despite being only a freshman, Winston is no doubt in this race -- and proved it against Maryland. He threw a career-high 393 yards passing with five touchdowns as the Seminoles destroyed Maryland 63-0. Winston had 356 yards and four TDs against Pitt, 330 and four against Boston College and now 393 and five. Can another freshman win the Heisman? Circle the calendar, because he really has a shot to impress the voters against Clemson in two weeks (Oct. 19).
AJ McCarron, Alabama: It wasn't a perfect game, but about as close as you can get. McCarron completed 15 of 16 passes for 166 yards and four touchdowns in the first half as the Crimson Tide cruised past Georgia State 45-3. McCarron set a school record for completion percentage in a game (minimum of 15 passes) and started the game 12 of 12. Playing for the No. 1 team in the nation gives McCarron an extra boost in the Heisman race because his season statistics are nowhere near some of the guys on this list.
Zach Mettenberger, LSU: Alot of voters might count Mettenberger out of the Heisman race because he lost to Georgia last week, but they would be wrong. The senior achieved back-to-back 300-yard-plus passing games with a 340-yard performance, completing 25 of 29 in a victory over Mississippi State. Last week against Georgia, he had 372 yards and three TD passes. Don't count this guy out yet as he still has to play high-profile games against Florida, Alabama and TexasA&m.
Lache Seastrunk, Baylor: In a list among quarterbacks, one running back stands alone. Seastrunk had another huge rushing performance in only one half, racking up 172 yards on only 15 carries. In Baylor keeps winning and Seastrunk keeps going over 150 yards, he could be an alternative choice in the Heisman. The problem? Because Baylor scores so many points, he's not getting enough carries. The most carries he's gotten all season is 17 because Seastrunk is usually resting in the second half.
Derek Carr, Fresno State: Everybody knows Carr isn't going to win the Heisman with all this competition, but its hard to ignore these stats -- 37 of 48 for 419 yards and five touchdowns. All that was done in three quarters as the Bulldogs rolled past Idaho 61-14.
Oliver's star has already been born, but 2018 is when it will truly be recognized

Craig Kuligowski is reportedly leaving Miami to take the same job with Alabama

BT Potter is about to be very popular in the Clemson locker room
McElwain will coach receivers and help coordinate the offense for the Wolverines

Nathaniel Watson Jr. was involved in a car accident that injured a passenger in early Febr...

The honorable Tom Fornelli presides over the ASU vs. UM case