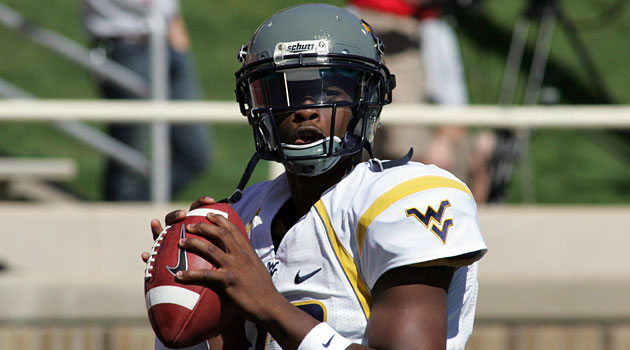 Can Geno Smith bounce back against Kansas State? (U.S. Presswire)
Halfway through the season, the race for the Heisman Trophy looks radically different than it did at the start.
West Virginia  quarterback Geno Smith holds a narrow lead over Kansas State quarterback Collin Klein and Ohio State quarterback Braxton Miller. Outside of these three and, perhaps, one or two others, there's no one left with a shot at the trophy. The field has shrunk, but we haven't quite reached a moment of clarity on who will win.
That might change this week, as a couple of huge matchups could go a long way toward determining this year's winner.
Here's a rundown of the top Heisman games for Week 8:
No. 3 Oregon at Arizona State -- The Ducks have a pair of running backs -- De'Anthony Thomas and Kenjon Barner -- who could conceivably make a late-breaking run at the Heisman. Thomas is the better-known of the pair and the more likely to catch fire by virtue of a highlight reel play or two. I believe Barner has to average 200 yards rushing per game the rest of the way to have a shot, so you'd have to rate his chances as fairly remote. Since this is a decently compelling Thursday night game against a respectable opponent, a productive outing could propel Thomas back into the Heisman conversation. Keep in mind that he showed up often in early-season Heisman polls, so voters are ready to be reminded of what he can do. If Thomas or Barner don't get things kick-started in a big way against the Sun Devils, you can pretty much shut the door on their Heisman hopes.
Purdue at No. 7 Ohio State -- The Boilermakes shouldn't offer up much resistance against Braxton Miller and Ohio State, so it's important that he uses his week away from the spotlight to improve his overall numbers, particularly in the passing game. He's on pace for just 19 touchdown passes, and no Heisman-winning quarterback has thrown for fewer than 28 touchdown passes since Eric Crouch threw just seven in 2001 as part of Nebraska's run-oriented I-bone attack. While Miller does balance that out to some extent with some rather impressive rushing numbers, voters might be more inclined to put him on their ballot if his passing stats point more toward refinement rather than rawness. Whatever the case, Miller has a shot at moving into second place after this week, so he can solidify that move with a big game here.
No. 6 LSU at No. 18 Texas A&M -- If a Black Swan candidate is to emerge in this year's Heisman race, it will probably start with this game. Aggies freshman quarterback Johnny Manziel is off to a remarkable start to the season, but he can validate his talents and become the story of college football if he leads his team to a win against the Tigers. Manziel, and his team, have nothing to lose and everything to gain in this one. If Manziel comes through in leading Texas A&M to the upset, he'll surge dramatically in the race and, depending on what happens elsewhere, could even take the lead. This could set into motion an avalanche of (justified) hype for Manziel and make him a solid bet to break the Heisman curse against freshmen. Or, he could get squashed by a determined LSU team and be revealed for what he probably might be: a brilliant freshman still trying to find his way in the SEC.
HEISMAN GAME OF THE WEEK
No. 4 Kansas State at No. 13 West Virginia -- It's rare to have the top two candidates for the Heisman square off in a head-to-head matchup with both teams ranked so high -- and from the same league. If West Virginia had beaten Texas Tech last week, this game would be even more compelling. As it stands, it has national title, Big 12 and, obviously, major Heisman implications.
If Smith leads his team over Kansas State, he'll put some distance between himself and his fellow Heisman competitors. It's conceivable that, with a brilliant performance in a win, he effectively ''clinches'' the Heisman (though it will only be understood in retrospect, when the season is over). There are, however, a few other possible scenarios for Mr. Smith.
First, he could have a very productive game and continue his incredible stats pace while his team's defense gets overwhelmed by K-State in a loss. If the loss is ''respectable'', then he'll maintain his credibility with voters and remain a prime contender (though perhaps not the nominal frontrunner). After all, voters aren't going to blame him if he throws five touchdown passes and the WVU defense acts like a sieve. But if the loss is a blowout in the mode of last week's debacle with Texas Tech, he'll be knocked down a peg or two and, to win the Heisman, he would then need to finish the season with a flurry of huge games, especially against Oklahoma.
For Collin Klein, the task is a bit more simple: Beat the Mountaineers on the road and look good doing it, and he moves into the Heisman lead. His long-term staying power will depend on how his team finishes and how effective Smith is by comparison the rest of the way. A loss to West Virginia will probably put Klein's Heisman hopes to bed, assuming Smith's numbers don't collapse. 
If you are interested in who wins this year's Heisman, you'll want to have your eyes peeled on this one.
Recent matchups of top contenders in Heisman race
Alabama vs. Florida (Ingram vs. Tebow), SEC title game, 2009.
Result: Alabama wins. Ingram goes on to win Heisman, Tebow finishes fifth.
Oklahoma vs. Texas (Bradford vs. McCoy), 2008.
Result: Texas wins, but Bradford throws five TD passes and later edges McCoy for Heisman.
Texas vs. Texas Tech (McCoy vs. Harrell), 2008.
Result: Tech wins on dramatic finish, Harrell has a temporary surge to the top of race, but gets knocked off by Bradford's Oklahoma squad two weeks later. Harrell finishes fifth in vote, but helps cost McCoy the Heisman.