Heisman suit grades: Watson steals the show over Henry, McCaffrey
The three Heisman finalists are ready for the ceremony, and Deshaun Watson's bright red suit is the best of the bunch.
• 1 min read
The three Heisman Trophy finalists are in New York for Saturday night's presentation. Prior to the ceremony, the trio took a picture together in their suits and there is a clear Heisman suit champion. 
Almost go time #Heisman pic.twitter.com/KBG8nxbB2l

— The Heisman Trophy (@HeismanTrophy) December 12, 2015
Let's grade these suits out, shall we? 
Deshaun Watson, Clemson -- A: Watson's red suit is absolutely killing the game. Add in the black shirt with white dots, the flat black tie and the gold chains and watch and you've got an awesome outfit.
The only reason this doesn't get an A+ is that Watson goes to Clemson. Clemson's colors are orange and purple, so, while the red is sharp, he could've gotten a little more aggressive with an orange suit. 
Derrick Henry, Alabama -- B+: Henry's got a classic look with the blue suit. The pattern and detailing on the suit is really solid, plus the red and white striped tie works well.
It's not nearly as flashy as Watson, but that fits Henry's style of being a low-key workman type. 
Christian McCaffrey -- C-: Christian, my dude. My guy. What's going on here?
This is your big night and you show up looking like you're ready for a funeral with the dark grey suit, grey shirt and crimson tie -- which is at least a Stanford color. We could've done so much more with this one, Christian. Add a little color, have some fun with it. Instead, this happened.
P.S.: You don't have a big enough neck to go with the broad collar. You're still great, though.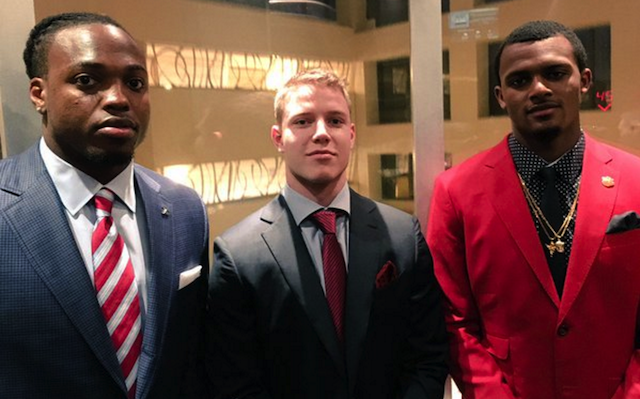 100 names, games, stories and more to get excited for the 2018 college football season

This series is part of a bigger push by USF to get bigger Power Five teams to come to Tamp...

Does this mean Wisconsin is going to win the national championship?
There's a good reason this signal caller transfer 'epidemic' is ongoing in college footbal...

The jury found that the NCAA did not make a false statement about McNair, a former USC ass...

It will be the third straight offseason the Wolverines have travelled overseas