Helium shortage causes Nebraska to cut back on balloon tradition
Nebraska will have to cut back on the amount of balloons it releases into sky after first touchdown of each home game.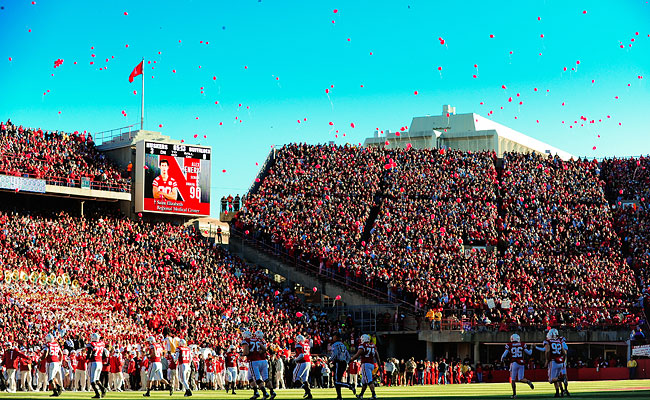 Ever since the 1940s, Nebraska fans have traditionally released balloons into the sky after the first Nebraska touchdown of every home game at Memorial Stadium. Now, thanks to a helium shortage, Nebraska will have to cut back on the tradition.
"We're not necessarily shelving this tradition," said Ethan Rowley, director of athletic marketing. "We're just putting it on hiatus until the helium inventory is replenished.

"We don't want to take away helium from hospitals and industries that need it more than we do right now."
Yes, that's right, there's a global helium shortage -- not sure whether the Mayans warned us of this -- and the people who are getting what helium there is are the people who need it the most: hospitals and industrial construction sites.
I can't help but feel compelled to apologize to the world for all those times I inhaled helium to make my voice higher. It was a selfish and very amusing act, and I did not know the damage I was doing at the time.
As for Nebraska and the balloon tradition, the school won't be shelving it completely. There will be between 2,000 and 2,500 balloons released for Nebraska's first home touchdown of the season, rather than the 4,000 to 5,000 that had been released in the past.
After the opener Nebraska plans on keeping one helium tank in reserve for the final six home games.
Stanford produces apps and Super Bowl participants

The Alabama QB has a new look after the Tide claimed another national title

Young was injured during Miami's Orange Bowl loss to Wisconsin
The movie will zero in on former Penn State coach Joe Paterno during the Jerry Sandusky sc...

Bidding for Salaam's trophy, which the auction house says was obtained legally, ends Satur...

Locksley has been the offensive coordinator at Illinois and Maryland during his coaching c...