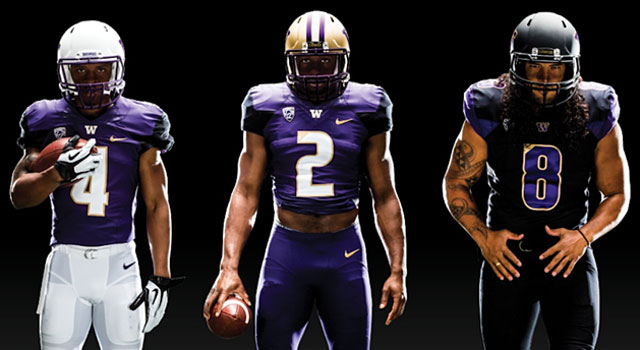 Any day this spring, another FBS school could parachute into your Twitter timeline with the latest check-us-out helmet design.
The rollouts are intoxicating. You can't look away, for better or worse. And not only you, but the recruits -- oh, the recruiting advantage of virally dropping a matte black or gold chrome.
Just in the past two weeks, at least six major programs have unveiled new helmet-uniform combos. Don't expect the trend to subside. Save traditionalists such as Auburn or Penn State or Oklahoma, most schools are hurtling into experimentation.
They are all trying to answer the same question.
"What's going to pop with the young people?" said Bart Fullmer, Washington's director of equipment operations and part of the Huskies unveiling of white 'Frost' helmets last week.
But there's a hustle to this process, a cost-effective strategy and, possibly, selling the helmets to boosters for a hefty profit.
These unveilings involve research, test runs, a consideration for tradition and a conscious decision whether the bang will be worth the freshly painted buck.
Costs can get serious. Mississippi State athletic director Scott Stricklin ballparks an aggressive helmet year can surpass $100,000 in a hurry. The Bulldogs went chrome for the Egg Bowl last year.
To discuss how to navigate today's helmet game, officials from several schools -- and the vice president of prominent helmet designer Hydro Graphics Inc. -- are here to help.
Pick a Plan, Then Run the Numbers
After meeting as a staff, Washington decided on a creative yet controlled approach.
"We know we're not going to be Oregon, but we're not going to be Penn State, either," Fullmer said. "Not saying one way's wrong or right, you just have to decide who you want to be."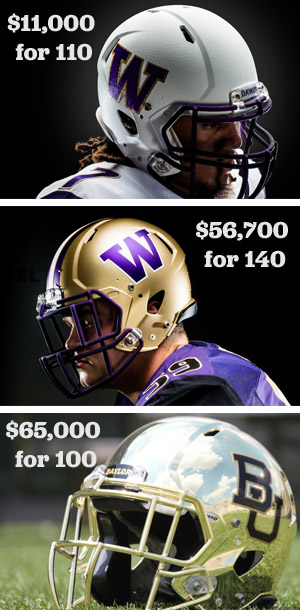 Washington definitely isn't Penn State with the latest unveiling, a white helmet with texture resembling frost. This was one of nine samples Washington examined with Hydro Graphics before deciding on the winter theme.
But the Frost helmet was not the most expensive, in part because the school didn't have to buy new helmets. It painted over helmets it already had.
With $65 for the paint job and $35 for the facemask design, that's $11,000 for 110 helmets.
The biggest cost, however, was the satin gold helmet. The 140 Riddell Speed helmets cost $300 a piece, or $42,000 for a batch of 140, plus $14,700 for the paint job and facemasks, equaling $56,700.
That works out to $67,700 for both helmets.
Washington was able to save on the back end because it can re-use helmets that are new enough to meet safety requirements.
"You can spend a lot of money or you could spend not so much," Fullmer said.
Helmet Flip
Baylor's successful chrome helmets last season, courtesy of HGI, ran about $600-$700 apiece, according to Bears assistant equipment director Brett Bufton. That's roughly $65,000 for 100 helmets -- and just for the design.
But Baylor had an idea for offsetting costs. 
"We wanted to make it worthwhile, so we put them together on a $2,000 price tag for donors -- $700 to replace helmet, $1,300 to our Linebacker Club that directly benefits the football program."
The school sold all 100 to its donor base, Bufton said. That was the easy part. Donors kept asking about the helmets after the Bears debuted them in a 73-42 win over West Virginia on Oct. 5.
For those counting at home, that's $130,000 in straight profit for the Linebacker Club. Bufton recalls the money went to player benefits such as locker room enhancements and helmet replacements.
The sale was a special occasion for Baylor, which has had several different helmets in rotation over a multiyear span: traditional gold, matte black, matte green, traditional white and chrome.
But no doubt the chrome "helped feed into the excitement of the season," Bufton said. 
Mississippi State took a similar approach, selling the Egg Bowl helmets for $600 a piece.
"Sold out in a half-hour," Stricklin said.
Even with an effective sell-back plan, creativity can fuel unnecessary costs. Besides, Fullmer says, though recruits love the helmets, players don't want to fit a new chinstrap every week.
"I think some schools are starting to say, 'We have to keep an eye on this, we can't go too crazy on this,'" Fullmer said. "It's a budgetary thing."
Bucking Tradition
Some schools won't change their traditional helmets any time soon.
"We think we have the best looking uniform in college football," Auburn athletic director Jay Jacobs said.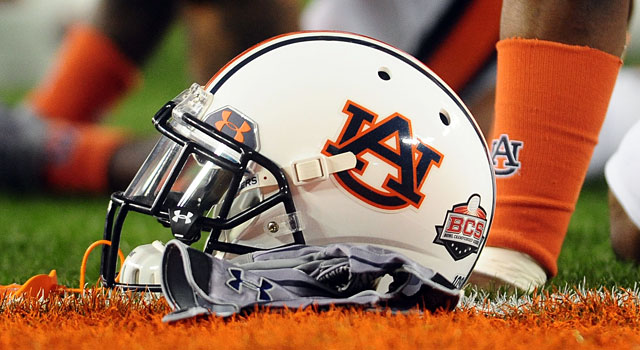 Most SEC schools have deep-rooted tradition that a drastic helmet change could disrupt.
But the territory seems less sacred now, Stricklin said, because new designs generate interest and -- if the team wins a game in a specialized helmet -- a new memory.
"You can use the tradition or you can let the tradition use you," Stricklin said. "Anytime you do something different, two-thirds of the initial feedback is negative, but it slowly moves toward the positive. If you end up winning the game, all positive."
While some schools must consider more than 100 years of football history when changing helmets, FAU athletic director Pat Chun considers 13 -- the number of football seasons in the Owls' history.
Chun sees the youth as a benefit in the helmet game because of the "flexibility to try different things," which wasn't a luxury for him while an associate athletic director at Ohio State.
FAU rolled out a red chrome helmet last month and saw immediate payoff in brand enhancement, thanks to sports website aggregation. The design was considered a mockup, so it's undecided whether the school will wear the helmet next season.
"When it gets on a national website, it's nice to get your brand out there," Chun said. "I would love to have told you we did that with a strategy in mind. It's one of those things that just happened."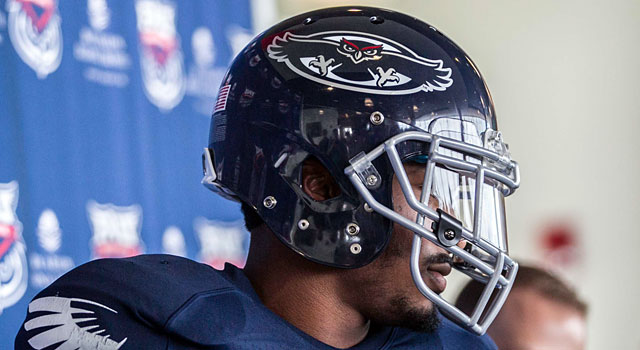 Changing the Game
Mississippi State and FAU didn't use Hydro Grapics (or HGI) for their recent designs, but many others have. HGI has nearly 100 FBS clients and talks to about 30 schools a month about helmet designs.
"No one's figured out a way to do it like them," Temple coach Matt Rhule said.
HGI is popular because it gives schools that TV shine. It also works with customers on pricing needs.
HGI recently began using a hybrid chrome, which is half the cost but still bright, according to HGI vice president Drew Gereb.
"For some, cost is a huge issue," Gereb said. "We really try to work with the teams, possibly by using a less expensive technique to get what the schools are looking for."
Make no mistake, HGI isn't solely in the helmet-making business.
It's in the news business.
With so many clients, unveilings must be kept Richard-Sherman-coverage tight.
"Designs don't leak from here," Gereb said. "We don't allow just anyone in our business."
HGI focuses on cosmetics while Riddell, its frequent collaborator, focuses on safety.
HGI, which is owned by Finish Line Companies, designed everything from toilet paper dispensers -- hey, they need brush aluminum -- to motorsports before Nike approached them about designing helmets for Oregon.
They collaborated with Nike's Pro Combat line, and nothing was the same.
"That changed the game," Chun said.