Hill may deserve third chance in college football, just not at LSU
LSU could live without Jeremy Hill. Maybe Hill should be living without LSU, despite the players' 'vote' to allow him back on the team.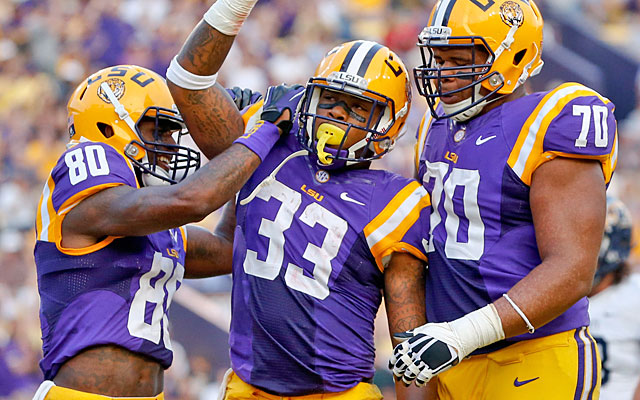 Jeremy Hill was a victim.
Well, a victim of the cell phone video era if you consider the LSU tailback was caught on tape in April sucker punching a man from behind.
It was that "gotcha" moment -- that act alone -- that makes it hard justifying Hill playing in Saturday's showdown at Georgia. But there is more. Without that video we're left with just an allegation, not damning proof that a prized LSU player assaulted a man -- while on probation for another legal entanglement. For the punch, Hill pleaded guilty to a simple battery misdemeanor and was sentenced to probation and community service. At the time he was on probation after pleading guilty to carnal knowledge of a juvenile while in high school, another misdemeanor.
Maybe it's time to redefine who the victims are in this week of the mammoth LSU-Georgia game. It doesn't particularly matter what I think about Hill being in uniform Saturday in Athens. The debate seems to have blown over. It is barely a talking point five weeks into the season. Hey, man, it's time for some footbaaaawl!
But I just can't get the episode out of my mind. Don't forget coach Les Miles was heavily criticized for allowing the players to vote Hill back on the team in the offseason. But then -- poof! -- the issue evaporated. In the end, Hill apologized to his teammates and paid what seems like a less-than-stiff price. He was suspended for five quarters -- the opener against TCU plus one quarter in the home opener against Alabama-Birmingham.
Maybe we're all immune these days. Maybe we shouldn't care about a couple of misdemeanors that have been adjudicated. A star is back on the field, get over it.
Still ...
None of it reflects well on Miles, LSU and the SEC. Carnal knowledge of a juvenile? That punch? Think if Hill were your son or -- worse -- the victim of that blow. The legal process is one thing. The right thing is another.
How bad is it that his first probation wasn't revoked and Hill sent off to jail after the punch that led to his second probation?
"What have you accomplished at 20 that gives you the right to be arrogant? Absolutely nothing," Louisiana District Judge Bonnie Jackson told Hill in August. "Playing football is a privilege."
A privilege that is reinforced as a right when the Jeremy Hills are allowed back on the field. This is not personal. I love watching Hill play. He probably shouldn't be banned from playing college football, he just shouldn't be playing it at LSU, maybe not in the SEC.
This is a program that booted repeat offender Tyrann Mathieu for alleged drug violations. Miles got rid of quarterback Ryan Perrilloux for not fufilling his duties as an LSU student-athlete. It's also a program that accepted quarterback Zach Mettenberger as a transfer after he was kicked off Georgia. Mettenberger had pleaded guilty to two counts of misdemeanor sexual battery.
Quarterback Jordan Jefferson was eventually reinstated after a bar brawl in 2011. The charge against him was eventually reduced to simple battery. Jefferson ended up being a key to an SEC championship that year.
At best, the standards at LSU seem to be a bit blurred.
The way he's playing, Hill could run right past Aaron Murray, Todd Gurley and Mettenberger to become SEC Offensive Player of the Year. He is coming off a career-high 183 yards against Auburn. The man was, as they say, a hoss.
From a mere roster standpoint, it would have been easy for Miles to do the right thing. The Tigers are loaded at tailback with or without Hill. No doubt, they're better with him. But Miles' and the program's reputation would be enhanced without him.
I'm wondering how such conduct would play at other schools, in other conferences. It's one thing playing a supremely talented tailback who is essentially on double probation. It's another allowing the sham of a team vote and the suspension of a mere five quarters.
LSU has to stand for something more. A dangerous precedent has been set here. What happens to the next Tigers player who is charged with a crime? He, his family and (potentially) his lawyer can ask the issue to be put to a team vote.
(Quick question: If the team had not voted in Hill's favor would Miles have accepted their decision?)
Bottom line: Hill and the Tigers head to Athens with all their goals intact. LSU seems to be emerging as Alabama's No. 1 challenger in the SEC. The offense is purring along smoothly under new offensive coordinator Cam Cameron. The hoss on probation just might be that SEC Offensive Player of the Year.
But this column doesn't get written -- Jeremy Hill doesn't get suspended, his playing time isn't an issue -- if not for a 46-second piece of video that changed everything.
Or did it?
The former Oregon coach is one of the hottest commodities on the coaching market

The CFP Selection Committee got Miami right, but there are some decisions that make you go...

The newest college football rankings are out, but did your favorite team make it in?
Sumlin is 51-25 overall and 25-22 in the SEC over six seasons in College Station

This is precisely what you'd think would happen between Kiffin and Saban

Anybody can rank the best 25 teams, only the Bottom 25 ranks the worst