Historical study: In-conference coaching moves
A look at the college football coaches of recent vintage who left for head coaching positions within the same conference.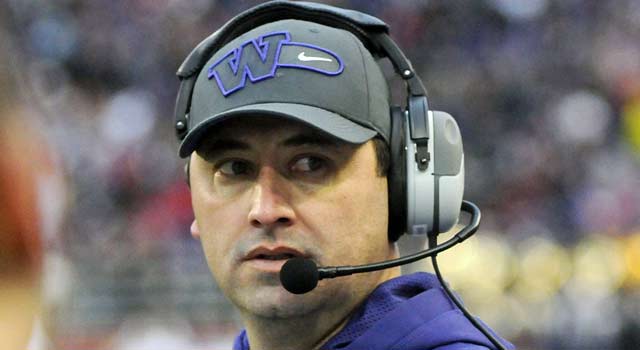 Unless there is a chance encounter in the 2014 Pac-12 title game, Steve Sarkisian can avoid the awkwardness for a couple of years.
You know, that moment when your old wife meets your new wife, the one you dated for a while before you got married the first time and who your first wife always suspected you still had a thing for.
USC and Washington are next scheduled to meet in 2015 per the Pac-12 scheduling rotation, and it could be 2016 before the Trojans return to Seattle. By then, who knows what the narrative around the two programs will be. Maybe Husky fans will still feel jilted and angry, maybe they'll be over it (this seems unlikely).
Whatever, it's no secret that changing jobs in-conference produces its share of hard feelings. That's probably one reason it doesn't happen all that much. But Sarkisian isn't the first college football coach to change seats at the conference table, nor is he the first in the Pac-12.
The men below are contemporary examples of what can best be called a limited trend.
We'll narrow this study to post-1985 examples, so our apologies if you were looking for a breakdown of Alex Agase's 1973 move from Northwestern to Purdue. We're talking only about direct, immediate movement from one conference school to another -- Nick Saban and Steve Spurrier don't apply here. And as much as we'd like to discuss Todd Graham's 2007 defection from Rice to Tulsa, we'll stick to BCS conferences and their forerunners:
Houston Nutt (SEC, 2008)
Old Address: Arkansas
New Address: Ole Miss
Circumstances of job change: Nutt resigned the Razorbacks post after 10 years and 75 wins, amid controversy over off-the-field problems and a disappointing 8-3 finish to 2007 (remember when eight wins used to be disappointing at Arkansas?). Four hours after resigning, Nutt agreed to succeed the fired Ed Orgeron at Ole Miss.
How it worked out: Things started well for Nutt in Oxford, as he posted back-to-back 9-4 seasons with Cotton Bowl wins in both 2008 and 2009. A return trip to Fayetteville in 2008 produced a 23-21 win for the Rebels. But Nutt resigned under pressure in 2011 amid a 14-game SEC losing streak. Arkansas, meanwhile, hired Bobby Petrino away from the Atlanta Falcons. The Razorbacks won 34 games in Petrino's first four years. Then things went really, really wrong. 
Tom O'Brien (ACC, 2007)
Old Address: Boston College
New Address: NC State
Circumstances of job change: Nearing the end of his eighth straight winning season in 10 years at BC, O'Brien left for slightly more money and a marginally better opportunity at NC State. It wasn't made public at the time, but hints of a rift between O'Brien and Boston College AD Gene DeFilippo were underscored by these comments, made by DeFilippo almost a year after the stoic O'Brien's defection in 2007: "Tom did a wonderful job here, but nobody was having fun. The fun is back at Boston College."
How it worked out: The fun would not last for BC, which hired Jeff Jagodzinski, forced him out after winning 20 games in two seasons because he dared to interview for the New York Jets job, and has only recently begun to right the ship under Steve Addazio. Neither was "fun" the operative word for the O'Brien tenure in Raleigh. O'Brien's second game in charge was a 37-17 thumping at BC, and it was year four before the Wolfpack posted a winning record. After going 40-35 and 22-26 in the ACC in six seasons, O'Brien was fired in 2012.
Tommy Tuberville (SEC, 1999)
Old Address: Ole Miss
New Address: Auburn
Circumstances of job change: Long before Nick Saban was not going to be the Alabama coach, Tommy Tuberville announced he would only be leaving Ole Miss "in a pine box." But Auburn came up with a box full of money (wood type unknown) -- doubling Tuberville's salary -- and days after re-affirming his commitment to the Rebels, he rebelled to The Plains.
How it worked out: Tuberville had 10 mostly successful years at Auburn, so it worked out reasonably well for him and his new employer. Ole Miss hired Tennessee offensive coordinator David Cutcliffe and was also successful to the tune of 40 wins in six years, but fired Cutcliffe (now at Duke) when he refused to make staff changes after a 4-7 season in 2004. Cutcliffe and Ole Miss prevailed at Auburn in Tuberville's first year of 1999, but in 2000, the Tigers won in Oxford, Tuberville was hoisted on his players' shoulders leaving the field, and the Vaught-Hemingway Stadium crowd booed lustily. Good times.
Gerry DiNardo (SEC, 1995)
Old Address: Vanderbilt
New Address: LSU
Circumstances of job change: James Franklin was not the first Vanderbilt coach with appeal to outsiders. DiNardo had four losing seasons in four years at Vandy, but his 18 wins over that stretch were better than Curley Hallman's 16 at LSU over that same timeframe, and the Tigers poached the Brooklyn-bred DiNardo from the Commodores. Bad blood and lawsuits ensued, with Vandy citing breach of contract and claiming DiNardo owed the university a six-figure sum in a case that dragged on throughout his tenure at LSU. Vanderbilt eventually won the case.
How it worked out: History does not look upon DiNardo -- who was fired 10 games into the 1999 season and eventually replaced by Nick Saban -- as a winner. But maybe it should. LSU had six straight losing seasons when DiNardo arrived, and he promptly led the program to three straight bowl appearances in his first three seasons. He didn't quite lay the groundwork for the Saban era but did recruit well and at a minimum raised expectations in Baton Rouge (and brought back the much-beloved white home unis). Meanwhile at Vandy, even the modest success DiNardo achieved could not be repeated by his successors Rod Dowhower and Woody Widenhofer. DiNardo was 2-0 against Vandy, including a win in his only trip to Nashville in 1996.
Bruce Snyder (Pac-10, 1992)
Old Address: Cal
New Address: Arizona State
Circumstances of job change: After five years that included back-to-back bowl victories for the long moribund Cal program, Snyder left after the 10-2 season of 1991 due in large part to a dispute with new AD Bob Bockrath. Snyder said Bockrath refused to honor a handshake agreement on a new contract that the coach had negotiated with the former AD.
How it worked out: Snyder was 58-45 in nine years at ASU (1992-2000), highlighted by the 1996 season when a narrow Rose Bowl loss to Ohio State deprived the Sun Devils of an undefeated season and possible share of the national title. Cal hired Washington offensive coordinator Keith Gilbertson after Snyder left and failed to sustain the program's success. Gilbertson lasted four years with one bowl appearance in Berkeley. Snyder, who died of cancer in 2009, was 7-2 against Cal during his tenure at ASU.
Bill Curry (SEC, 1990)
Old Address: Alabama
New Address: Kentucky
Circumstances of job change: Curry resigned under pressure after three years at Alabama, in which he went 26-10 and essentially failed to live up to the fan base's expectation that he become Bear Bryant. A week after stepping down, Curry took the Kentucky job, saying, "This is anything but a step down. I came from an outstanding program to an outstanding program." OK, Bill.
How it worked out: Curry did not win a bowl game and posted just one winning season in seven years in Lexington. He faced Alabama just once during his tenure at Kentucky, a 35-7 loss in Tuscaloosa in 1996. The Crimson Tide, meanwhile, moved on to the mostly successful Gene Stallings era, winning the 1992 national title.
Larry Smith (Pac-10, 1987)
Old Address: Arizona
New Address: USC
Circumstances of job change: The last time USC looked inside the conference for its coach, it had just fired Ted Tollner after four years and a middling 26-20-1 record. Smith had been slightly better at Arizona over that stretch (31-13-2), though the fact that he was 0-2 against USC and did not have Trojan roots was unsettling to some. There were some additional bad feelings over the hire. As the Los Angeles Times story on his hiring announced: "Smith, attired in a three-piece suit with a red tie, said he never would have been a candidate for the USC job had he been given a multiyear contract by Arizona last September." Note the absence of the words "This is my dream job" in that sentence.
How it worked out: Though he led the Trojans to three straight Rose Bowl appearances, Smith's tenure at USC was ultimately rather forgettable. He was not much better than Tollner (44-25-3 over six seasons), and an 0-6 record against Notre Dame and 1-4 mark in bowls (including a loss to Fresno State that capped his tenure) did not endear him to Trojans fans. Smith (who did go 4-2 against U of A) subsequently served as the Missouri coach, and died of leukemia in 2008. Arizona moved on from Smith to Dick Tomey, who won a school record 95 games in 14 seasons.
Bobby Ross (ACC, 1987)
Old Address: Maryland
New Address: Georgia Tech
Circumstances of job change: From a pure athletics point of view, the departure of Ross from College Park was one of the worst pieces of collateral damage from the Len Bias tragedy. Ross resigned less than six months after the cocaine-induced death of Bias, which brought a stain to the entire Maryland athletic department and stricter academic requirements that negatively affected football. Also, the university did not look close to making the improvements to Byrd Stadium that Ross had lobbied for. Soon after his resignation, Alabama hired Bill Curry (see above), creating an opening at Georgia Tech which Ross filled.
How it worked out: Great for Ross, horribly for Maryland. Ross struggled early in his tenure at Tech but in year four (1990) led the Yellow Jackets to a share of the national title in what remains the best season in their history. He went 3-1 against the Terps before leaving for the NFL following the 1991 season. Maryland, meanwhile, cycled through three failed coaches (Joe Krivak, Mark Duffner, Ron Vanderlinden) following Ross' departure, before Ralph Friedgen helped restore a large measure of the program's former glory starting in 2001.
Miami looks to cap an undefeated regular season at Pitt on Black Friday

Fitzgerald was injured while running during the first quarter of the Egg Bowl

D.K. Metcalf certainly had an interesting spin on his touchdown celebration
The Commonwealth Cup has resided in Blacksburg for over a decade

The biggest game in the AAC this season takes place Friday

Can Arkansas spring the upset on a Missouri team that has caught fire after a sluggish sta...