Historical study: What happens when you hire the interim coach?
A look at recent interim coaches in college football, how they fared, and where the school turned in hiring a permanent replacement.
USC defeated Stanford last Saturday to move to 5-1 under interim head coach Ed Orgeron, increasing sentiment that Orgeron should be installed as the permanent replacement for Lane Kiffin.
As he assesses the future of the program, Trojans AD Pat Haden must decide whether Orgeron's work amounts to a short-term bounce for a team that saw its 2013 expectations dissipate once Kiffin was fired, or whether a long-term commitment to Orgeron will produce the desired results for a program that sets the bar at "national championship" every year.
There is historical data for Haden to analyze as he ponders this decision, though not as much as you might think. Among current members of BCS conferences, Southern Cal and UConn are only the 12th and 13th jobs to come open in the middle of the season since 1990, though the fact that an in-season removal has now occurred seven times since 2008 is perhaps an indication that we'll be seeing more of this.
The success of Orgeron is another such indication.
Below we take a look at each case where a coach was removed once the season was under way. We're not counting changes that happened before the season started (so no John L. Smith replacing Bobby Petrino or Luke Fickell replacing Jim Tressel), or those that occurred before bowl games (so no Bill Stewart replacing Rich Rodriguez, among dozens of others). Haden will have to assess fewer than one season's body of work when he makes a determination on Orgeron, so we'll stick only with the examples that fit that similar profile.
And to be fair, some of the interim men below were never under realistic consideration for the permanent jobs, though if we're being real about it, the perception in September was that Orgeron wasn't a legitimate candidate either. A hat-tip to our friends at College Football Reference for the data:
Arizona (2011)
Out: In his eighth season, Mike Stoops was fired after a 1-5 start that followed a five-game losing streak to end 2010.
In: Defensive coordinator Tim Kish was elevated and immediately made an impression, leading the Wildcats to a 48-12 rout of UCLA that was their first FBS win in almost a calendar year. But the good times were not to last, as UA lost its next three before recovering for wins over Arizona State and UL-Lafayette.
Who they hired: Rich Rodriguez, and the hiring came before Thanksgiving, making it evident that Kish was never a serious candidate.
Right move? It's trending that way. UA has not competed for a Pac-12 title under Rodriguez but will be in its second bowl in his two years. Kish is now the linebackers coach at Oklahoma.
Penn State (2011)
Out: Joe Paterno was abruptly fired nine games into the 2011 season, amid the Jerry Sandusky child sexual abuse scandal that marked one of the horrific episodes in sports history.
In: Longtime defensive coordinator Tom Bradley served as the Nittany Lions' coach for the remainder of 2011, going 1-3 including a win over Ohio State and a loss to Houston in the TicketCity Bowl.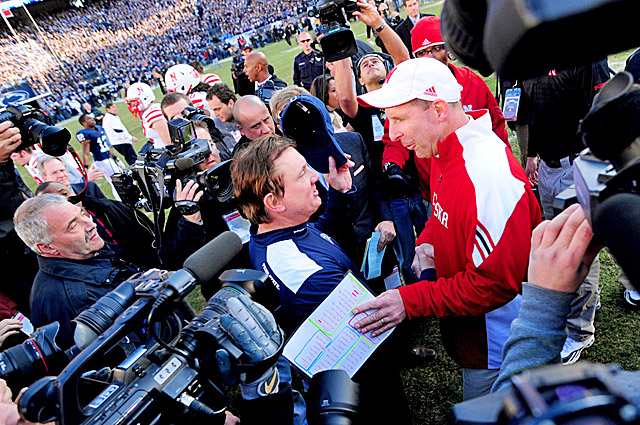 Who they hired: New England Patriots offensive coordinator Bill O'Brien. Given the stain of the scandal on Paterno's staff, it's unlikely that Bradley was ever a serious candidate.
Right move? Yes, yes, one thousand times yes. O'Brien has done a remarkable job that his modest 14-8 record couldn't begin to explain. Bradley is now out of coaching and working as an analyst for CBS Sports Network.
Colorado (2010)
Out: Dan Hawkins was fired on Nov. 9, three days after the Buffaloes blew a 28-point lead in a 52-45 loss to a 2-6 Kansas team. It was a fitting end for Hawkins, who just couldn't seem to capture any momentum for the once-storied program during his 19-39 tenure.
In: Brian Cabral, a former player at CU and an assistant with the Buffaloes since 1989, shepherded the program for the final three games of 2010. The first two of those were decent wins over Iowa State (34-14) and Kansas State (44-36), but a loss to hated Nebraska (45-17) in the finale, which denied the Buffs bowl eligibility, may have hurt any equity Cabral had in vying for the permanent job.
Who they hired: Ten days after the Nebraska loss, Colorado introduced Washington Redskins tight ends coach and CU alumnus Jon Embree as the permanent successor to Hawkins.
Right move? Nope. Cabral (who was retained on Embree's staff) could not have fared worse than Embree, who was 4-21 and dismissed after just two seasons despite featuring one of the youngest rosters in college football. Cabral was not retained by new coach Mike MacIntyre and is now defensive coordinator and associate head coach at FCS Indiana State.
Minnesota (2010)
Out: Tim Brewster was fired seven games into his fourth season on the job, with the Golden Gophers holding a 1-6 record including a loss to FCS South Dakota. Brewster had led the program to two bowl appearances in 2008 and 2009, but could not deliver on a promise to have the Gophers competing for Rose Bowls, and paid with his job.
In: Jeff Horton, the former Nevada and UNLV head coach who had been serving as Minnesota's offensive coordinator, was designated with the interim tag for the rest of 2010. Horton finished 2-3, losing his first three but rebounding for wins over Illinois and Iowa. The victory over the Hawkeyes gave the Golden Gophers their first win in a "trophy game" since before Brewster's tenure.
Who they hired: "I'd like to announce that I've just accepted the head coaching job," Horton flippantly told reporters after the Iowa win, though nine days later, Minnesota hired Jerry Kill away from Northern Illinois. Kill and NIU had defeated the Golden Gophers during the 2010 season.
Right move? With the Gophers headed to a second straight bowl and sitting at 8-2 going into this week's matchup with Wisconsin, it would seem so. The controversy surrounding Kill's epilepsy and its impact on the program complicates the issue, but the on-field product has undoubtedly improved since the Brewster era. Horton now coaches running backs and serves as assistant head coach San Diego State.
Clemson (2008)
Out: Tommy Bowden stepped down six games into the 2008 season, after the preseason ACC favorites had staggered to a 3-3 start including back-to-back losses to Maryland (at home) and Wake Forest. Bowden won some big games in his 10 years with the Tigers but never managed an ACC title or lost fewer than three games in any year of his tenure.
In: Dabo Swinney, the assistant head coach and wide receivers coach with the funny name, was elevated to the interim role for the remainder of 2008. Swinney wasn't a disaster, going 4-3 including a loss to Nebraska in the Gator Bowl, but did little more than Bowden had to prove the 2008 Tigers' place among the college football elite.
Who they hired: Two days after Clemson defeated South Carolina 31-14, Swinney was made the permanent replacement to Bowden. The move was not wildly endorsed by Clemson fans, many of whom preferred an established head coach or someone without ties to the Bowden era.
Right move? In his fifth full season, you'd have to say yes, wouldn't you? Clemson has not competed for a national title in the Swinney era, but is 30-7 with an ACC title since 2011 and is, at the very least, nationally relevant again. Swinney is the most successful, popular coach the program has had since Danny Ford, which is an achievement.
Arizona (2003)
Out: John Mackovic was fired five games into his third season on the job, which had produced a 1-4 record and lots of bad PR thanks to allegations over Mackovic's shoddy treatment of players. Mackovic was 10-18 without a bowl appearance in Tucson.
In: The school elevated defensive coordinator Mike Hankwitz to the interim head coach role, which failed to inspire the remaining players or the masses. Hankwitz was 1-6 (the win was over Washington), and five of the losses were by more than 20 points.
Who they hired: Two days after a season-ending loss to Arizona State, UA named Oklahoma co-defensive coordinator Mike Stoops its next head coach.
Right move? See Arizona's 2011 entry above. Stoops was more successful than Mackovic because it would have been hard not to, but it took the volatile coach five years to get the program back to a bowl (the Las Vegas Bowl) and a pair of 8-5 records were the high-water mark. Hankwitz (now defensive coordinator at Northwestern) probably wasn't the answer either, but it wasn't because Stoops was light-years better.
Michigan State (2002)
Out: Bobby Williams was fired with Michigan State sitting at 3-6, and two days after the Spartans had lost 49-3 to Michigan. Williams had two bowl wins on his resume', but was done in at least partially by having to succeed Nick Saban in East Lansing.
In: Offensive coordinator Morris Watts, whose relationship with Michigan State dated back to 1986 and the George Perles era, coached the Spartans to a 1-2 record (the win was over Indiana) in three games as interim coach. A season-ending, 61-7 loss to Penn State probably eliminated any sentiment for a long-term commitment to the then-66-year-old Watts.
Who they hired: The Spartans hired John L. Smith away from Louisville, news that broke as Smith was presiding over the Cardinals' blowout loss to Marshall in the GMAC Bowl. Word reached the Louisville players during the game, producing a situation that was a wee bit awkward. Quitting on a team under bizarre circumstances would become habit-forming for Smith.
Right move? Morris Watts was probably not the answer for MSU, and John L. Smith was definitely not the answer. Smith led MSU to a bowl in year one, went 14-21 the rest of the way and was fired after four years on the job. Michigan State would get it right the next time, hiring the steady Mark Dantonio in 2007. Watts is currently the QBs coach and passing game coordinator at Central Michigan.
Kansas (2001)
Out: After clinching his fifth losing season in five years on the job, Terry Allen was fired with Kansas sitting at 2-6. Allen was unable to build on the successes of the Glen Mason era in Lawrence.
In: Defensive coordinator and secondary coach Tom Hayes coached the Jayhawks for the final three games of the season. Hayes went 1-2, including blowout losses to Iowa State and Texas and a season-ending win over Wyoming.
Who they hired: Though Kansas players lobbied for Hayes, KU hired Oklahoma offensive coordinator Mark Mangino in December.
Right move? Though Mangino's tenure in Lawrence ended badly and was not without its complications, it would be hard to argue that hiring him was the wrong move. He won 50 games in eight years and led KU to the Orange Bowl in 2007, an occasion that seems like eons ago when you see what Turner Gill and Charlie Weis (a combined 9-37) have done since Mangino was fired. Hayes landed on his feet and is now the defensive coordinator at Kansas State.
Auburn (1998)
Out: With Auburn sitting at 1-5 and the walls closing in around him in his sixth season, Terry Bowden resigned under pressure Oct. 23.
In: Defensive coordinator Bill "Brother" Oliver was installed as interim coach and one day later led the Tigers to a win over Louisiana Tech. It wouldn't get much better than that for the Tigers, who lost three of their final four (the win was over UCF) including a 31-17 loss to Alabama, curiously enough Oliver's alma mater.
Who they hired: Auburn did not look beyond its own conference in finding the permanent successor to Bowden, stealing Tommy Tuberville from Ole Miss.
Right move? Yes. Gene Chizik won a national championship and Gus Malzahn is quickly becoming a folk hero at Auburn, but Tuberville was a long-term stabilizing force, winning 85 games in 10 years (including a perfect season in 2004 that some believe should have given the Tigers a shot at a national title). Oliver -- an Alabama alumnus who might have been a tough sell anyway -- retired from coaching after the 1998 season.
Georgia Tech (1994)
Out: With a 1-7 record and 0-6 mark in the ACC during his third year on the job, Bill Lewis resigned Nov. 8th.
In: Defensive coordinator George O'Leary, who had previously been a member of the staff when Bobby Ross led the Yellow Jackets to a share of the national title in 1990, presided over the final three games of the 1994 season. O'Leary lost all three, including a 48-10 season-ending loss to Georgia that could not have inspired a lot of confidence among fans in O'Leary as the long-term solution.
Who they hired: Though he failed to win as the interim, Georgia Tech obviously thought O'Leary had the resume (ahem) to succeed in the long-term.
Right move? O'Leary was undeniably successful at Georgia Tech, though it didn't happen overnight. The Jackets did not get back to a bowl game until O'Leary's third season, and the real breakthrough came in year four (1998) when Tech was 10-2, won a share of the ACC title and appeared in the national Top 10. Were it not for the resume-related debacle that made him the shortest-tenured coach in Notre Dame history in December 2001, O'Leary (now on the cusp of a BCS berth as the coach at UCF) might still be at Georgia Tech.
Arkansas (1992)
Out: In one of the legendary coaching moves in college football history, head coach Jack Crowe and AD Frank Broyles made a "mutual decision" to end the Crowe era one day after a season-opening loss to I-AA The Citadel. Crowe was starting his third year, having led the Razorbacks to an Independence Bowl appearance the year before.
In: Defensive coordinator Joe Kines was elevated to interim head coach, and as his first order of business hired ex-Clemson head coach Danny Ford as a "consulting assistant." With Kines nominally in charge, Arkansas made a strong opening statement by destroying South Carolina 45-7, one week after The Citadel loss, but that would be the high point of the 1992 season. Three straight losses to Memphis (22-6), Alabama (38-11) and Georgia (27-3) ensued, and later wins over Tennessee and LSU were not enough to land Kines the permanent job. As it turned out, Broyles would look elsewhere on the staff to fill the position.
Who they hired: Ford, who had left Clemson amid an NCAA probe and fallout with school administration after the 1989 season, was made Arkansas' head coach in 1993. Kines was retained as assistant head coach and defensive coordinator, but left Ford's staff after the 1995 season.
Right move? Probably not. Ford had just one winning season in five years and was fired after the 1997 season, though Houston Nutt did win 17 games in 1998-99 with mostly Ford-recruited players. Kines became a legendary assistant coach but never a permanent head man. Now retired, Kines also served as an interim coach at Alabama following the 2006 firing of Mike Shula.
These five teams have the best chance of being the Group of Five darling this coming year

Drevno had been running the Michigan offense for three seasons

Aaron was reportedly shot while trying to protect his girlfriend when a fight broke out at...
An assistant-by-assistant look at changes Saban made to the Tide's staff ahead of 2018

Find out when Nick Saban, Kirby Smart and the rest of the coaches will speak ahead of the...

It wasn't only the massive $75 million contract that got Fisher to depart for College Stat...