Hoke's gutsy call proves he doesn't need vote of confidence
Is Brady Hoke the right Michigan Man to turn around the Wolverines? After nearly knocking off Ohio State with a gutsy two-point conversion call, that question needs to be put to rest.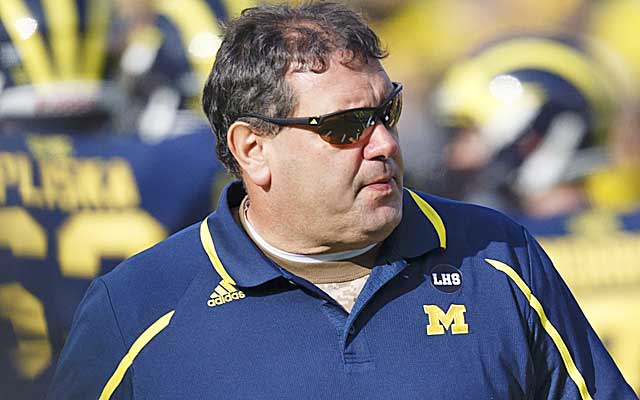 Brady Hoke did more for his job security with one play call Saturday than his boss did with 1,000 words.
There's a Chinese proverb in there somewhere, but consider the ramifications (non-BCS) of Michigan's one-point loss to <span data-shortcode= State" data-canon="Ohio Bobcats" data-type="SPORTS_OBJECT_TEAM" id="shortcode0">. Specifically, there is no documented evidence that Lloyd Carr nor Bo Schembechler needed votes of confidence after their third seasons at Michigan.
Like Brady Hoke, they won. Big. Lloyd and Bo had better overall records than Hoke by that time, but not by much. In fact, Schembechler had lost two Rose Bowls after three seasons. Carr had lost exactly one more conference game than Hoke going into Saturday.
OK, we're not forgetting Michigan's last national championship achieved under Carr in '97. Still ...
... it's Hoke who is under fire. AD Dave Brandon alerted us to that fact last week with a 1,000-word statement on the school's athletic website.
Brandon didn't have to. He probably shouldn't. He definitely needed someone to edit him down. But some recruit or another hinted at instability from the mighty Wolverines. The horror! So away Brandon wrote.
In one highly publicized emotional tome, he spoke to fans, fundraisers and five-star teenagers all at once. These types of things are commonly known as votes of confidence. And we all know what usually follows VOC.
That Brandon thought his coach needed one at this point is a bit of a laugh. Hoke won a BCS bowl in his first season (2012 Sugar), something Bo didn't do until his 12th. But before his 38th game as Michigan's head coach, having posted the school's best three-year record at the school since 2007, it was Hoke who was looking down the barrel of the dreaded VOC.
On Wednesday, Brandon said Hoke would be Michigan's coach "well into the future." Perhaps Brandon meant to cushion the blow of impending Ohio State doom.
Except it didn't play out that way. Michigan was at least the equal of Ohio State. At the end, Hoke did the best thing he could do -- for himself, for the program, for recruiting, for the future.
He went for two.
It is disappointing in Wolverineland that the 2-point call with 32 seconds left didn't work. We can argue about the play call or whether Ohio State's defenders knew what was coming, but the point is Hoke made the call.
The right call.
The only call.
It was the what-do-we-have-to-lose call that was going to end Ohio State's undefeated season right there. Until it didn't. But a message had been sent. While Brandon wrote to the masses, Brady spoke directly to them.
He went for it.
"We play the game to win," Hoke said.
And that's all you really have to know about the state of Michigan football at the moment. It may be down, slightly. (Carr was exactly one game better in his last three years than Hoke was in his first three.)
But it isn't out out, certainly not as much as Brandon hinted. Look around college football. Auburn was 3-9 last year. Minnesota won eight games missing its coach on the field for half the season. No one would have blamed anyone for picking Auburn and Missouri sixth in their SEC divisions before the season.
It can turn around quickly. Anywhere.
Most likely, Brandon was reacting to the whims of one of those five-star teenagers. On Tuesday, Michigan's reported top recruit, New Jersey defensive back Jabrill Peppers, said he would consider other schools because of perceived instability.
These types of things happen. Yes, they're bad publicity. You move on. Brandon called attention to those whims by giving his coach a VOC.
Some would call that a lose-lose.
Brandon himself called it as "silly as me calling a press conference to say we're keeping the winged helmet."
Except that the AD now wants to remind us out loud and in the open that the winged helmet isn't going anywhere.
Hoke?
You won't read it in that treatise, but Hoke won that Sugar Bowl with Rich Rodriguez's players. Brandon didn't mention that in his manifesto. In fact, Rodriguez isn't mentioned at all. In a way, it reads like a bit of revisionist history.
Rich Rod was fired, in part, for changing the offense. Hoke is still trying to change the offense ... back.
Brandon calls it "hard-nosed, big boy football". If that sounds weird and confusing, jump on board. Part of the problem is Michigan is being trapped by its athletic legacy. That hard-nosed, big boy football eliminates, oh, about half the coaches in the country from leading Michigan.
Brandon jettisoned one -- Rodriguez -- to the cheers of hundreds of thousands living alumni. But in that same statement the AD said Michigan has to get back to being more like Alabama and Stanford.
What?
Michigan is no longer the football factory that Alabama remains. Brandon certainly can't take the academic high road comparing his program to Stanford's that has a national recruiting base of about 275 players.
Heck, Michigan has that many official visits in a month.
But these are the days of absolutes for ADs. They must overstate in these situations. Recruiting is at stake. So is fund raising. So when Florida AD Jeremy Foley says he supports Will Muschamp "1,000 percent," Gators everywhere are wondering how many hyperbolic extra zeroes he tagged onto that statement.
But these are also days of desperation. Ohio State has now won nine of the past 10 in the rivalry that defines both programs. In that span, both schools have gone through three coaches.
One school has won 24 in a row. The other is hoping for its first Big Ten division title.
The Brandons of the world are guiding brands as well as football programs. In that sense, then, Michigan's AD at least is a national champion. He has reworked the school's athletic administration to take advantage of the reputation of that block "M."
Folks are buying up Michigan gear in records numbers. But the brand suffers if the football program doesn't win. That affects recruiting, giving, national TV appearances.
Brandon, then, needs a team worthy of his marketing of it.
It's about leverage, perception, games of chicken with millions of dollars involved. Bo Pelini fell one game short of winning at least nine games for the sixth consecutive season. Then, with an ugly postgame reaction, he made fans remember he has also lost four games each of those seasons.
Scores of ADs are prisoners of their coach's buyout. Pelini's is almost $8 million. He's either got another job lined up or daring Nebraska's CFO to fire him. Either way, Coach Bo wins.
Not even Brandon can guarantee Hoke will be around -- in his words -- well into the future. He doesn't have to. Any absolutes he stated last week will be quickly forgotten if Michigan can snag Les Miles at some point.
Times have changed, radically. Coaches can't be judged in the same leisurely time frame they were even a couple of years ago. Missouri's Gary Pinkel just tied legend Don Faurot for winningest coach in school history. Coming off a 5-7 season, there were whispers about Pinkel's job security. Now the Tigers are in the SEC title game in their second year in the conference.
The program George O'Leary has overseen for several years at Central Florida is on NCAA probation. Who knew? The Knights are closing in on an American Athletic Conference title and the program's first BCS bowl.
For part of Schembechler's stay at Michigan, it was Rose Bowl or nothing for the Big Ten. Forty years ago this season, the Wolverines tied Ohio State in their annual game that led to a tie atop the conference. The Big Ten ADs picked Ohio State for the Rose. Bo was forever a hero.
Imagine Michigan fans waiting these days a dozen years for a BCS bowl victory.
By issuing last week's statement, Brandon put his coach and himself in a precarious position. Hoke's future is his future.
The former Domino's CEO did the popular thing by getting rid of Rodriguez. Brandon could do an incredibly damaging thing by axing Hoke prematurely. Once that coaching carousel starts spinning, it's hard to get off.
Ohio State might have a BCS problem at the moment, holding onto its No. 2 ranking.
Michigan has a football problem that is not restricted to the playing field.
Check mgoblue.com for regular updates.
An assistant-by-assistant look at changes Saban made to the Tide's staff ahead of 2018

Find out when Nick Saban, Kirby Smart and the rest of the coaches will speak ahead of the...

It wasn't only the massive $75 million contract that got Fisher to depart for College Stat...
Weinke was injured when Florida State lost to Tennessee in the 1999 BCS title game

It was one of the busiest offseasons for the assistant coaching ranks

Oliver's star has already been born, but 2018 is when it will truly be recognized