Holgorsen seems to be pointing fingers in the wrong direction
West Virginia's 'lack of leadership' was a problem in 2012. That's what coach Dana Holgorsen seemed to be saying. He should look at himself.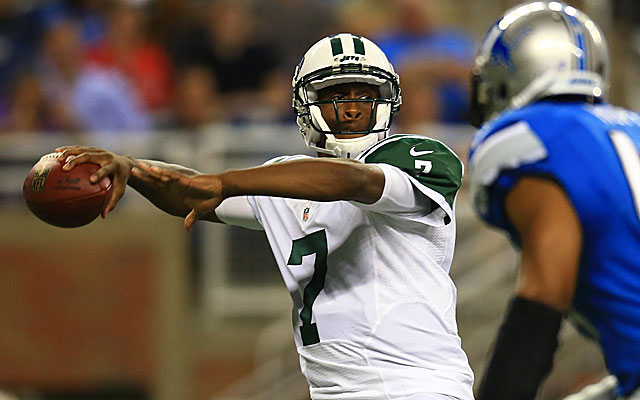 My goodness, Dana Holgorsen, what a bad little leader you are.
Holgorsen is the football coach at West Virginia. The guy whose team won its first five games last season to reach the No. 5 national ranking, then lost six of its final eight. It was an epic collapse, and as captain of the ship Holgorsen knew exactly who to blame:
Somebody else.
"[Leadership] was a big issue on last year's team," he said recently, "and I mean issue in a bad way."
Leadership? Well, West Virginia had a high-profile star picked in each of the first three rounds of the 2013 NFL Draft. One was the quarterback and team captain, Geno Smith. So when Holgorsen was blasting the 2012 team's leadership, was he referring to Smith? Or to the other early round NFL picks, Tavon Austin or Stedman Bailey? Or to some poor sap on defense? Some combination of the above?
Holgorsen didn't say.
Which means he smeared pretty much everyone.
That is not what a leader does. A leader does not make intentionally vague but clearly insulting comments about his players, past or present, because that allows -- forces -- outsiders to fill in the blanks. Who was he talking about when he blasted last year's team? And why? That's the feeding frenzy Holgorsen created when he lamented about West Virginia's lost 2012 season and said leadership was an issue.
And I mean issue in a bad way.
The New York media assumed Holgorsen was talking about Geno Smith. So did Smith's head coach with the Jets, Rex Ryan. Holgorsen asked me Tuesday morning what Ryan had said, and when I read him Ryan's quotes, Holgorsen chuckled and said, "Has he ever been to West Virginia?"
No, I told him. But Rex did what all of us did: We heard the West Virginia coach rip his 2012 team's leadership, and we know the 2012 West Virginia team was led by its star quarterback, and we wondered -- if not outright assumed -- that Holgorsen was talking about Geno Smith.
So I asked Holgorsen a question: Do you see why we would do that?
"I don't know," he said. "I don't know how you guys should read into it. I simply said this is what we need to do to be a better football team [in 2013] -- to have a whole roomful of leaders instead of a couple high draft picks on offense."
Point of fact, that's not what he said (although that doesn't sound a whole lot better). What he said was, "[Leadership] was a big issue on last year's team, and I mean issue in a bad way."
A coach says something like that, and maybe he figures he'll get sympathy. Poor guy, your 2012 team fell apart because your players were jerks. Not your fault, you helpless little head coach who had nothing to do with a defense that allowed 473.6 yards and 38.1 points per game. Not your fault what happened in the team's fifth consecutive loss, a 50-49 defeat at home to Oklahoma, a game in which the Mountaineers put up 778 yards of offense and couldn't be stopped and had 30 seconds to get into field-goal range ... but ran out of time. Because the head coach had used his final timeouts earlier, before two-point conversions. Because who has a two-point conversion ready at the drop of a hat in a close game? Not Dana Holgorsen.
That loss to Oklahoma, that late-season implosion? Not Holgorsen's fault. That's what he was suggesting. By not making clear whose fault it was, he allowed for the assumption that this was Geno Smith's fault. Which, when you think about it ...
Remember Smith's pre-draft slide? At the time, it made no sense. Once an apparent lock to go in the first round, he was undercut by draft scout Nolan Nawrocki's vicious report in April that offered accusations like the following about Smith:
"Nonchalant field presence -- does not command respect from teammates and cannot inspire. Mild practice demeanor -- no urgency. ... Not committed or focused -- marginal work ethic. ... Needed to be coddled in college -- cannot handle hard coaching."
Needed to be coddled in college? Cannot handle hard coaching?
Who would be qualified to say that?
That's a layer here, another layer that explains why people assumed Holgorsen's vague comments on leadership were a shot at Geno Smith. See, this is me being fair to Dana Holgorsen -- more fair than he was to Smith -- by acknowledging why we rushed to a possible misjudgment. It's also fair to ask Holgorsen directly about the issue. And to report what he said when he blamed the confusion on (surprise) someone else:
"If somebody mistakes the fact that I mentioned something about leadership with misinterpreting that to meaning Geno, and they bring it up to Rex, I'd assume Rex would be surprised by that," Holgorsen said. "It's a false comment when referenced to Geno, and I'm sure Rex has already figured that out. He's a great kid, a great leader."
In the story that started this whole thing, the one last week where Holgorsen ripped the leadership of last year's team, he said another sentence that wasn't as widely reported. He was talking about the concept of leadership when he said the following:
"Naturally, it usually is the quarterback but it doesn't have to be," he said.
Clear it up? Not really. We're where we began, with Holgorsen blaming last season's collapse on somebody. But we don't know who. And we don't know why.
What can I say for sure about this whole story? Only this: Only that I agree with Rex Ryan when he said the following on Monday about the true leadership -- the head coach -- at West Virginia.
"It tells me I'm glad my kid never went there," Ryan said.
Paul Tyson is a three-star quarterback prospect for the 2019 recruiting class

College football bowl games were all announced on Sunday, and you can check out the entire...

SportsLine simulated every bowl game 10,000 times for pick'em leagues and confidence pools
Everything you need to know to watch and pick the Las Vegas Bowl on Saturday

Everything you need to know to watch and pick the Camellia Bowl on Dec. 16

Everything you need to know to watch and pick the New Mexico Bowl on Dec. 16