Holiday Bowl Primer: Baylor vs. UCLA
Bruins and Bears means an all-ursine showdown in the biggest -- and quite possibly best -- bowl of the postseason to date.
---
Baylor Bears (7-5)
No RG3, no problem? Things weren't quite that good for the Bears, who slipped from last year's nine-win breakthrough to a 4-5 mark in mid-November. But a three-game winning streak to end the season -- one in which every victim was a bowl team, and one happened the be the undefeated No. 2 team in the nation -- proved that Art Briles' program was no one-quarterback wonder. A Holiday Bowl victory (particularly one in which the much-maligned Baylor defense shows some level of improvement) would only further cement the Bears as a team that's not going anywhere until Briles does.
At their best: Gosh, perhaps we'll go with the shocking 28-point rout of eventual Big 12 champion Kansas State, said champions' only defeat of the season? For 60 minutes, the Bears unleashed the sort of complete, balanced performance that could stamp them as a national title contender if extended for a complete season: a big-play defense causing turnover havoc, an all-cylinders run game (one keyed by Lache Seastrunk's 185-yard outburst) that could both move the chains and put up a sudden six points, and Briles' usual aerial fireworks from Nick Florence and Co. The Wildcats never had a chance, but not many teams would have.
At their worst: Though none of Baylor's four Big 12 road games would qualify as "easy," the difference between the Bears' final 7-5 finish and something much better -- or, put another way, between the Holiday and a bowl played several days after Dec. 27 -- was their ugly 0-4 record in those games. The worst was a two-touchdown capitulation at Iowa State in which the Bears' three fumbles and two interceptions helped 541 offensive yards yield grand total of 21 points.
Headliner: With all due respect to the often-brilliant Florence, the catalyst behind the Bears' late charge was unquestionably Seastrunk, whose three biggest games of the year not-so-coincidentally happened to be the Bears' last three games of the year ... all of them wins. The former five-star recruit and Oregon refugee averaged 166 yards a game and 9.2 yards a carry (!) in that span, sparking talk -- talk from Seastrunk, anyway -- that a 2013 Heisman run could be in the offing. If Seastrunk's serious about that, similar numbers in a primetime showcase vs. the Bruins would be an excellent start.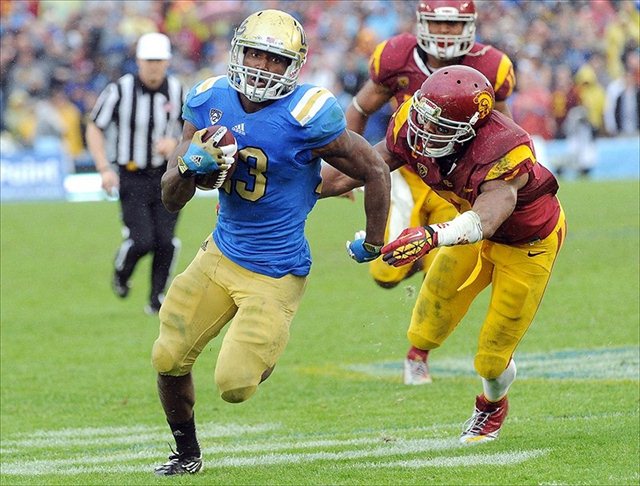 Johnathan Franklin could be in for a good game vs. the Bears defense. (US Presswire)
---
UCLA Bruins (9-4)
Not every Pac-12 South championship season is created equal, as the Bruins have proven these past two seasons. In 2011, Rick Neuheisel's trip to the league's inaugural title game was little more than a band-aid on what would finish as a 6-8 season, and didn't prevent his end-of-season firing; in 2012, Jim Mora's nine-win triumph, comfortable win over USC, and near-upset of Stanford in the Pac-12 championship seemed to herald the Bruins as a major conference player for years to come. A Holiday Bowl win would be the icing on quite the frightening cake for the rest of the division.
At their best: The 38-28 win over the Trojans -- the Bruins' first in six tries -- was no doubt the most satisfying win of Mora's debut season, but UCLA's best performance was a 66-10 obliteration of Arizona in a game they entered as mere three-point favorites. Johnathan Franklin and Brett Hundley had already established themselves as offensive stars by that point, but spearheading an attack capable of putting up 611 yards of offense (303 of them on the ground) put them in a different class entirely.
At their worst: Of course, explosions like the one against the Wildcats made the Bruins' no-show at Cal and resulting 43-17 beatdown at the hands of the Bears all the more inexplicable. Hundley's four interceptions were only part of it, though; the Bruin defense allowing Zach Maynard (yes, that Zach Maynard) to complete 25 of 30 passes for 295 yards accounted for much of the rest. If the Arizona game provided a tantalizing glimpse of what the Bruin offense might do against a defense like Baylor's, their loss to what would wind up a 3-9 Cal team provides a similar -- but terrying -- look at what Baylor might do to Mora's defense.
Headliner: Johnathan Franklin racked up 1,700 yards rushing in 2012 -- the eighth-highest total in the nation, and with more distance between Franklin and No. 9 (Ohio's Beau Blankenship) than between the No. 2 rusher (Nevada's Stephon Jefferson) and Franklin. But just as impressive was Franklin's 6.34 yards-per-carry average, the second-best number in the country among tailbacks with more than 250 attempts. In a league full of total-package running backs, Franklin may have been the totalest.
---
What: Holiday Bowl
When: Thursday, Dec. 27, 9:45 p.m. ET, ESPN
Where: Qualcomm Stadium, San Diego
Weird: Quoted directly from Wikipedia: "One of the more popular (yet unusual) events associated with the Holiday Bowl is the Wiener Nationals, the national championships for the U.S. dachshund racing circuit." More directly from the Holiday Bowl here.
Line: UCLA -3
Prediction: Points first and foremost, and also second and secondmost, third and thirdmost, and fourth and fourthmost; both of these defenses have given up yards and touchdowns by the boatload to offenses with a pulse, and both of these offenses have some of the strongest pulses in the FBS. (The Vegas over-under of 82 points is the largest of bowl season ... and still 41 points shy of the total from the Bears' last bowl appearance.) But Baylor's late-season rise may give them just enough of a mental edge against a Bruin team still wounded by coming up just-that-short against Stanford in the Pac-12 title game.
Baylor 45, UCLA 42
The movie will zero in on former Penn State coach Joe Paterno during the Jerry Sandusky sc...

Bidding for Salaam's trophy, which the auction house says was obtained legally, ends Satur...

Locksley has been the offensive coordinator at Illinois and Maryland during his coaching c...
Many NFL-eligible juniors ignore advice provided by the league and risk going undrafted each...

Snyder died in Manhattan, Kansas, on Wednesday

Locksley joined Alabama's staff in 2016