Holiday Bowl Quick Hits: Baylor 49, UCLA 26
Baylor takes a 21-0 lead and never looks back, throttling lackluster UCLA.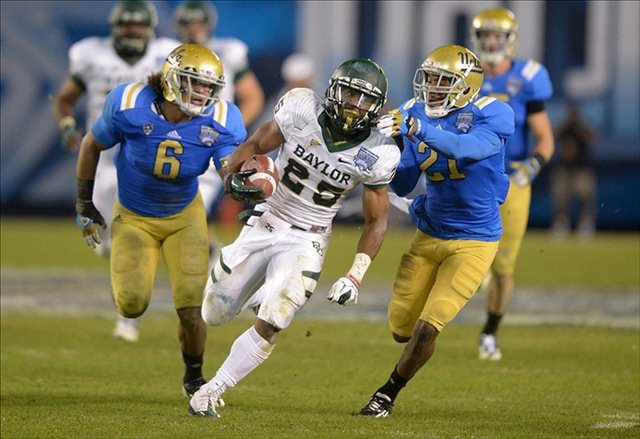 UCLA never caught up to Lache Seastrunk and the Baylor Bears. (US Presswire)
BAYLOR WON. The same Baylor offense from last year's 67-56 Alamo Bowl insta-classic showed up in San Diego Thursday night; unfortunately for UCLA, that same Baylor defense was nowhere to be found. The nation's 123rd-ranked defense dominated the Bruins from start to finish, holding the Bruins to a miserable 4.1 yards per play (even less with the game in doubt) and 1-of-17 on third-down conversions. Meanwhile, Art Briles' offense did its thing, racking up 309 rushing yards -- 138 of them by offensive MVP Lache Seastrunk -- and scoring 35 first-half points to put the game away early.
WHY BAYLOR WON. The Bears are far more known for their skill position stars than their strength along the line -- or for any kind of defensive presence at all -- but the biggest mismatches in the game weren't on the outside; they were in the trenches. UCLA came in with a vaunted front seven featuring All-American candidate Anthony Barr, but led by guard Cyuril Richardson, the Bear offensive line blew open gaping holes for Seastrunk, Glasco Martin (98 yards, three touchdowns) and Nick Florence (37 yards, one touchdown).
Meanwhile, a young, banged-up Bruin offensive line had no answer for much-maligned Bear defensive coordinator Phil Bennett's blitz schemes and stunts; Brett Hundley was sacked six times, Johnathan Franklin was tackled as often behind the line as in front of it, and the Btuins finished the night averaging all of 1.1 yards per-carry. The Bears? 4.6 -- and when one team gains 3.5 yards more than the other on every rushing attempt, a blowout is always the most likely outcome.
WHEN BAYLOR WON. With Baylor's defensive history, the game wasn't truly put to bed until Martin scored on a 4th-down plunge from a yard out with 1:52 to play in the third, putting Baylor up 42-13 -- even if the game looked done from the moment UCLA opened up with three punts on its first three possessions.
WHAT BAYLOR WON. The Bears' fourth straight game to finish the season, all four coming against bowl-quality competition and all of them with Seastrunk leading the way to at least 41 points and an average of 48.5. The regular season showed that Baylor could be a relevant, bowl-bound team even without Robert Griffin III; the Holiday Bowl showed their future might even be brighter than that.
WHAT UCLA LOST. Some pride in Noel Mazzone's offense, given that being completely throttled by the Baylor defense is akin to being throttled by a high-level FCS defense. (Statistically speaking.) But after coming so agonizingly close to the Pac-12 championship and with Jim Mora's debut season already a certain success, there wasn't really much at stake for the Bruins ... which maybe helps explain why they played like, well, there wasn't much at stake.
FINAL BOWL GRADE: One team going through the motions while another plays with its hair on fire doesn't make for compelling viewing even when 76 points are scored ... since approximately 45 of those came with the game already decided. Grade: D+.
The movie will zero in on former Penn State coach Joe Paterno during the Jerry Sandusky sc...

Bidding for Salaam's trophy, which the auction house says was obtained legally, ends Satur...

Locksley has been the offensive coordinator at Illinois and Maryland during his coaching c...
Many NFL-eligible juniors ignore advice provided by the league and risk going undrafted each...

Snyder died in Manhattan, Kansas, on Wednesday

Locksley joined Alabama's staff in 2016