Hoops Final Four at AT&T Stadium only a prelude to football's
Wonder how football's Final Four will be? Get to AT&T Stadium -- site of the '15 title game -- and you'll get the feel of a Super Bowl atmosphere.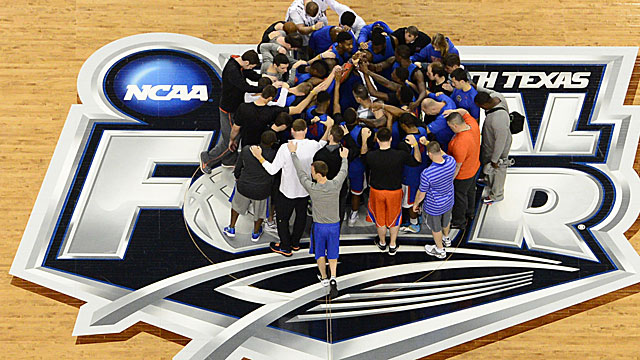 ARLINGTON, Texas -- Verne Lundquist saw AT&T Stadium for the first time Friday.
"My very first time," said the 73-year-old CBS voice of just about any major sports event you can name.
"When Charlotte Jones [Anderson] heard that, her jaw dropped," Lundquist continued.
Charlotte Jones Anderson is a Dallas Cowboys executive and daughter of Jerry Jones who built the $1 billion palace that will house the Final Four this weekend.
Like a lot of us, Lundquist -- former radio voice of the Cowboys -- is wondering what sports is going to be like nine months from now. The venue you'll watch this weekend, AT&T Stadium, will also be the site of the first championship game of the college football playoff era, Jan. 12, 2015.
As much hype there is surrounding this weekend, the Final Four may end up being one hell of a warm-up act.
Eighty-thousand folks are expected to gather here Saturday and Monday and it won't be nearly enough. Hype-wise. Take a snapshot. Compare it to the main event nine months from now.
It might be the most anticipated pregnant pause in the sport.
"Yeah, it's going to be a little bigger [than the Final Four]," Wisconsin forward Nigel Hayes said. "I can't wait to see it."
That's the issue this weekend, a bit of oranges and apples comparison. Is the Final Four going to be trumped by the Football Four?
Basketball's championship wraps up in a weekend. The semifinals in that first football playoff will be staged Jan. 1 in the Rose Bowl and Superdome (New Orleans). Eleven days later, the winners will meet here in Texas.
That's quite a break, but one the FBS commissioners were willing to risk in going to a four-team bracket.
"It's a fair question," Big 12 commissioner Bob Bowlsby said. "But the Super Bowl is two weeks after the conference championship games."
Ever since ground was broken on this playoff, the words "Super Bowl" always seemed to be tossed around. The stewards of the sport had no qualms about skipping college and going right to the NFL comparison.
Some details: The so-called "bowl experience" is expected to be in the semifinals. Teams will come in early to the host city, shortly after Christmas for games to be played Dec. 31 or Jan. 1. For the national championship game, the two teams will most likely arrive on Friday for the Monday game.
There are already rumblings of going to an eight-team bracket.
"I don't think it will," said Bowlsby, one of the 10 FBS commissioners to craft the playoff. "I think if you go another week with four more games ... you're going to have some major bowls played before Christmas or between Christmas and New Year's."
And no one lounging in a recliner after New Year's Eve wants to see that. Just don't look for closure. The argument now just from No. 2 and No. 3 (BCS) to No. 4 and No. 5 (or beyond) in a playoff.
"I don't think anything is going to lessen the controversy," Bowlsby said. "If we thought that was going to happen, it would have been a bad byproduct. I think that's one of the things that makes it great is that everyone is always talking about it and no one really agrees."
Hayes, the Big Ten's Sixth Man of the Year, has a bit of an investment having played high school football in Toledo. As does Kentucky's injured Willie Cauley-Stein, who used to catch passes as a 7-foot high school receiver in suburban Kansas City.
"With that many fans in there?" Cauley-Stein said "It would be wild."
By now, the Jerry Jones and his stadium have become close friends with college football. The Cotton Bowl game has been played here since 2010. An annual kickoff game is played in August. Watch for Oklahoma State and Florida State on Aug. 30. Arkansas and Texas A&M have also played an annual game here.
"Jerry Jones is my brother," Arkansas AD Jeff Long said.
Or about as close as you can get to blood relative. "A major contributor," Long added.
Those commissioners didn't award North Texas -- that's what they're calling it, right? -- the first championship game hoping it would be a success. In short, a playoff would have been impossible without including AT&T Stadium in the rotation. The stadium will also host a national semifinal following the 2015 season.
"I think as good as basketball is in the state of Texas, most people will say 'football season is football season," said Bowlsby, whose league is hosting this Final Four.
And football, in this country, trumps all. Dallas, it might be argued, trumps all football cities. From Bill Hancock's office about 20 miles northeast of here, you can see that center of football power.
From the 10th floor of the College Football Playoff executive director's digs, Hancock can see the Big 12 office as well as those of the National Football Foundation.
The commissioners wanted to make a statement when they put that first championship game here. If football is king in Texas, a new age should start in the Lone Star State.
"I think it's going to be on this [Final Four] scale," said Mark Hollis, the Michigan State AD and current member of the basketball selection committee.
Hollis once had the brilliant idea to play four college basketball games simultaneously on the floor of AT&T. For a lot of reasons, the idea never took root. But a football championship game will.
"The magnitude of that game is going to be off the charts," Hollis said.
So much so that fans are going to have to make a crucial choice. They will be faced with paying for as well as traveling to a conference championship game and a semifinal before getting here. The commissioners who built this playoff already have considered the consequences.
But once you see this place, maybe you'll be like Lundquist. One way or another he'll have to be here next Jan. 12.
"I was hoping ESPN could get me tickets," Lundquist said.
Beauty is in the eye of the rightsholder.
Oliver's star has already been born, but 2018 is when it will truly be recognized

Craig Kuligowski is reportedly leaving Miami to take the same job with Alabama

BT Potter is about to be very popular in the Clemson locker room
McElwain will coach receivers and help coordinate the offense for the Wolverines

Nathaniel Watson Jr. was involved in a car accident that injured a passenger in early Febr...

The honorable Tom Fornelli presides over the ASU vs. UM case