How colleges handle draft prospects could redefine the sport
More agents on campus? A junior combine? Everything is on the table as the SEC considers gigantic reforms to the interactions between prospects, agents and the NFL.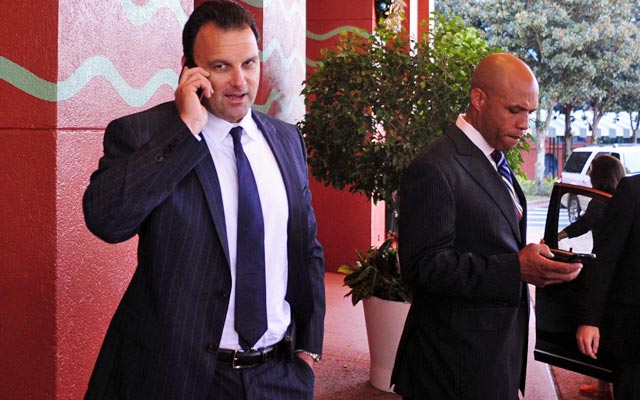 More NCAA football: S.C. president: If reform fails, give up amateurism
DESTIN, Fla. -- We're being asked to care about, oh, 100 kids. A hundred football players out of 450,000. When you start evaluating the early entries into the NFL Draft, that care factor comes out to .00022 percent of all NCAA athletes.
And, yet what the SEC is thinking about -- what all of college football is having to consider -- is upheaval. The answer to a record number of undrafted juniors (almost 40 percent) is to allow perhaps more agent interaction.
You can semantically dress it up any way you want. Commissioner Mike Slive here at the SEC spring meetings this week called for a "neutral or selfless" panel "so credible" that its advice to these wayward youths cannot be denied.
Good idea, in theory. As Slive himself has said, the trick is in the execution.
The commissioner has been on the stump for such changes for three years. There is language in the autonomy draft proposal -- vague as it is –- "to redefine rules governing agents and advisors ..."
The answer to slimy agents and their runners skulking around campus is sort of to allow the agent species more contact with players. Slive says a change is less about agents and more about kids getting the proper career guidance.
Either way, college football gets more professionalized. The NFL, draft analysts and agents will have more influence. Get used to it. It's a realization of the way college athletics will look at the highest level.
And it's not necessarily bad.
"I think we're holding the fort," said South Carolina president Harris Pastides. "If we allow this reform to fail, the obvious next step would be to give up amateurism."
Pastides is one of the seven most powerful collegiate figures in the country right now. As a member of the NCAA Governance Steering Committee, it will be his duty consider to the Big Enchilada of reform -- cost of attendance. It is more or less a way of rewarding athletes extra money ... because they're athletes.
Such thoughts would have been taboo a few years ago, or least an NCAA violation. Can you imagine convening a agent think tank at Stanford with Drew Rosenhaus? This agent directory unabashedly calls him a "slick, self-advertising shark."  
There are tons of respected agents. Tom Condon would be allowed on any campus in the country. He's arguably the best and most powerful. The problem with any of this is at the end of the day Tom Condon is out for Tom Condon.
I'm struggling to find a few who are selfless and neutral in this discussion. There's already a conflict of interest with agents repping coaches and players. Pick your random draft analyst to drop in on campus. Do you really want Mel Kiper Jr. advising your players?
"Where do you draw the line? Good question," said Texas A&M AD Eric Hyman. "You can't legislate integrity."
And integrity seems to be lacking everywhere. In giving the keys to the car to the commissioners, the NCAA is basically surrendering legislative power to the jocks.
Now the pressure is on those commissioners to redefine the amateurism model. For Slive and his commissioner peers near retirement, this is their career walk-off. 
There's a quiet revolution coming in the next few months. Legislation emerging from autonomy could come as soon as January. The commissioners will have to deal with this issue head-on at some point. It could require changing the NCAA's decades-old view of improper agent dealings:
Bylaw 12.3.1 reads: You are not eligible in a sport if you ever have accepted money, transportation or other benefits from an agent or agreed to have an agent market your athletics ability …
We get the money and transportation part, but what about "other benefits"?
"There's got to be a sweet spot," Slive said, "somewhere between what's good for student-athlete[s] and making sure the agents … doesn't become an assistant coach, trying to tell the coach how to run a program."
On this particular issue, I'd call up former Cowboys personnel guy Gil Brandt. Hyman did, to advise players when he was at South Carolina. Brandt's as neutral and knowledgeable as anyone. But ol' Gil is just one person and has the same issue as all of these guys.
After the first 15 players or so, the draft is a straight-up crap shoot to project.
The NCAA allows players to get a draft evaluation, but that's prior to the mid-January declaration deadline, which, this year, was four months before the draft. That evaluation only provides a draft-round range which may or may not be relevant based on uncontrollable factors like family finances, the combine and threat of injury.
Sometimes NFL teams themselves don't know what they're going to do until Roger Goodell takes the podium. Sure, there are the Clowneys of the world, but what about that nether area beginning in the third and fourth rounds? Almost 10 percent of all the undrafted juniors in history were passed over earlier this month.
There are solutions, common-sense ones with significant NFL help and influence. More than one college official has mentioned how the NFL capitalizes unfairly on a minor league of groomed, prepared players.
So why not ...
 -- Move back the draft declaration date. That lessens the pressure on players having decide right after the bowl game.
-- Establish a pre-junior combine, again to lessen pressure on the decision-making process. Former NFL GM Phil Savage suggested such a combine if only to get "verified height, weight and speed." That would cut back on draft strikeouts.
"The [current] evaluations and grades that are given to these players, is based on film from the season for the most part," said Savage, who runs the Senior Bowl. "The reality is [for juniors] you have no height, weight or speed. You don't have an interview. You don't have a medical [evaluation]. That's 50 percent of the information."
-- Emphasize how cost of attendance could make the difference between a player leaving for staying. Something like $1,000-$5,000 per academic year would make a huge difference in that decision.
-- Allow undrafted juniors to return to school and retain their eligibility.
College basketball players can withdraw their names at a certain point after declaring for the draft and retain their eligibility.
Slive's intent is invite "people into the tent," to provide better career counseling.
"Let's be more open about it," he added. "Instead of the separation of it, let's bring them in as opposed to doing things more covertly."
The SEC obviously has a stake in the issue. Nick Saban would like the NFL to invite a more realistic number of prospects to the combine. The SEC has had its share of slimy agent issues.
"If you have a student who is incredible at biology, if some petroleum company wants to come hire him, they'll talk to him as a junior," Auburn AD Jay Jacobs said. "The challenge that we have, is telling our student-athletes ... where they would go in the draft. Whether that is using agents or some other model we've got to provide better resources."
Good analogy by Jacobs except for one thing. Basically, no one cares about the junior biology major. Early entries in the draft, agents, commissioners and where they go from here will help define the sport.
It will help define amateurism itself.
The Tide, as usual, are dominating everything already

Jim McElwain won't rule out Luke Del Rio, Feleipe Franks or Malik Zaire as the starter

The three rule changes for 2017 are focused on player safety
There are new names to learn every season, and here are five to keep an eye on from the Big...

Can the Big Ten produce a champion capable of scoring points in the College Football Playoff...

Taking a close, detailed and opinionated look at the Big Ten a week before the start of the...