How does college sports solve the growing players movement?
The wheels of change are turning in college sports over players' rights and compensation. The issues are adding up. Big 12 commissioner Bob Bowlsby: "It's going to be a very long horizon before they're solved."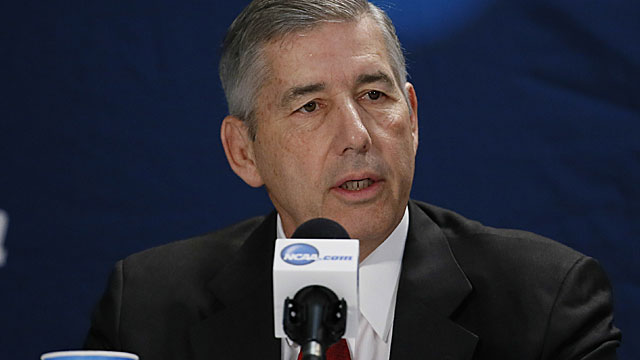 PHOENIX -- Big 12 commissioner Bob Bowlsby let out a sigh.
The wheels are turning in college athletics. Northwestern players have tried to unionize, the Ed O'Bannon trial is scheduled for June, other lawsuits are getting started related to capping the value of college athletes, and two Congressional hearings are coming over the next week. Meanwhile, everyone involved in college athletics struggles to turn the NCAA ship.
"A number of things we're working on right now -- litigation, restructuring the NCAA -- it's going to be a very long horizon before they're solved," Bowlsby said Wednesday. "I wish I had a crystal ball. You'd be more than willing to do the work if you knew where it was going to end. But we don't so we're slogging through it."
How exactly are all of these issues going to be solved in the coming years? The players' movement, aided by powerful lawyers eyeing money and a steelworkers union that could use fresh blood, shows no sign of weakening.
The confluence of players-rights issues in a highly-litigious environment wasn't lost on administrators and coaches this week at the Big 12, Pac-12, Mountain West and MAC spring meetings. They said the right things. They talked publicly about the need to provide more benefits for college athletes while laboring on the details.
The irony of working inside the lavish Arizona Biltmore Resort & Spa to find money in budgets for athletes' benefits wasn't lost on observers either.
Congress and its high-paid officials will get involved Thursday with a House committee hearing to discuss the recent National Labor Relations Board decision that Northwestern football players are employees. Stanford athletic director Bernard Muir is among the witnesses who will testify, although he deferred discussing what he will say Thursday on Capitol Hill.
On May 14, O'Bannon, North Carolina academic whistleblower Mary Willingham and Houston Texans running back Arian Foster will be among the witnesses to testify at a Senate committee hearing. NCAA President Mark Emmert has been invited to attend. The committee will examine whether the commercial operation of college athletics unfairly exploits college athletes, including issues related to their education.
Both sides of the debate over giving athletes more rights and compensation agree on this point: There's not a whole lot of faith that Congress will solve anything.
"Would I like government involvement? Absolutely, if it can absolutely help get a solution to a problem," said Sonny Vaccaro, the former shoe marketer turned O'Bannon lawsuit consultant. "This particular fight is not a political fight, which you know it's going to be. I would hope there are people in government who can put aside their political views and solve issues for thousands and thousands of athletes. That's why the courts would be a better solution."
Said Bowlsby: "I think there are judicial solutions, there are legislative solutions and there probably associational solutions within the conferences and the NCAA. You can always count on Congress to hold hearings on anything that is high profile."
The inclusion into this debate of Willingham, a former North Carolina reading specialist who resigned this week amid an academic scandal that involves athletes, strikes at the heart of college sports. Are enough athletes actually being educated as a tradeoff for participating in commercialized games inside a multi-billion-dollar industry?
Willingham said she plans to testify about more than 4,000 emails of support that she has received in the past five months from educators, athletic academic advisers, athletes and even one president. She said they tell her they've lived the same experiences of academic fraud in college sports.
"We need to not be afraid of the NCAA because as long as we stay afraid, then nothing will change," Willingham said. "Nobody wants to go on the record, but I need them to start talking."
How could money be distributed?
Arizona football coach Rich Rodriguez disagrees with the "woe is me" picture that's being described of college athletes. Yes, Rodriguez agrees, more should be done for them.
"I think everybody knows we can make it a little bit better -- and that's all we have to do is just make it a little bit better, whether it's allowing them three meals a day or a little extra stipend or paying for parents to come to games," said Rodriguez, who would also support a percentage of jersey sales going to players after they graduate. "But I don't think we need to paint a picture that these student-athletes are living under a bridge."
This is a common feeling among coaches. 
"If everybody wants to be professionals, they can make everybody professionals but that also means the guys that don't do their job, we fire them, and the guys who do a great job, we give them raises," Washington State football coach Mike Leach said.
Conference USA commissioner Britton Banowsky said he would support considering allowing athletes to receive licensing money that's put aside into a trust fund and collected later.
"I think we're going to have to look at that and we're going to have to find a way to make it happen within the collegiate space," Banowsky said. "I'm a big advocate for rewarding student-athletes that are graduating and have made a contribution for four years. I do like the concept of those funds being captured at the end of the collegiate experience. It will be up to the legal process and legislative process to provide guidance on where it settles."
That approach has some similarities to what renowned mediator Kenneth Feinberg described to SI.com about how he would distribute money to former college players if the O'Bannon and Sam Keller plaintiffs win their names, images and likenesses lawsuit against the NCAA.
The Former College Athletes Association (FCAA), which includes Feinberg on the board, would demand from the NCAA a share of revenue it generates from the commercial use of former college players. Feinberg told SI.com that the FCAA would only be for former college athletes — male and female — and not current ones. One of the FCAA's board members is Ramogi Huma, who is leading the efforts to unionize college athletes.
"I think it's very difficult to sift out real value as to who brings how much value to what," Bowlsby said. "I think we also ought to be very careful to depart from the collegiate model. We're a function of higher education and should stay as close to that mission as we possibly can. Now, is there a way to put something in place after college or during college? We aren't very far down looking at that path. But this is not a time where we should foreclose on any options."
USC athletic director Pat Haden said a post-graduation licensing fund is a "possibility" as a new NCAA model gets discussed. 
"So if you graduate you'll be back and have access to funds to finish your education and go to graduate schools," Haden said. "That's potentially viable."
'Pandora's box' of paying players
Rodriguez offers a hypothetical question. Suppose colleges kept the status quo or gave players a cost of attendance or just a little bit more money for meals.
"Do you not think we'll always have players who want to play?" Rodriguez said. "Will they all of a sudden go on strike and say they're not going to play college football anymore? That's not going to happen. There will always be kids who want to play with the opportunity to play in huge stadiums with all these services and one day, if I'm good enough, I can play in the NFL."
Stanford football coach David Shaw points out the positives of athletes leaving college without significant debt. He draws a line when asked whether college players should be allowed to reach their market value when it may never be higher for many of them.
"Once you go down that road, tell me what happens to college football," Shaw said. "Because I see Pandora's box. You're talking about agents, you're talking about not recruiting, you're talking negotiation. That's a completely different world. You're not even talking about education anymore."
Education is exactly what Willingham, the North Carolina academic whistleblower, wants to talk about. She said she hopes Emmert will attend the Senate committee hearing "so I can finally introduce myself after all these years."
For now, college sports leaders work around the edges to attempt to satisfy players, courts and politicians. Meetings are devoted to figure out how to provide power-five conferences with the authority to provide benefits that players' advocates say won't be enough.
"All of these things would have been enough 20 years ago if they handled it 20 years ago," Vaccaro said. "It's certainly not enough in 2014. The problem is they're always behind. They should be current. Current now is billions of dollars in the networks. That's the elephant in the room here. They have new TV money they didn't have to this extent in 1990. These people are the smartest people in the room and they can't get it done?"
Bowlsby said it's an "unknown" whether autonomy will keep Division I under one tent. It's a stick that major conference commissioners have brought out several times in recent years against smaller conferences.
"I know that we have to adopt a system that allows us to oversee and manage the organizations that we have," Bowlsby said. "We'll do whatever we have to do to make that happen. Right now, we're a very significant minority among Division I -- 65 schools out of 350 -- and we don't look much like those other 275."
This is Bowlsby's greatest concern about college sports. Thirty years ago, Bowlsby worked on an NCAA committee that recommended an athletic scholarship should include a $2,000 stipend. He's working on the same issue today.
"There's an inability to move through the NCAA system a piece of intact legislation that can make its way through the system with the intent intact and to be functional on the backside," Bowlsby said. "I just think it's virtually impossible to do that right now."
So they discuss and debate and dine.
Meanwhile, the clock continues to tick on what the future of college sports may look like.
CBS Sports HQ Daily Newsletter
Get the best highlights and stories - yeah, just the good stuff handpicked by our team to start your day.
Please check the opt-in box to acknowledge that you would like to subscribe.
Thanks for signing up!
Keep an eye on your inbox for the latest sports news.
Sorry!
There was an error processing your subscription.
Clemson and LSU will play on-campus, non-conference games in 2025 and 2026

Excitement around Nebraska's program has been palpable since Scott Frost's arrival

The crowded LSU quarterback room is thinning out
Peppers spoke about his former defensive coordinator at Michigan

Bryce Love, Ed Oliver and Nick Bosa stand out as unanimous preseason selections

CBS Sports' Preseason Player of the Year is focused on giving his all in his final college...