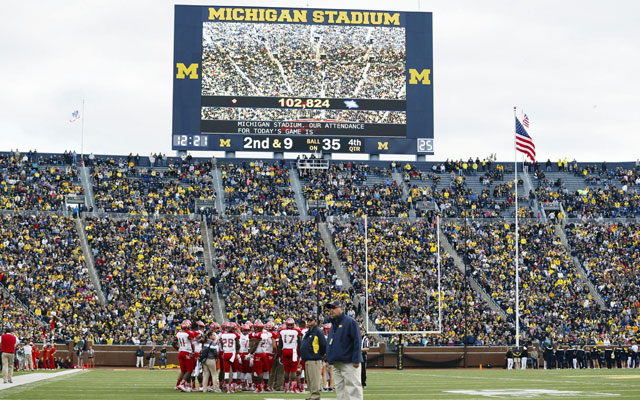 Football Bowl Subdivision games averaged 3 hours, 23 minutes in 2014, up six minutes from 2013 and fueling talk again from conference commissioners on how to shorten the game into a more fan-friendly window.
Pac-12 commissioner Larry Scott is so concerned about long games that he's advocating the NCAA adopt the NFL policy of a running clock after first downs. Scott also wants college football to consider the NFL's replay system in which coaches have a limited number of challenges so not every play in theory gets reviewed.
FBS game lengths have fluctuated in recent years, although they have not gotten this high during the past decade, according to NCAA statistics. Over the past six years, the average game was 11 minutes longer as scoring, plays and television commercials have increased.
FBS Game Lengths by Year
Year
Avg. Game Length
Plays/Game
(Two teams)
Points/Game (Offense)
Passes/Game (Offense)
2014
3:23
143.7
29.5
32.4
2013
3:17
143.2
29.4
32.5
2012
3:18
142.6
29.5
32.7
2011
3:14
139.2
28.3
31.8
2010
3:12
136.6
28.0
30.9
2009
3:12
135.0
27.0
31.0
2008
3:11
135.0
27.2
31.0
2007
3:22
143.3
28.4
33.6
2006
3:07
127.5
24.4
29.2
No major rules changes related to game length appear imminent as the NCAA football rules committee meets this week in Indianapolis. The topic could get punted to the new college football competition committee, which plans to debut for the 2016 rules cycle.
Opinions are already being sought about game lengths. For instance, coaches and commissioners were recently asked in a survey by the NCAA football rules committee how they would feel about a running clock after first downs. The concept would certainly reduce game times and plays -- and cutting plays could also be positioned as a safety need given concerns about concussions. Undoubtedly, a running clock would be met with some backlash. College football has long resisted turning its game into a replica of the NFL.
The Pac-12 produces the most scoring and plays per game in the country -- a style Scott calls so entertaining that it's trickled up to the NFL with more passing. But Scott envisions even longer college games and wants a running clock.
"You'll always get traditionalists who won't change it," Scott said. "I don't find it concerning or daunting that there are some that would oppose it. I think the job for commissioners is to take a step back and look at it holistically. The health and welfare of student-athletes is first and fans are a close second in terms of keeping games appealing. Three-and-a-half hours, to me, is too long."
Sun Belt commissioner Karl Benson also favors a running clock after first downs, citing declining attendance. FBS home attendance dropped 4 percent in 2014 for the sport's lowest average since 2000.
"I think our fans are expecting shorter games, and I think when you see attendance is down, we need to address it," Benson said.
Big 12 commissioner Bob Bowlsby, whose conference produced the longest games in college football, said it's fair to consider letting the clock run after first downs, but he doesn't favor it.
"Personally, I like the strategic aspect of (the clock stopping), and I think it makes the game really interesting for how you manage the opportunity for a comeback," Bowlsby said. "In the NFL, you know you're going to get stoppage for the last two minutes in the game. In college, you only do it by calling a timeout or stop the clock a little with a first down."
The high-pressure, commercialized world of FBS is playing a much longer game than other NCAA divisions. While FBS games averaged 3:23 in 2014, the Football Championship Subdivision was 2:55, Division II was 2:45 and Division III was 2:41.
"People at one level, there's some concern about it," national officiating coordinator Rogers Redding said. "But then you ask the question, who's really complaining about it? Fans aren't. Fans devote a whole day to a game. What's another five minutes?"
'We're trying to serve two audiences'
College football has gone down this road before. In 2006, the sport disastrously used a running clock after changes of possession. The rule reduced games to a 3:07 average and infuriated fans and coaches in the process.
In 2007, when the old clock rules returned, FBS games were back up to 3:22 -- the longest game average until now. That 2007 season prompted a 40-second play clock to start as soon as the previous play ended and the game clock was restarted quicker once the ball was made ready for play.
That did the trick for a while and the average game dropped to 3:11 in 2008. Back then, though, there weren't as many plays, points or passes as there are today.
Every additional first down means a clock stoppage. Every incompletion means a clock stoppage. Every touchdown or field goal means a clock stoppage, plus a delay of several minutes until the kickoff.
"That 3:30 timeframe is kind of the magic number as we schedule games for television," MAC commissioner Jon Steinbrecher said. "There's a continued creep. We've had peaks and valleys to it. We have to get our hands around it. If I'm looking at it from a fan perspective, when you get beyond three hours, are you starting to lose people's interest?"
Fifteen teams averaged at least 3:30 in game length during 2014, up from 10 teams in 2013. As recently as 2009, no teams had an average game length that long.
Among last season's 15 teams at 3:30 or longer, 14 had more scoring in their games and 12 produced more plays than the respective national averages. One outlier was Florida, which averaged 3:30 in game time despite being below both the national scoring and plays averages.
2014 Longest Average Game Lengths by Team
Team
Avg. Game Length
Plays/Game (Two teams)
Points/Game (Two teams)
Baylor
3:40
159.9
73.7
California
3:37
163.0
78.1
East Carolina
3:37
155.2
61.6
West Virginia
3:36
158.0
61.1
Texas Tech
3:35
158.4
71.8
Toledo
3:33
145.0
67.1
TCU
3:32
153.1
65.5
Western Kentucky
3:31
152.4
84.3
Nebraska
3:31
144.3
64.2
Oklahoma
3:31
147.0
62.3
South Carolina
3:31
142.3
63.0
Arizona State
3:30
149.2
64.8
Florida
3:30
142.5
51.4
Ohio State
3:30
142.1
66.8
Texas A&M
3:30
148.2
63.3
FBS Average
3:23
127.5
24.4
"The knee-jerk reaction is to say the longer games have to do with replays," Steinbrecher said. "But time with replays is actually decreasing. Is it because of passing more? Scoring more? Any time you score, the kickoff triggers other delays."
ACC commissioner John Swofford suggested shortening halftime could be a possibility, although he noted ACC game times have slightly gone down in recent seasons. He believes games are generally getting longer because of the nature of the sport and when the clock gets stopped.
"I think it matters to fans coming to games," Swofford said. "Given the quality of TV sets out there and the ability to get games on mobile devices, you want the in-stadium experience to be the highest quality it can be."
The Sun Belt is trying to keep some limits on halftime lengths. The conference has allowed schools to extend the 20-minute halftime by five minutes, if both teams agree. Sun Belt athletic directors recently added a provision that a school can extend halftime only once each year.
2014 Game Length by Conference
Conference
Avg. Game Length
Plays/Game (Two teams)
Points/Game (Offense)
Big 12
3:29
150.0
32.3
SEC
3:25
141.0
31.5
Pac-12
3:24
151.1
33.5
Big Ten
3:24
139.6
29.7
AAC
3:23
143.0
25.0
ACC
3:22
140.2
28.7
C-USA
3:21
141.5
30.4
MAC
3:20
143.9
26.6
MWC
3:19
143.2
27.1
Sun Belt
3:18
145.1
28.4
There's no doubt scoring and plays are up and contributing to longer games. But it's worth noting that FBS had a six-minute increase from 2013 to 2014 despite a 2014 season in which plays and scoring barely increased from a year earlier and pass attempts slightly decreased.
Similarly, the 2012 and 2013 seasons had nearly identical stats for plays, scoring and pass attempts. Yet the game length in 2013 actually decreased by one minute from 2012, not increase by six minutes as it did in 2014. What gives?
"Commercial break lengths and the number are undoubtedly increasing," said Richard Southall, director of the College Sport Research Institute. "Networks have to generate additional advertising revenue to pay for rights fees that are escalating. Simply put: gotta pay the piper!"
Benson agrees that television is the biggest reason for longer games.
"Our TV partners need it, but we also need to make sure we manage it," Benson said. "A lot of times it's coming out of commercials that games are delayed. The networks are always going to push the envelope and they're paying the bills. They need to get as many spots in as they can."
Bowlsby said the number of commercial slots and length of timeouts in the Big 12 have stayed the same. "I don't think that's causing it," he said.
Mountain West commissioner Craig Thompson said longer games are not an epidemic but believes there are ways to better manage TV timeouts.
"I hear it a lot from fans: 'What am I supposed to do for that three minutes? I can't drink anymore. I can't have anymore Cokes and peanuts. My God, let's get going,'" Thompson said. "We're trying to serve two audiences."