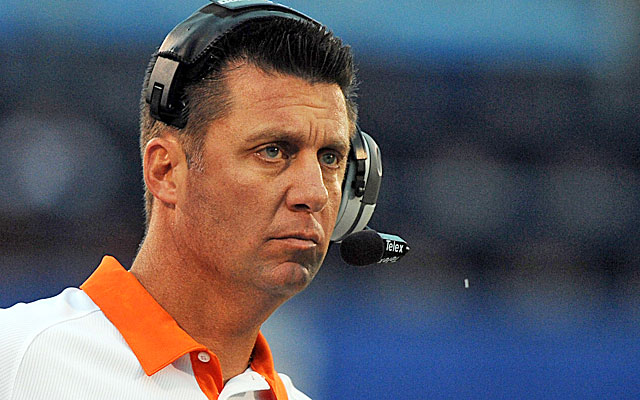 STILLWATER, Okla. -- One of the Big 12's most intriguing storylines this season will be Oklahoma State's title push behind an offensive coordinator with -- save a two-year stint as an Indiana graduate assistant from 2003-04 -- zero Football Bowl Subdivision experience.
How coach Mike Gundy actually found Mike Yurcich deepens the intrigue.
With his last two offensive coordinators becoming head coaches in the last three years, Gundy could have plucked from a large pool of up-and-coming offensive minds to groom a fourth. He could have relied on past relationships and word of mouth to replace now-Southern Miss coach Todd Monken.
Instead, the Cowboys head coach settled into his office chair during the offseason, shaded by dark-wood blinds, and visited NCAA.com. (He even slouched in his chair and pointed to the screen during an interview with CBSSports.com to emphasize the process).
He searched NCAA.com's statistics section for the "Total Offense" category, then saw Division II.
Who's on top? Shippensburg University: 529.92 yards per game. 
"Let's see what that's about," he recalled thinking.

A detailed evaluation followed: phone calls, statistical analysis and an in-person meeting in Maryland.
This process led him to Yurcich, a 37-year-old from Euclid, Ohio, who has coached a Heisman winner. Well, the Harlon Hill Award is sort of like the D-II Heisman, and Shippensburg quarterback Zach Zulli was last year's recipient.
Heck, Gundy said he almost called Merrimack, which was No. 2 in D-II total offense, to inquire about Dan Curran, the Warriors offensive coordinator turned head coach.
Gundy doesn't seem worried about the perception or the risk of the Yurcich hire.  "You can either coach or you can't," said Gundy about Yurcich.  
Yurcich, reached Thursday while organizing film cut-ups for next season and wrapping up summer camps, had heard part of Gundy's web-surfing story, but he doesn't need to know all of it.
He's too busy going fast, as evidenced by the Cowboys' spring practices two months ago.
"Speeding up helps everything," Yurcich said. "It kind of sets the pace, allows us to keep attacking a defense. Making sure we're disrupting their communication."
To know why Gundy went left on his hire, first consider Gundy's offense.
The Cowboys' version of the no-huddle "Air Raid" doesn't need an overhaul, especially not after averaging 46.2 points per game since now-West Virginia coach Dana Holgorsen installed it three years ago, good enough for a top-three national ranking each year. Gundy wasn't looking for an established name because that name would bring an established offense -- and likely his own plays. Gundy already had an offense. If the offense doesn't drive itself by now, it sure has good GPS.
As that stipulation shrunk the talent pool, Gundy combed through Internet stats as a way to keep an open mind about the process.
Gundy's expectations were:
* Must be good with quarterbacks.
* Must make good adjustments.
* Understands speed, tempo.
* Must be ready for outside criticism and welcome it.
Gundy was impressed by how Yurcich took over a wing-T offense at Shippensburg two years ago and installed his own no-huddle attack, how he broke down a cover 2, how he made sure his best athletes touched the ball. Yurcich calls it "which athlete can move the ball the farthest."
"He showed he can make adjustments," Gundy said.
Despite Shippensburg winning 11 games last year, Yurcich didn't have any other job offers this offseason. Through the interview process, he ignored the magnitude of the opportunity and focused on clearly delivering his ideas and philosophies so Gundy understood who he was.  
"[The job] means a whole heck of a lot," said Yurcich, who once ran the offense at Edinboro University.
So much that he shared a "warm embrace" with his wife, Julie, shortly after getting it. He told his dad and high-fived his quarterback, Zulli, to whom Yurcich was nervous to deliver the news.
That was it. There was no celebration. That's not who he is, he said.
Yurcich clings to modest Ohio values. His mom, Patricia, ran a beauty salon and "worked her butt off," Yurcich said, before dying of lung cancer in 2004. Chuck, his father, worked in the metal and machinery business. He grew up watching high school games of Elvis Grbac and Desmond Howard at nearby St. Joseph. He was a receiver at Euclid High, not as dynamic as Howard, though he'd like to talk football with him. (Howard is an analyst for ESPN's College Football Live show on Saturdays).
"I don't want to think I've arrived," Yurcich said. "I still want to learn."
Under Gundy, the Oklahoma State coordinator spot has produced head coaches at West Virginia (Dana Holgorsen), UNC (Larry Fedora, by way of Southern Miss) and Southern Miss (Monken).
Will Yurcich be next?
Considering he spent the first few months on the job learning the offense, becoming a head coach is hardly a concern.
"The only thing I really want to do is win ball games," Yurcich said. "I really enjoy calling plays and I love being an offensive coordinator. I've never really thought about the topic you bring up, quite honestly."
Yurcich isn't alone in his ascension from the lower levels. As USA Today reports, 30 FBS coordinators came directly from FCS, Division II or Division III. The most notable example is Chip Kelly, who grew from New Hampshire offensive coordinator to Oregon's no-huddle wizard to a very expensive Philadelphia Eagles coach.
Yurcich is grateful for the path set by successful coordinators before him but admits he doesn't belong "in any same category as that man -- what he's done is simply amazing."
Yurcich's blueprint is simple -- work hard, ask a lot of questions, the rest will unfold the way it should.
"Even if they were dumb questions, I didn't care," said Yurcich about his first few months on the job. "The last thing you want to do is present information [to players] that's useless."
The first thing he can do in August is make Gundy look smart for taking the chance.