Urban Meyer wanted nothing to do with rugby-style tackling at Ohio State. The idea of defenders using their shoulders to tackle, changing target points on a ball carrier and emphasizing wrapping up around the legs wasn't an easy sell to Meyer. Like so many coaches, Meyer had been taught that tacklers should force their heads across the chest of a ball carrier -- the "head across the bow" model that represented Tackling 101 for so long.
But Ohio State defensive coordinator Chris Ash pushed to change techniques after the 2013 season. Ash watched Seattle Seahawks coach Pete Carroll's video of the Hawk Tackle, which sells the rugby tackle as safer for the head and more efficient to bring down ball carriers. Ash studied his past and present defenses and realized many of his players used rugby tackling anyway, not the technique being coached.
The idea of rugby tackling "was one that I fought at first and I said no, we're not going to do that," Meyer said. "Chris Ash is very persistent, he's a very good coach, and (like) good coaches who really believe in something, stayed on me. … I listened. I did as much research as I could and ultimately we jumped in. Tremendous success right out of the get-go. You could see the difference."
Across college football, there's a major shift occurring over how to tackle, largely in an effort to make the game safer. Rugby-style tackling has gained momentum, so much so that a company in Seattle devoted to promoting rugby is now trying to enter the marketplace to analyze college football tackles.
Could rugby-style tackling become a better tactic, if not a solution, for reducing football's concussion numbers? Could this be tackling's future at all levels?
"If this is something, as we go forward with the studies, that make us better," TCU coach Gary Patterson said, "then I think you'll see a lot of people go to this."
There's no precise way to identify how many college teams are applying Carroll's rugby-style tackling video or to what extent. Some teams use portions of the technique. Also, football tackles are like snowflakes -- no two are ever the same. Gary Darnell, executive associate director of the American Football Coaches Association, guessed that 35 percent of college teams use the technique. Duke defensive coordinator Jim Knowles estimated 50 percent.
Putting aside statistical guesses, there are anecdotes supporting the technique. And they're coming from some old-school coaches who know they must adapt to changing times or fewer parents may let their kids play football.
For years, 55-year-old Georgia Southern coach Willie Fritz had taught eyes up and chin-on-chest tackling. Shortly before the 2014 season, an assistant coach showed him Carroll's video. Fritz adopted the technique on the spot right as his team's two-a-day practices were about to begin.
"I must have watched that tape 20 times," Fritz said. "One of my coaches said, 'You just got done installing your tackling techniques all spring and summer and now we're going to change?' I said, 'Yep, and these guys will buy right in. I'll show them a tape of Coach Carroll. They won the Super Bowl. They're NFL players. If they can do it, we can do it.' Last year's the best season we've ever had tackling."
It's difficult to quantify how much safer, if at all, rugby-style tackling makes football. Rugby, which is played without a helmet, has faced its own scrutiny about concussions. But instinctively, rugby's tackling concept seems to make sense as a smarter approach for football, said Dr. Robert Cantu, a Boston University neurosurgeon and a leading voice about concussions and how football is played.
"Just the concept of taking your head out of tackling is good," Cantu said. "Does it suddenly make tackling safe? Of course not. But to the extent you keep the head out of the hit, you're less susceptible. It's a good tackling technique. It's used in rugby for a reason. Unfortunately, they still have a lot of head injuries, but the head contact is accidental."
Could the Hawk Tackle be taught at all levels?
Carroll's adoption of the Hawk Tackle was one of necessity. In 2010, the NFL expanded defenseless player rules to basically eliminate hits above the shoulders.
"I was resisting," Carroll told SI.com in 2014. "How are we going to do this? How are we going to do that?"
So Carroll adapted and made the Seahawks into what he calls a "shoulder leverage tackling team." In 2014, he released a video sharing the teaching points of the Hawk Tackle: eyes through the thighs, wrap and squeeze, and then "drive for 5," meaning carry the ball carrier back five yards if necessary while engaged.
The video became a hit in football circles, trickling down to all levels of the game. Fritz even wrote a letter to Carroll thanking him for introducing the concept. Anecdotally, Georgia Southern defensive coordinator Jack Curtis said the team had fewer diagnosed concussions in 2014 after changing to rugby-style tackling.
"As football came out with new rules, what you saw from most football coaches is complaining and whining that you can't do this, can't do that and they're handcuffing us on defense," Curtis said. "Pete Carroll, to his credit, said, 'I'm going to teach this tackling and I'm going to sell it as a safer and more effective way.' When you watched it, some of the things we had been teaching forever, but it was hard to find it on film what you taught. It made a lot of sense."
Before the Hawk Tackle -- colleges change Carroll's label to suit their nickname, such as Eagle Tackle at Georgia Southern -- so much of tackling was the defender putting his head across the body to stop a ball carrier's forward momentum. As receivers and running backs became bigger, some college teams shifted in the past decade to more leg tackles as an equalizer against physical mismatches.
"We've been tackling legs for a long time," said Patterson, TCU's coach. "You end up behind them. We all would like to drive through and do everything, but running backs have either gotten too big or too fast, and everything is an angle and grabbing their legs and being able to get them down. The big ones stiff-arm you, the other ones run away from you. … For 15 years, we've believed if you size right in the hole, you're going to be a leg tackler."
But for many college coaches, they knew just one way to coach tackling or they didn't have the terminology to describe some of the rugby-style tackles seen on film. One of the major arguments against the Hawk Tackle is how players fit on their tackles. The defender is supposed to track the near hip of the ball carrier and then lead with the near shoulder in the runner's thigh. If a ball carrier is on the sideline, there's the potential for whiplash or the tackler only hits the runner's back.
"Try that on Adrian Peterson a couple times and he'll say, 'Bye, bye,' yet it's taught that way," said Darnell, who spent 37 years as a coach for 11 universities. "But it's an amazing technique to see. I think about it, as a little kid, I played sandlot football forever and we didn't have helmets and tackled each other to the ground sort of like that, and I think we made it through all right."
Some coaches struggle with teaching defenders to put their shoulder behind the ball carrier. There are concerns about how two defenders fit while closing in on a ball carrier.
"Part of that is rectified that when you wind up in that moment when your head is behind him, you hit and roll," Darnell said. "The concern some coaches have is you're not tackling with your body, you're tackling with your arms. That's a problem. But at the end of the day, the great tacklers tackle with their legs."
Darnell said the Hawk Tackle is the closet technique he has seen that could be taught at all levels. He hopes to see a point when youth, high school, college and the NFL adopt one way to tackle. He doubts that will ever happen so neatly, but he could envision the NFL, AFCA and youth organizations creating a coalition one day.
"If we were to get all four levels singing the same song, football would be a lot easier to discuss when we're talking to parents," Darnell said. "From a legal standpoint, we would solve a lot of things if we could get that done. If someone got hurt, maybe they didn't follow protocol. The beauty of the Hawk Tackle is they have all the fundamentals, they have the vocabulary for it, and if there's a problem, we can all see what it is and adapt.
"Behind the scenes, I don't think there's many people who wouldn't want to see a single way to do it. But it's never been that way because you have such great defensive coaches, they're not willing to change. But the point is the No. 1 objective at this time is safety."
The art of selling rugby tackling to colleges
Perhaps more than anyone, Rex Norris symbolizes the convergence of rugby and football. Norris is the son of Rex Norris Sr., a longtime NFL and college assistant who served as Barry Switzer's defensive coordinator, and Norris is the great-nephew of former Baylor coach Grant Teaff.
Norris also loves rugby. He has coached the oldest high school girls rugby club in America, a nationally-recognized team that regularly sends players to Team USA.
Last March, Norris resigned as the head football coach at Kentwood High School in Washington after 11 years and with an 87-30 record. Part of the reason was to spend more time with his daughter. Part of it was to blend rugby and football together. Norris became director of football programming at ATAVUS, a Seattle-based company that announced in September a partnership with Ohio State and the University of Washington to analyze every possible data point imaginable of their players' rugby-style tackles.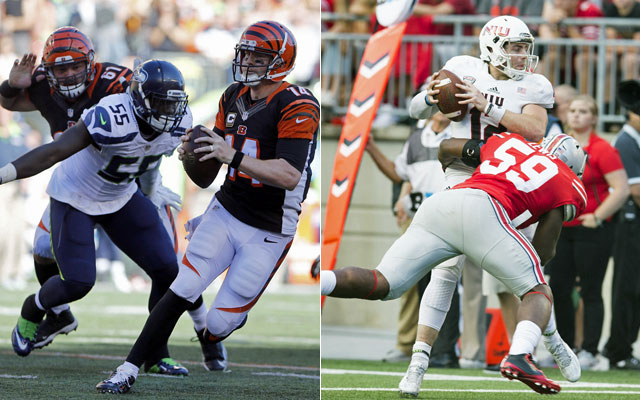 Before a re-launch in June, ATAVUS was known as Serevi Rugby -- named after the founder, Waisale Serevi -- and designed to teach and grow rugby in the United States. Serevi, a native of Fiji, was one of the world's greatest rugby players before he retired. Now the company has its hands in football, too.
Norris said ATAVUS has partnered with the computer science department at Washington to develop a specialized database that improves the grading and safety level of football tackles. Norris said ATAVUS receives weekly video from Ohio State and Washington to analyze about 100 data points for each play. So far, ATAVUS has watched 1,600 tackles this year. The video will help ATAVUS create reports for the coaches that can address tackling issues and modifications to tackling drills.
When Norris coached high school football, he behaved like most coaches after one of his players made a tackle. He might make a "great tackle" comment and then he moved on, simply happy that the ball carrier was on the ground.
"I didn't analyze it," Norris said. "But if you talked to me about passing and blocking and running, I was all over the kid and could talk to him. There are a lot of coaches that feel either you know tackling or you don't. You're either naturally a great hitter or you're not. We couldn't disagree more. The game has changed because players are bigger, faster and stronger than ever. The I-formation downfield run through a hole has changed. It's sideline to sideline. So tackling has to change, too."
The idea by ATAVUS is to create more instinctive tacklers and a dominance rating for tackling, Norris said. If a player makes nine out of 10 tackles but every tackle was 10 yards downfield, that defeats the purpose. Instead, Norris looks for tackles from a dominant position that stops progression and yards after contact.
"Ohio State and Washington have gone past the Hawk Tackle," Norris said. "I would say they both definitely are 100 percent into the concepts of rugby tackling, and the way they practice it and evaluate it means the expectations of tackling has gone up."
At Ohio State, Meyer has a play count that limits certain players' contact in practice, according to Norris. Once a Buckeyes player exceeds 2,000 plays in a year (practice and game plays), the player changes jerseys and can't hit or be hit in practice, Norris said.
"It's about understanding there are different ways getting to what you want," Norris said. "But you've got coaches out there now quitting because there are state laws saying you can't have as much contact. They can't see past contact as the educator. When you watch martial arts, those guys are doing stuff against air all the time. They're not striking people all the time. The same concepts can be done with tackling."
Last month, The Seattle Times quoted Washington coaches speaking highly of their work with ATAVUS. Ohio State spokesman Dan Wallenberg said the Buckeyes do not have a contract with ATAVUS and has not paid for its services. ATAVUS did visit campus as a potential vendor, Wallenberg said via email. In a press release dated Sept. 2, ATAVUS quoted Ash, the Buckeyes' defensive coordinator, supporting the company's work.
After being told of Ohio State's comments, ATAVUS released a statement that said it has worked collaboratively with Ohio State and Washington coaches as "strategic partners, providing each other with feedback as we evaluate how best to design our program to truly meet the needs of coaches before we roll it out on a broader scale. For both programs, we are working through details of our ongoing relationships, which includes discussions on formal contracts, but at this point there is no commercial agreement between either school and ATAVUS."
Norris said he met with Oklahoma last summer and may meet with Nebraska soon. Missouri, Arizona, Clemson, Florida State and Michigan State are examples of other colleges that use some form of rugby tackling, according to Norris. ATAVUS will speak at a Texas High School Coaches Association clinic next July.
Here is Norris' concern: Youth coaches will watch the Hawk Tackle video and try to apply the technique without knowing what they're doing.
"I had a buddy at a Texas high school who said the first day they tried Hawk tackling, two guys got a concussion and they stopped it in the first five minutes because they didn't know what they were doing," Norris said. "There were a lot of inconsistencies in the (Seahawks) video than some of the things we showed them. Certainly, it's been a fantastic thing for football teams across the country to run with it. It told this company there's probably a need for this analysis."
Northwestern coach Pat Fitzgerald, who started teaching roll and low tackles two years ago, shared a similar safety concern, even though he loves how the technique allows for tackling practice every day without violent collisions. Fitzgerald serves on the advisory board of the USA Football tackling committee. He said USA Football has discussed incorporating rugby tackling into its "Heads Up" tackling program, which advises defensive players to keep their heads and eyes up and use the front shoulder as the point of contact.
"My concern (with rugby-style tackling) at the youth age -- and I've got two boys playing football -- is their helmets are so much heavier than the rest of their body," Fitzgerald said. "I think you've got to be pretty mature to execute that low tackle properly because your eyes do go down. It's hard not to keep your eyes up, and when you put your eyes down it puts the head and neck in a vulnerable position. I think it's a great teaching tool and technique for our level, but I'm not sure about grade school."
Whether or not rugby-style tackling fully catches on, the intent is good. Duke adopted the technique two years ago in part because football's brain trauma crisis directly hit Knowles, the Blue Devils' defensive coordinator.
Knowles was good friends with former teammate Tom McHale, an ex-NFL player who died in 2008 at the age of 45 from a drug overdose. McHale was diagnosed post-mortem with chronic traumatic encephalopathy, the degenerative brain disease often found in athletes with a history of repetitive brain trauma.
"Tom's wife, who I'm close to, donated his brain to research study and that gave me a lot of pause," Knowles said. "You really have to look at how you're doing things. It's still a great game, right? But we need to preserve it, even if you have to do some drastic things. In order to protect this game, tackling like this is a necessity."
Follow and read more from Jon Solomon on Facebook and Twitter.