How QB Braxton Miller's move to H-back / receiver helps Ohio State
Ohio State's (former) quarterback, Braxton Miller, says he will move to H-back and wide receiver in 2015.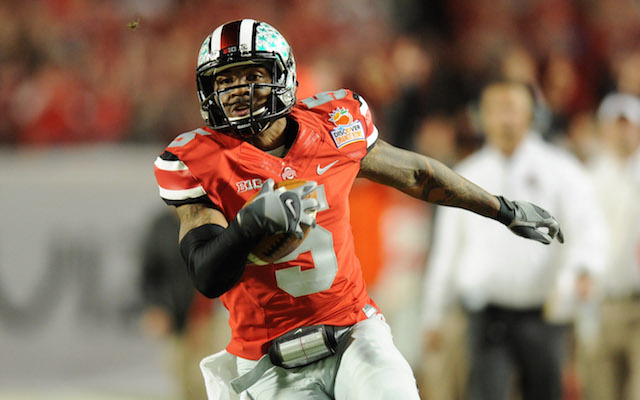 Ohio State quarterback Braxton Miller says he is no longer an Ohio State quarterback. Not because he's transferring, but rather because he's changing positions.
Miller told SI.com on Thursday that he'll be making the move from quarterback to a H-back/wide receiver role.
"For the most part, it's going to be H-back and punt return," Miller told Sports Illustrated. "It's a long process to get back totally to throwing and throwing every day. This is the smarter thing for right now, God blessed me with a lot of talent and different opportunities. I'm going to have fun with that and still score a lot of touchdowns and help the team out and be dominant at that."
Miller (6-foot-2, 215 pounds) said the driving force behind the decision was his health. Coming off shoulder surgery that cost him the entire 2014 season, he will not be completely healthy for another two months. That would hurt his chances in Ohio State's quarterback competition, so instead, he's chosen to take another path to get on the field and help the Buckeyes in 2015.
Miller said he first floated the idea to Ohio State strength coach Mickey Marotti in April; he discussed it with coach Urban Meyer later that month. Since then, he's spent nights sneaking onto the OSU practice field to work out as a receiver with fellow quarterback J.T. Barrett.
And while Miller says he's changing positions, that doesn't mean he won't play quarterback again. He says he plans on spending 80 percent of his time during training camp at his new position and the other 20 percent working with the quarterbacks.
Meyer told the Columbus Post-Dispatch that he has not decided where or whether Miller will move and said "it's a little bit jumping the gun" to say Miller's new position is official. More likely than not, Meyer was hoping to have Miller's position change be a surprise either closer to the start of the season or during Ohio State's Week 1 game against Virginia Tech.
Nevertheless, all of this could prove to be a good move for the Buckeyes' offense. Sure, it's great to have three more-than-capable starters at quarterback, but only one of them can play the position at a time. By switching positions, Miller will help ensure Ohio State maximizes its talent on the field on any given play, and considering his varied talents, you can never really be sure what you're going to get from him when he's on the field.
Miller's experience at quarterback and knowledge of the playbook means he already knows what routes the H-backs and receivers are supposed to run; now all he needs to do is work on his routes and polish his game. His new position coach, Zach Smith, believes Miller can be just "like Joey Galloway."
In other words, an Ohio State offense that is already incredibly hard to stop will be even more difficult with Miller and either Barrett or Cardale Jones in the backfield at the same time.
Miller also said he's going to work out at punt returner.
"It's going to be electric," Miller said. "We had a great season last year, but we didn't see anyone do off-the-wall type stuff. I'm sure guys miss seeing an explosive, 60-yard shake-and-bake run every once in a while."
It will likely take Miller some time to adjust to the new roles, but given the talent and maturity, thing could definitely be electric in Columbus.
CBS Sports HQ Daily Newsletter
Get the best highlights and stories - yeah, just the good stuff handpicked by our team to start your day.
Please check the opt-in box to acknowledge that you would like to subscribe.
Thanks for signing up!
Keep an eye on your inbox for the latest sports news.
Sorry!
There was an error processing your subscription.
Zack Annexstad enrolled early out of IMG Academy in Florida

Cephus already announced he was taking a leave of absence from the team

Meyer was placed on administrative leave on Aug. 1 pending the result of this investigatio...
Everything needs a brand, but not all brands are bad

The Wolverines dealt with injuries and abysmal play at QB last season

The uniforms were created with Parley for the Oceans, and are made of repurposed plastic w...