If alive, would Paterno be joining Penn State officials now on trial?
Three Penn State officials are ordered to stand trial for endangering children in the Jerry Sandusky mess. Gregg Doyel wonders, if Joe Paterno was still alive, would he be joining them?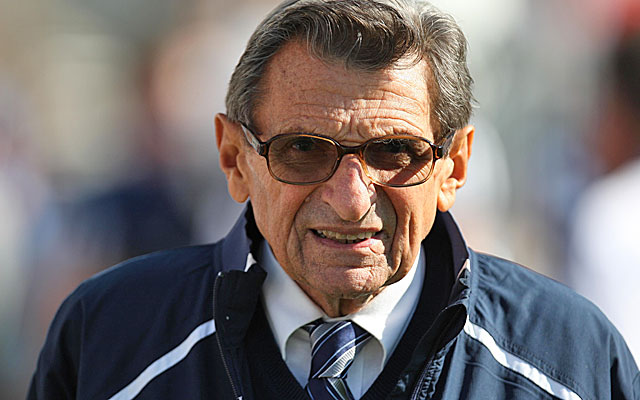 Joe Paterno wasn't in the Dauphin County Courthouse this week in Harrisburg, Pa. He wasn't in Courtroom No. 1 this week, facing accusations of endangering the welfare of children. But would he have been?
We'll never know if the state of Pennsylvania was going to find the evidence -- or spine -- to go after the kindly old man conducting the grand experiment of no-frills football at Penn State, but I suspect so. Had Paterno lived long enough, he may have been watching through thick glasses as District Judge William Wenner wrapped up days of testimony by taking about one second, literally, to determine that there was enough evidence to send him and three of his former Penn State cronies -- president Graham Spanier, vice president Gary Schultz and athletic director Tim Curley -- to trial.
The arc of this case, and the indictments sought by the state, were heading in Paterno's direction.
When the first indictments were handed down in late 2011, the state was pursuing Jerry Sandusky on charges of molesting children -- and pursuing Schultz and Curley for perjury based on testimony years earlier about Sandusky. It wasn't until months after Paterno died in January 2012 that the state indicted Spanier as well, and expanded its charges to include endangering the welfare of children.
This week the prosecution said it was criminal inaction that made State College, Pa., a dangerous place for children, because three men knew about the pedophilic tendencies of Jerry Sandusky -- and those three men didn't do anything to stop him.
1. Graham Spanier.
2. Gary Schultz.
3. Tim Curley.
But there was a fourth man who was told about Sandusky, a fourth person who rose every morning, worked every day, went to bed every night -- for 10 years -- knowing there was a pedophile in his small town:
4. Joe Paterno.
Paterno deserves this moment. He deserves this shame. Imagine that scene outside the Dauphin County Courthouse. Paterno, walking slowly toward Courtroom No. 1. Stripped of all those victories by the NCAA. His job gone. Now this. Cruel? Not cruel. What happened to the children of State College was cruel. What might have happened to Joe Paterno this week?
Justice.
Instead, we had the spectacle of Spanier, Schultz and Curley -- three blind, mute mice -- finally finding their voice this week and using it, via their attorneys, to savage the fifth Penn State employee in this story: Mike McQueary.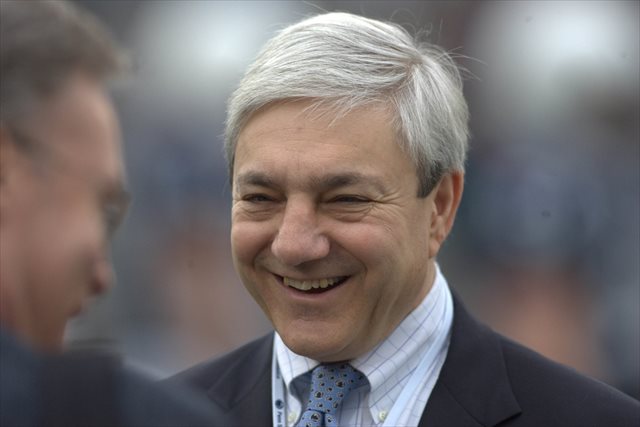 McQueary is the former Paterno assistant who said he saw Sandusky molesting a boy in a football building shower in 2001. Spanier, Schultz and Curley are laying the blame for Sandusky's final decade of freedom on McQueary, saying McQueary didn't tell them that what he saw in the shower was sexual.
"I believe Mike McQueary is making it up as he goes along," said Spanier's attorney, Elizabeth Ainslie, according to reporters in Harrisburg.
Said Curley's attorney, Caroline Roberto: "We heard really nothing out of the ordinary from McQueary when he took the witness stand. Except we did hear some embellishment like we always do."
It's sound strategy. McQueary is eminently dislikable in this whole story, starting with the way he saw whatever he saw in that shower and then left -- leaving Sandusky and the boy naked and alone. A grown man at the time of 26, McQueary's first phone call was to his daddy for advice. Not until the next day did he talk to Joe Paterno, and not for another week did McQueary report what he saw to anyone else, and then only after Curley summoned him for a meeting.
So like I said, McQueary is the obvious target for Spanier, Schultz and Curley. He's dislikable, he's spineless, and he's alone. It's McQueary's word against everyone else's word -- and by scapegoating McQueary, the trio of Spanier, Schultz and Curley are absolving Paterno.
The inference is that McQueary didn't make it clear to anyone -- not to them, and surely not to Paterno -- about what he saw in that shower. Had McQueary been more clear, then of course his superiors would have stopped Sandusky.
So understand something: If Spanier, Schultz and Curley are cleared of these charges, Paterno will be cleared as well. His immoral apologists, those unthinking automatons, will claim victory. This battleground is littered with broken children, but the Joe-Bots don't see the kids. They are hero-worshipers who see their hero under attack.
The state sees three men -- Spanier, Schultz and Curley -- who endangered the welfare of children. There was a fourth man, though, whose inaction endangered the kids in his community. Jerry Sandusky is free? For 10 years after Mike McQueary saw something in the shower involving a naked man and a naked boy, something so disturbing that he showed up at Paterno's house on a Saturday morning with his daddy to discuss it?
Not Joe's problem. For 10 years. Not. His. Problem.
That's why Paterno should have -- and I believe would have -- been at Dauphin County Courthouse this week. He'd already lost his job and his place as the winningest coach in college football history, but he had more to lose. Nobody can touch him now.
The Commonwealth Cup has resided in Blacksburg for over a decade

Miami looks to cap an undefeated regular season at Pitt on Black Friday

The biggest game in the AAC this season takes place Friday
Can Arkansas spring the upset on a Missouri team that has caught fire after a sluggish sta...

Fitzgerald was injured while running during the first quarter of the Egg Bowl

Trust the Process as Tom Fornelli leads you toward his best bets for Week 13 of the season