If football, men's basketball players get paid, what about women?
Jon Solomon studies the potential Title IX implications of college players being paid.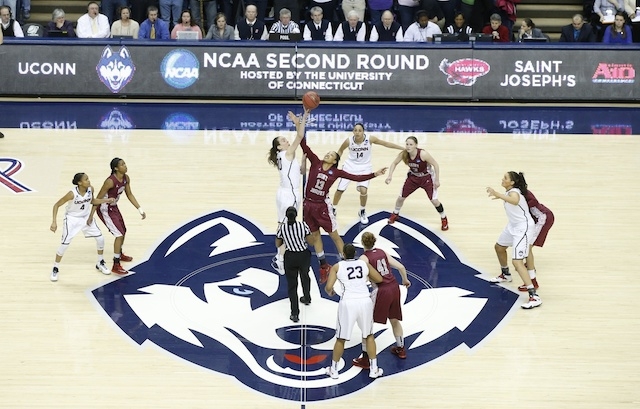 More from Solomon: NCAA critics discuss ways to pay college players
There is no shortage of legal cases that could one day allow college athletes to be paid. The Ed O'Bannon lawsuit, the Jeffrey Kessler suit and Northwestern football players being deemed employees represent a future world in which football and men's basketball players may get a cut of money from the multibillion-dollar college sports industry.
But what about female athletes? If the courts allow football and men's basketball players to be paid or give them the right to collectively bargain, how does Title IX factor into this equation?
Because there is no case law yet, there are no clear answers. Legal precedent would be dictated by any future Title IX complaints due to new benefits for male players. Practical answers have already been voiced by some conference commissioners, university presidents and athletic directors, who say paying players could result in women's sports and non-revenue men's sports being cut.
The O'Bannon plaintiffs have considered the questions. Their planned mechanism for how former athletes would receive a share of licensing revenue would include an opportunity for female athletes to get payouts.
If the O'Bannon plaintiffs prevail or settle their names, images and likenesses suit scheduled for trial on June 9, an entity called the Former College Athletes Association would create a formula to distribute group licensing money to former college players. The O'Bannon case focuses only on football and men's basketball players, but the FCAA would represent all former athletes -- male and female -- if they want to sign up.
Numerous factors would be considered in payouts, including how important an athlete's sport was to a school's athletic revenue. In other words, a field hockey player presumably wouldn't get the same amount as a football player at a major program. A former female athlete is expected to be named to the FCAA board.
"I think there are Title IX implications" to an O'Bannon victory or settlement, said Ken Feinberg, a prominent mediator who would help create the formula to distribute the FCAA money. "The contracts that the NCAA has through conferences for female athletes may not be as lucrative, but it adds up. I think this is for all former college athletes."
On the other hand, Kessler -- a prominent sports attorney who helped bring free agency to the NFL -- said Title IX has no implications on his lawsuit against the NCAA and the five major conferences. Kessler is seeking a free market for college athletes to be compensated by their schools beyond a scholarship.
"I think it's a complete canard," Kessler said of potential Title IX implications related to his suit. "Title IX says nothing about the issue of compensation. Title IX talks about giving equal opportunities to participate in athletics, which this case wouldn't change one way or another. You'd have the same opportunities, except in those two sports (football and men's basketball) the schools would be free to treat the athletes more fairly given the revenue being generated. It's really no different now than the head football coach at Alabama, I'm sure, makes more money in salary than all of the female coaches at Alabama put together. That's not a Title IX violation."
The only compensation issue addressed by Title IX is scholarships, but the law also requires equal treatment such as promotion, said Donna Lopiano, president of Sport Management Resources and former CEO of the Women's Sports Foundation.
If compensation to players is permitted and based on promotion and visibility, "I believe institutions will be obligated to show that they are equally promoting men's and women's sports," Lopiano wrote in an email. "Women's sports have simply not pressed on this issue to date. I think there would be an immediate movement to ask the [Office of Civil Rights] to clarify an institution's Title IX obligations in this regard."
Erin Buzuvis, co-founder of the Title IX Blog and a law professor at Western New England University, said the strongest arguable position at this point is Title IX would apply to player compensation the same way other forms of resources and amenities are currently considered under Title IX.
If athletes receive endorsement opportunities, Title IX wouldn't apply as long as the money truly isn't coming through the university, Buzuvis said. But if the school somehow participates in shared proceeds -- such as the model laid out in O'Bannon -- she says she believes Title IX applies.
As for college athletes becoming employees, she said Title IX would be a factor as long as players continue to receive athletic opportunities from a university. Buzuvis said Congress never envisioned a day when the National Labor Relations Act (passed in 1935) and Title IX (passed in 1972)  would apply to college athletes simultaneously.
"I would take a different position if colleges decided to stop playing this game of hybridizing business and education," Buzuvis said. "You're having your cake and eating it too by running a profit-seeking business enterprise while receiving federal support and nonprofit status. That's the situation big-time college athletics has created for itself where you say you do have to comply with both laws, as awkward as it may seem."
Court cases aren't considering Title IX
During a recent speech, Pac-12 commissioner Larry Scott cautioned that sports would get cut "if some of this discussion leads to extreme or radical solutions that suck a lot of resources that are being used to support these Olympic sports and women's sports."
That's a debatable point. But it highlights a danger for the NCAA: The legal bodies hearing these individual cases are not charged with considering Title IX implications. What comes out on the other side of potential rulings could create new gender-equity issues.
Take the O'Bannon case, for example. US District Judge Claudia Wilken will not let the NCAA argue at the O'Bannon trial that imposing restrictions on player compensation enables increased support for women's sports.
Wilken suggested the NCAA "could mandate that Division I schools and conferences redirect a greater portion of the licensing revenue generated by football and basketball to these other sports. ... The NCAA has not explained why it could not adopt more stringent revenue-sharing rules."
Many conference commissioners, university presidents and athletic directors gave declarations in the O'Bannon case that used women's sports and men's non-revenue sports as a legal defense. Wilken ruled that college administrators' understanding of Title IX has no bearing on the issue she was addressing in the O'Bannon case -- whether football and men's basketball players are consumers in the same market as other college-bound students.
"Furthermore, the declarations articulate a questionable understanding of Title IX -- one that the NCAA itself has not endorsed in this case," Wilken wrote.
As ESPN analyst Jay Bilas put it: "It's funny how Title IX hasn't stopped athletic departments from building facilities and paying outrageous salaries."
Kessler said that even if schools could not fund non-revenue sports due to a free market for athletes -- an assertion he said he doesn't believe -- he questions why that should matter to athletes in revenue-producing sports.
"Where is it written that these athletes -- most of whom will never have a pro career, many of whom come from impoverished backgrounds, many of whom will never get a degree out of this -- where is it written they should be deprived of any economic reward so it should be distributed to someone else who didn't contribute to the money being made?" Kessler said.
Is Title IX even being followed now?
The National Women's Law Center is following these issues closely. Title IX would apply even if athletes are classified as employees, including if players receive additional health-care benefits, said Neena Chaudhry, senior counsel and director of equal opportunities in athletics for the National Women's Law Center.
"Most schools are not treating athletes equally 40-plus years after Title IX passed, so it's hard to know exactly how that would play out because so often the support coming from the school already is so unequal," Chaudhry said.
Congress recently pointed this out at a House subcommittee hearing about player unions in May. Rep. John Tierney asked Baylor president Ken Starr to explain why in 2012-13 Baylor had a 56-44 ratio for athletic financial aid in favor of men's sports given that participation rates would indicate the funding should be closer to 58-42 in favor of women.
Responded Starr: "Well, that is a very fluid and dynamic process, so it may change from year to year, but if there is in fact a disparity, and I accept what you've said, it has to be addressed, so we have to come forward with explanations as to why there may be a temporary disparity. We recently created two new women's sports with scholarships in order to address the disparity, so we have for example created equestrian with a number of scholarships for women. We have created acrobatics and tumbling."
Economist Andy Schwarz, who testified at the hearing, later wrote on a blog that Baylor's financial proportionality by gender has gotten worse every year since 2004.
National College Players Association president Ramogi Huma, who leads the union efforts for college players, said Title IX will be part of any future college sports model. But he believes Title IX shouldn't be an excuse to avoid benefits for players, even if that requires a dollar-for-dollar match for females.
"There's more than $1 billion in new revenue that's annually flowing in from media-rights deals and the College Football Playoff," Huma said.
Ellen Staurowsky, a Drexel professor and Title IX expert, said the argument that Title IX could cause sports to be cut if players are paid is "really disingenuous" given that the "vast majority" of schools are already out of line with the gender-equity law.
"It's not as if the college sports system is committed to equity everywhere," said Staurowsky, who is an expert for the O'Bannon plaintiffs. "It hasn't been committed to women under Title IX. It's blatantly exploited young men, most of whom are black. I think there is a way to get out of this, but it requires us to calm down and think strategically about what the 21st century college sports industry is going to look like."
CBS Sports HQ Daily Newsletter
Get the best highlights and stories - yeah, just the good stuff handpicked by our team to start your day.
Please check the opt-in box to acknowledge that you would like to subscribe.
Thanks for signing up!
Keep an eye on your inbox for the latest sports news.
Sorry!
There was an error processing your subscription.
Clemson's quarterbacks, Willie Taggart's FSU revival and more talking points in the ACC

The Bulldogs wish they could guarantee a return to the College Football Playoff, but they...

The Orange and Blue now feature the signature Jumpman logo
Making predictions in a loaded Big Ten between Ohio State, Michigan, Penn State and Wiscon...

The Gators have been down for too long, and Mullen seems to know how to save them

Mullen has been known for rocking the sneaker and suit combo for a few years now