If Hill starts in place of Manziel, it won't be his first bizarre opener
Texas A&M backup quarterback Kenny Hill has experience taking over in trying situations.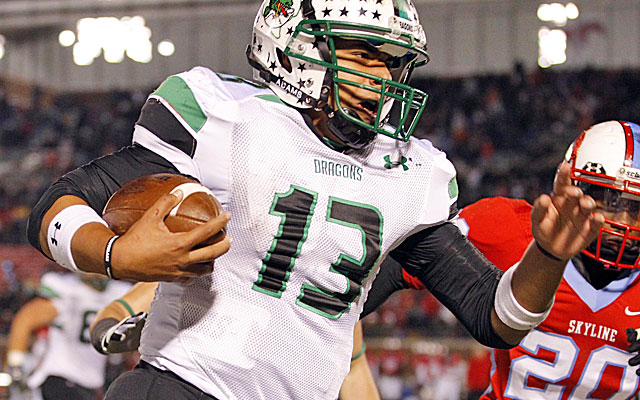 If in fact, it's true freshman Kenny Hill that Kevin Sumlin names as his starter for the season-opener against Rice in place of star Johnny Manziel, who is suspended for the first half, it'll actually be the second really bizarre season opener he's had in his young career.
As a sophomore at Texas powerhouse Southlake Carroll High, Hill -- the son of former major league pitcher Ken Hill -- was set to begin the 2010 season with the JV squad. In fact, Hill was on the bus to the Dragons first game before varsity coach Hal Wasson pulled him off that bus because the school's starting QB was about to lose his eligibility. Hill ended up taking over the varsity starting job a month later. Hill went on to run and pass for 22 TDs that season. The next season, Hill led Carroll to the state Class 5A Division I title.
In the month or so since the Aggies have been in camp, the 6-1, 215-pound Hill has impressed the coaches with his arm and his wheels, but most of all by his savvy and his ability to run the hurry-up offense, the same type of attack he piloted at Southlake Carroll.
"Kenny's remarkable," Wasson told CBS on Tuesday. "He has great composure, pocket awareness and the ability to extend plays. He's also a guy who has the ability where the bigger the game, the better he plays."
The other option for A&M to play the first half against Rice Saturday is 6-4, 235-pound Matt Joeckel, who has more experience (he played in five games last season) but lacks Hill's running ability. The Aggies staff has split the reps pretty evenly among the QB candidate.
Sumlin is expected to discuss with his staff their options for the first half more on Thursday.
GoDawgs247 previews big-time college football recruits headed to Athens

Dig below the surface and you'll find a lot of intriguing matchups on the slate this Satur...

SportsLine tapped into its Vegas sources and found out pro bettors are all over No. 8 Michigan...
An early-season Big 12 game already has major conference and national implications

Top-ranked Alabama hits the road to take on upstart Vanderbilt in Nashville on Saturday

The battle of the Bulldogs will take place Saturday night between the hedges