Ikard: Sooner compliance required affadavit from girlfriend
Congratulations to Oklahoma, the kings of compliance, who ensured that former center Gabe Ikard wasn't dating his girlfriend just for her basketball tickets.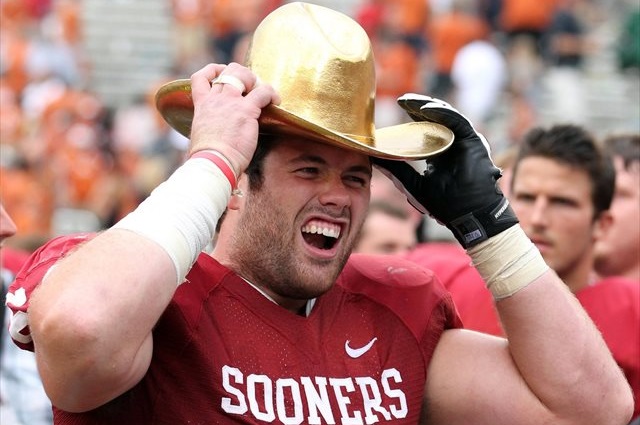 There's thorough. There's zealous. And then there's the Oklahoma compliance office, which made waves this past February when a release of the Sooners' secondary violations revealed that three student-athletes had been asked to donate to charity a monetary amount equal to the value of extra pasta the athletes had eaten at a graduation banquet. The value of said pasta? 3 dollars and 83 cents apiece.
Though the release protected the athletes' anonymity, now ex-Sooner Gabe Ikard eventually bravely stepped forward to verify that he was one of the pasta perpetrators. But it turns out that before signing with the Tennessee Titans as an undrafted free agent this past weekend, Ikard had had another run-in with the Sooners' ever-vigilant compliance office. Speaking to SoonerScoop.com before the draft, Ikard revealed that he and his girlfriend had been required to sign affadavits affirming that Ikard was, in fact, her boyfriend, and she his girlfriend.
"They kind of drafted it themselves," Ikard said of the affadavit, adding (with a laugh, we imagine) "I said she just likes big guys, just accept it."
Why was compliance so interested in Ikard's love life? The All-Big 12 center had been spotted with the girlfriend in her courtside seats at multiple Oklahoma City Thunder games. (No surprise there, given that Ikard's not going to stay incognito at 6-foot-4 and 304 pounds.) The affadavits were designed to show that yes, the tickets had been given to Ikard because he and his girlfriend were in a relationship and no, not just because he was a football player.
So, yeah, "love contracts" aren't just a plot point for old episodes of The Office any more. But it isn't all bad between Ikard and Sooner compliance; thanks to PastaGate, he also said Olive Garden had agreed to cater his draft party for free. Let's just hope no one ate to excess.
The movie will zero in on former Penn State coach Joe Paterno during the Jerry Sandusky sc...

Bidding for Salaam's trophy, which the auction house says was obtained legally, ends Satur...

Locksley has been the offensive coordinator at Illinois and Maryland during his coaching c...
Many NFL-eligible juniors ignore advice provided by the league and risk going undrafted each...

Snyder died in Manhattan, Kansas, on Wednesday

Locksley joined Alabama's staff in 2016