Illinois AD cautions against 'rush to judgment' over player accusations
Mike Thomas says he saw no signs of problems in the football and women's basketball programs until accusations of mistreatment by coaches were made.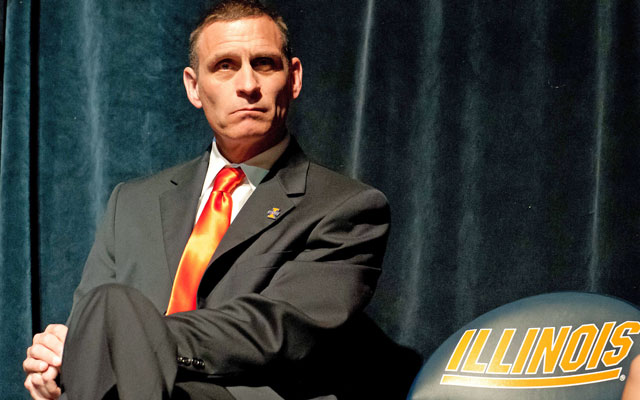 ROSEMONT, Ill. -- Illinois athletic director Mike Thomas cautioned against a "rush to judgment" over allegations that Illini athletes in two sports were mistreated by coaches. In a telephone interview with CBSSports.com, Thomas said he saw no signs of internal problems in the football and women's basketball programs until the accusations were made.
Letters recently became public from the parents of three former Illinois women's basketball players, one of whom claimed coach Matt Bollant "created a culture of mental and emotional abuse." Assistant women's basketball coach Mike Divilbiss left the program this week, a decision Thomas said he supported and was mutually determined by Bollant and Divilbiss.
The women's basketball allegations became public a week after ex-Illinois offensive lineman Simon Cvijanovich went on Twitter to accuse the football program and coach Tim Beckman of mistreatment.
"There's no signs that told us that this would be something coming down this pike," Thomas said.
When asked if he stands behind Beckman and Bollant, Thomas replied, "I think it's not appropriate for us to rush to judgment. I think that's why we go down the investigative path in both situations to see what the facts are, and the facts and findings will dictate how we address those situations. I think right now neither situation is complete."
Illinois hired a Chicago law firm, Franczek Radelet, to investigate the football accusations. The initial review of the women's basketball program was handled internally because it involved Title IX issues, and the review found no violations of laws, university policies or NCAA rules, Illinois spokeswoman Robin Kaler said.
Because there are sports medical accusations attached to the women's basketball claims, Kaler said Illinois has asked Franczek Radelet to examine those allegations as well. Kaler said the university will be as transparent as possible with the findings given the threat of litigation and student privacy laws.
The families of former Illinois women's basketball players Jacqui Grant, Taylor Tuck and Taylor Gleason wrote letters to the university in April claiming their children were mistreated. Among the allegations made by the parents, according to the Daily Illini and Chicago Tribune:
• Coaches considered having separate practices for black players and created racial tension with disparaging remarks.
• Players were forced to participate with injuries, such as a broken foot and an enlarged spleen due to mononucleosis.
• Coaches threatened to pull the scholarships of players.
Last week, Cvijanovich claimed he was pressured to return to practice from injuries and Beckman systematically removed players' voices by holding scholarships over their head. Thomas said he continues to believe Beckman has supported Cvijanovich since he withdrew by providing academic and medical support.
The Illinois situation isn't happening in a vacuum. Advocates for college players' rights have taken interest.
Ramogi Huma, executive director of the National College Players Association, called for an independent investigation into Cvijanovich's claims because Huma said Thomas' initial comments supporting Beckman suggested conclusions had already been reached. Thomas said he takes any allegations seriously and doesn't regret his initial comments about Beckman.
"I think most athletic directors in that situation would have given that same response and been supportive of their coaches," Thomas said.
Thomas said he was removed from the investigative process "early on." He said he told Illinois chancellor Phyllis Wise on the night of Cvijanovich's tweets that the athletic department should not be investigating the matter.
Thomas returned to Champaign, Ill., on Monday from the Big Ten spring meetings to deal with the latest accusations. Illinois' situation was discussed informally by Big Ten athletic directors at the meetings.
"We were talking this morning amongst the ADs: Are we in touch with our kids enough?" Minnesota athletic director Norwood Teague said. "We all say what we do and we are (in touch enough). There are only a certain number of hours in a day. I think you have to have great coaches and you've got to have great dialogue with them constantly about leadership, their own leadership. But I know issues will come up."
Two years ago, Rutgers fired men's basketball coach Mike Rice when video emerged of him throwing basketballs and using gay slurs directed at players. Tim Pernetti resigned as Rutgers AD in part because he initially let Rice keep his job after learning of the video.
Current Rutgers athletic director Julie Hermann said her athletic department sets an open culture to make it clear any athlete can walk into an administrator's door to talk.
"The key thing is taking the opportunity to build enough relationships where something can't go on that someone cannot see," Hermann said.
Hermann was asked how a typical college athlete would voice a complaint about a campus issue to the NCAA. She paused briefly before saying, "That's a good question."
The NCAA now has athletes serving in its governance structure. Northwestern athletic director Jim Phillips, chair of the NCAA Division I Council, said the voice of college athletes' "is as strong as it's ever been in the history of college athletics."
Proponents of greater rights for college athletes say the Illinois situation shows there needs to be an independent players association.
Cvijanovich has called for players to speak out and let their voices be heard. Drexel professor Ellen Staurowsky, co-founder of the College Athletes' Rights & Empowerment Faculty Coalition, wrote in a Huffington Post piece that the Chicago law firm investigating the accusations represents Illinois' interests, not the players'. Franczek Radelet's website describes the firm as "a powerful advocate for employers and a formidable adversary to unions. We provide creative and effective solutions to challenging labor relations problems."
Said Thomas: "I don't think our situation has shown anything yet (on whether independent player representation is needed) until we go through the investigative process. Once again, it's a rush to judgment."
CBS Sports HQ Daily Newsletter
Get the best highlights and stories - yeah, just the good stuff handpicked by our team to start your day.
Please check the opt-in box to acknowledge that you would like to subscribe.
Thanks for signing up!
Keep an eye on your inbox for the latest sports news.
Sorry!
There was an error processing your subscription.
From Alabama to Wyoming, which Division I team best represents its home state?

Air Force's Air Power Legacy series uniforms for this year pay homage to the AC-130

Jefferson transferred from Ole Miss following the 2017 season
It's another in a long line of incidents for Smith

And they'll actually be playing these games on campus

Eleven of the Big Ten's 14 programs have been involved in a serious incident over the last...