Impact of Northwestern union vote may not be felt, seen for some time
Northwestern players will hold their union vote Friday. As they do, let's remember that the true impact of their decision may not be known for years.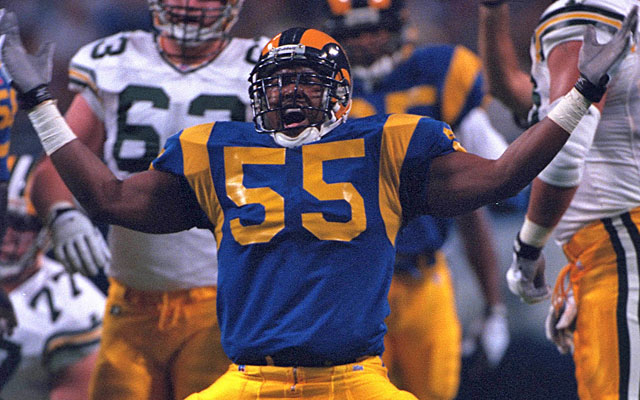 More college football: Dennis Dodd | Jeremy Fowler | Latest news
Robert Jones walked out.
The issue before the East Carolina linebacker 25 years ago was whether to sign a petition against his head coach. Jones -- freshman All-American and honorable mention All-American as a sophomore -- had made the biggest decision of his career. Instead of signing, he walked out of a players meeting.
New coach Bill Lewis had ramped up winter conditioning. Hundreds of up-downs, instead of 50. Drills were hotter, harder, earlier -- 6 in the morning. And while Jones -- who would go on to play 10 seasons in the NFL -- didn't exactly revel in the workload, he understood its purpose. He wasn't going to sign.
"Losing was accepted," Jones said. "That winter conditioning was something different, something we weren't used to. Because of that, players just weren't going to adapt. They weren't going to deal with the treatment they were getting from the coaches."
Jones said Lewis, "didn't physically abuse us. Yeah, there was cursing but I think that's on every football team. It wasn't something out of the ordinary."
Jones said he and quarterback Jeff Blake were the only two Pirates not to sign the petition. Both went on to enjoy lengthy NFL careers. Jones wonders if that decision made many years ago had something to do with it.
"I asked myself, 'Who do I want to piss off the most -- these players or the coaches?" he said. "The coaches were how I'm going to get to the next level."
Jones talks freely about the situation now, in part, because it relates so well to the present. Similar to what he was asked to do a quarter century ago, Northwestern players will vote Friday on whether they want to unionize. Whichever way they cast their votes, the decision will shape their lives.
And like East Carolina under Lewis in the late 1980s, there are few definitive answers for those Wildcats. Then, like now, there are layers. A complicated issue cannot be decided in the moment. A "yes" vote doesn't necessarily ruin the collegiate model as Mark Emmert would have you believe. A "no" vote doesn't make the student-athlete welfare issue go away. It may be years -- decades -- until we know the full ramifications.
That's how long it has taken Jones to sort through his time at East Carolina. Jones and Blake bucked an overwhelming majority with their stance. Current Northwestern players are subject to both external and internal pressures to do whatever the "right" thing is.
Meanwhile, the discourse is off course. Emmert is among those who have hijacked the unionization effort to portray it as a play-for-pay push. Except that nowhere is that topic mentioned by College Athletes Players Association in their bullet points. In fact, those points match almost exactly with change occurring at this moment in the NCAA.
It's about more and better treatment and long-term care of athletes. That ultimately will be a good thing if we can get past the spin.
Northwestern in one of its filings actually argued players are not "initially sought out, recruited and ultimately granted scholarships because of their athletic prowess on the football field."
Funny, but I don't see a bunch of 170-pound wimps on the offensive line. What is happening Friday in Evanston has been years in the making. Jones' son Cayleb plays at the same school (Arizona) where coach John Mackovic once degraded athletes so forcefully that players marched on the president's home. More recently, Grambling players went on strike because of health and safety issues.
Some former Tennessee volleyball players said coach Julie Hermann put them through what was called "humiliation, fear and emotional abuse." A letter from those players saying as much surfaced as Hermann accepted the Rutgers AD position last year.
The NCAA is just coming to grips with the concussion issue. It has to, like it or not. At least 65 players have sued the association over concussions.
At the moment, there are even those who question whether athletes should have a vote in the restructured NCAA. So Friday isn't necessarily about a union or Northwestern.
It is about an awakening. Athletes are becoming more self-aware. The system's lack of concern for the free labor force has been building for years. Union or no union, the working conditions of that free labor force are going to change.
"For me, I think that Northwestern has a legitimate issue they raise," said Georgia receiver Chris Conley, a member of the NCAA's Student Athlete Advisory Committee. "People can quarrel whether they're doing it the right way or wrong way but they're using their voice. That's the first step."
Conley used his voice in January at the NCAA Convention. Representing the SAAC, he wondered aloud in front of 800 attendees why a chart showing a new NCAA governance structure didn't include the words "student-athlete."
Since that day, athletes have -- for the first time -- been assured a voting spot in the restructured NCAA.
"It's got to start somewhere," Conley said. "Northwestern is doing what they feel is right. I applaud them for that.
"Are there other places, more cases where student-athletes suffer more injustices? There probably are. But it's got to start somewhere."
Back in the day, all Jones had to rely on was his gut on that player vote. While his teammates felt overworked by their coach, something didn't feel right. His immediate decision came at his peril.
"I won't reveal the guy's name but I had a player come to my room literally curse me out [for not signing]," Jones said.
When Lewis found out about the petition he called a team meeting. It was there, Jones said, that Lewis tore up the document in front of the team and led it out to practice.
"We are going to be champions," he said.
A couple of years later, the Pirates went 11-1. Jones suspects that two team leaders not signing the petition gave Lewis the leverage. When they were seniors, Jones was the defensive MVP, Blake was the offensive MVP. But that pair didn't support their teammates' majority opinion at a crucial time.
Who was right? That's left to the individuals who went through that situation. Jones only knows that he got a shot with the Cowboys when his East Carolina position coach -- later with Dallas -- recommended him.
Meanwhile, Jones has told his son, an Arizona receiver, "Don't ever get involved in no crap like that. Unless someone is physically [abusing you], a coach slaps you, that's totally different. If it's just hard work, we can totally beat that."
It matters only in the future that the players will have that voice. The NCAA could progress as soon as Thursday in adopting long-term protections for athletes.
The next day those Northwestern players vote.
The narrative is centering on this basic question: Is a scholarship an opportunity or a right? Texas athletic director Steve Patterson would argue it's an opportunity. He came out firing last week against unionization, saying trial lawyers are getting their pockets lined.
Patterson went a step further. Minor sports, women's sports -- he said -- will be eliminated as a result of schools being forced to pay players. The majority of the money, he suggested, will go to pay the football and men's basketball players.
Isn't Patterson arguing, then, that scholarships are a right? He can't have it both ways. As long as federal law is followed, there is no mandate there has to be an equestrian or beach volleyball team.
Ask Jones about a decision that defined his life. Ask him about Northwestern. The ultimate answer is complicated, anything but black and white. There are layers and consequences and possibly a teammate who will curse you out.
A concert is a nice way to break up preseason camp

Mills was arguably Georgia Tech's most important player coming into the season

Hugh Freeze's phone records reportedly show another troubling pattern for Ole Miss
They aren't necessarily great teams, but they're teams I'm really interested in following this...

The Irish will wear them on Nov. 18 against Navy

The fourth-year coach of the Nittany Lions led the program to the 2016 Big Ten Championshi...