Impermissible phone calls land Iowa State in NCAA trouble
Three years of prohibited phone calls and texts from football and basketball coaches build a 'major infractions' case as Iowa State asks for two years' NCAA probation.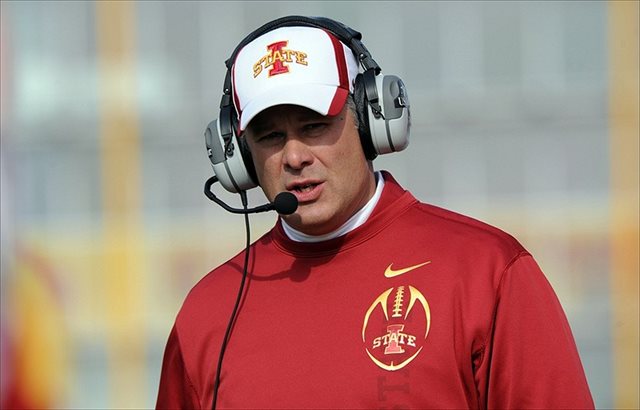 A school-led investigation at Iowa State has found enough impermissible phone contact between the Cyclones' football and men's basketball coaches and recruits to constitute a "major infractions case," the Ames Tribune reported Wednesday evening.  
Per the Tribune, ISU uncovered "three years' worth of impermissible phone calls and text messages" traced to six different former football and basketball assistants. Despite the "major infractions" tag, the school's summary disposition report to the NCAA asked for a two-year probation, one that ISU began serving in November 2011.
The report will be submitted to the NCAA's Committee on Infractions, which will decide whether to accept the two-year probation or add additional penalties.
Among the six coaches named in the report are current Iowa State assistant head coach/tight ends coach Bill Bleil and defensive tackles coach Shane Burnham. Former football assistants Bobby Elliott and Luke Wells are also named, as are former Cyclone basketball assistants Daniyal Robinson and Keith "Lefty" Moore. All could face some kind of NCAA show-cause penalty.
The crux of the violations stem from ISU coaches failing to properly record phone calls in which they did not reach recruits or just left a message for them.

"The athletics department failed to adequately monitor its sports programs and educate its coaches regarding telephone communication with prospective student-athletes," the report says. ...

Thirty-three coaches in all 18 varsity sports at ISU were found to be "considered at-risk for 1,405 impermissible calls," which involved a failure to properly log calls to prospective recruits. A total of 165 impermissible text messages were found to have been sent, with 160 of them attributed to Moore.
Predicting the COI's response to virtually anything is a fool's errand; like Forrest Gump's box of chocolates, you never quite know what you're going to get when it comes to the NCAA and handing out sanctions. But given that this appears to be a case of unfortunate negligence rather than an intentional flaunting of NCAA rules, a la Kelvin Sampson -- and of a rule the NCAA itself is trying to eliminate from its handbook, no less -- it's hard to see the Cyclones suffering anything more than the proverbial slap on the wrist.
Florida State-Miami will be on Oct. 6, and the Seminoles will play Clemson on Oct. 27

Weis Jr. was an offensive assistant for the Atlanta Falcons in 2017

Lott is joined by three current athletic directors and will serve a three-year term
Nick Saban reportedly wants to hire Freeze, but outside forces may not let him

These are the top guys every school is still chasing

College football lost a ton of star power, but these players are studs going into next fal...