In big-money marriage of TV and college football, who has most say?
College football's power brokers love the money and exposure from media deals, but how much influence does all that TV money buy? Jeremy Fowler talks to the dealmakers on both sides to find out.
• 15 min read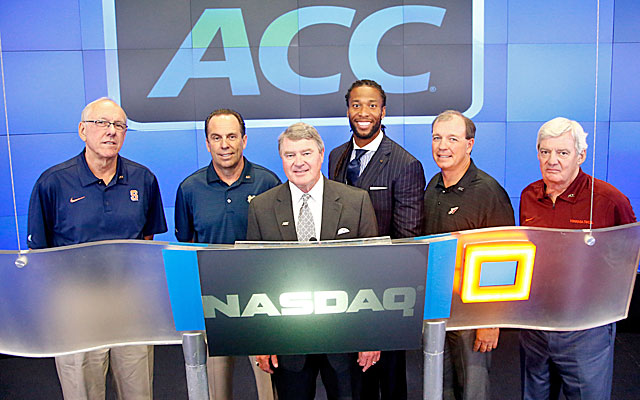 The connection is so easy.
Television networks pay conferences billions for the right to broadcast football games -- to capture moments like the Jadeveon Clowney whiplash hit in the Outback Bowl. So when conferences make major decisions, clearly television told them to do it.
Right, Steve Spurrier?
"Anything can happen when television starts telling you what to do," said the South Carolina coach from the SEC Media Days in late May about the league's possible transition to a nine-game conference schedule.
Suggesting television drives the boat in the modern game is nothing new, largely because of the money involved (well over $10 billion among the entire Football Bowl Subdivision). Fair or not, four years of conference realignment raised questions about television's role in the process.
So, to assess the TV-conference dynamic and decipher who really gets final say on important matters, CBSSports.com spoke to more than 20 sources, including six conference commissioners and several television executives.
Most people interviewed highlight the same theme: Television has input and influence but isn't dictating to conferences.
At least not at the highest levels, Big Ten commissioner Jim Delany said.
"The guys at the top dictate terms -- they have more leverage, they can control their terms," said Delany, who says he didn't consult ESPN or Fox when adding Maryland and Rutgers last fall.
Television helped usher college football into a big-business model decades ago, as author Keith Dunnavant's book The Fifty-year Seduction clearly points out. The Big Ten used to broadcast 16 to 18 football games a year, Delany says. Now, the Big Ten Network alone nearly triples that total.
But with all 10 FBS conferences tied into long-term deals and realignment on pause, where does the relationship stand?
Generally, all major college football brokers have distinct roles.
Coaches want to stay employed and win games. Athletic directors and presidents want to grow the program and revenues while sustaining collegiate principles. Television execs want good games, ratings and exposure for both parties. Commissioners must throw all the elements in a blender and hope it doesn't taste like wheat grass.
"Find the appropriate sweet spot," said ACC commissioner John Swofford of the television-conference balancing act.
Networks and conferences can worry about their jobs without heavy meddling, Fox exec Larry Jones said.
"I wouldn't have the commissioners produce a football game and I wouldn't run a conference," said Jones, the executive vice president of business operations for Fox Sports, which has partnerships with the Big Ten, Pac-12, Big 12 and more. "They don't sit there and call me and say, 'What do you think about this school and that school?'"
Yet some interviewed for this story say they aren't naïve about the power television wields if it so chooses.
Conferences are looking to maximize value. Networks can help with that.
Networks also have opinions. How those opinions might affect decision-making can shape a conference's plan of attack.
Conference realignment "worked both ways," says Alabama athletic director Bill Battle, the founder of Collegiate Licensing Company.
"I think it was networks saying, 'You can make a whole lot more money if you do this," Battle said. "And I think it was conferences back some time ago saying, 'With television eyeballs, there is an opportunity if we can expand in these areas that it makes sense to command more money from the networks.'"
Adds another power-conference athletic director who spoke on condition of anonymity: "I think (television) influences when it can."
Many liken the relationship to a marriage -- both sides don't always say yes, but "we do as partners do," Big 12 commissioner Bob Bowlsby said.
"When our TV partners call, I take their calls or I return them as quickly as I can," Bowlsby said. "They are important business partners for us. But they don't dictate to us."
The realignment effect
Though realignment is a fading storyline thanks to the ACC's grant of media rights effectively pumping the brakes on expansion, this is generally a good place to start on the TV-conference influence topic because the implications of each decision were massive.
Let's get into the core of the issue, and the prime example people point to when addressing this: what Gene Defilippo said.
In October 2011, the former Boston College athletic director famously said, "TV -- ESPN -- is the one who told us what to do" after the league added former Big East members Pitt and Syracuse.
That quote is a stunner. It suggests the ACC was handcuffed by a television bogeyman that points in a direction and says 'Go,' all while the Big East suffered.
This was obviously a delicate situation for ESPN, which has working relationships with much of college football.
Defilippo quickly backtracked on his comment, and other ACC athletic directors denied heavy-handed involvement from ESPN.
Conferences bounce ideas off television partners. Happens all the time, and both sides admit this.
So when realignment swirled, a conference asking for television's input is hardly a surprise, but a way to "walk through scenarios and get some (television) feedback," as MAC commissioner Jon Steinbrecher puts it.
Swofford said his conference's talks with ESPN on Pitt and Syracuse were "limited and of a more general nature," relying heavily on internal analysis alongside television consultant Dean Jordan. One source with knowledge of the moves said the conference approached ESPN on an "objective analysis" basis.
"We've never considered it our place to make specific direction or make specific recommendations to anything," ESPN senior vice president of college sports programming Burke Magnus said. "Nobody has ever come to us and said, 'I'm going to give you three schools, which two are the best?'"
The (old) Big East, now the American Athletic Conference, turned down an ESPN offer of roughly $130 million per year in May 2011. Pitt was one of the schools to reject the deal in a presidents' vote.
Pitt left roughly four months later.
One (old) Big East source said the league never privately questioned ESPN's role in the ACC's additions and frankly had little room to complain -- ESPN offered a pretty good deal that was denied.
"But at the least, (ESPN) knew what was going on," the source said. "There's no way the ACC's adding Pitt/Syracuse if they are going to make the same amount of money 14 ways instead of 12, so there's no question they went to ESPN and said, 'If we add these schools by name, how much money would we get.'"
Magnus said ESPN offers opinions to conferences about expansion only in cases that obviously make sense (when Big 12 interim commissioner Chuck Neinas asked his television partners whether Notre Dame would add value) or when a conference is "on the doorstep of expansion" and simply aims to confirm media value.
"That's different than, 'Hey, we're thinking about expanding, give us some ideas,'" Magnus said.
Mike Aresco, a former CBS executive who took the Big East commissioner job in August, said what happened to the conference and its now-depleted lineup was "independent" of network influence.
But that doesn't change how a perception of television entities pulling strings behind the scenes might be "partially triggered by what happened with the Big East," Jones said.
"Initial negotiations with ESPN falling apart, which was then followed by schools leaving the Big East for the ACC and ESPN making a new Big East deal -- that would seem that perhaps TV was driving that," Jones said. "I have no idea. That could create the perception."
Nuanced approach
One high-ranking television source speaking on condition of anonymity classifies a network's response to conferences as "nuanced" when negotiating a long-term contract.
Not demands, but telling a conference "we'd be much more interested (in a bigger long-term deal) if you do A, B, and C," the executive said.
Though the ACC finalized its long-term deal with ESPN less than a year after adding Pitt/Syracuse, Swofford says a conference "has to negotiate after the fact."
"Unless additional memberships are already in an additional agreement, where there's something to indicate a pro rata share or something on that nature," Swofford said.
Save Conference USA, which is mostly tied to Fox and CBS, ESPN is heavily invested in all FBS conferences and will broadcast the College Football Playoff starting in 2014. Fox owns 49 percent of the Big Ten Network and a portion of Big 12, Pac-12 and C-USA media rights. CBS has the SEC Game of the Week, the SEC Championship Game and the primary rights to the Mountain West.
What some consider a more blatant example of TV influencing realignment is in college basketball, with the Catholic 7 -- a group of seven schools that left the Big East -- dealing with Fox on its way out the door in early 2013.
Jones said there was "mutual interest" in a partnership, but he doesn't recall Fox approaching the schools.
"In that situation, it had been bubbling up for a couple of years," Jones said. "The frustration that the basketball-only schools had with trying to deal with the football schools and all the machinations with the ESPN negotiation and then schools leaving. I think they just kind of decided correctly to establish the conference that would be incredibly stable no matter what the world was doing, created a plan for themselves and then wanted to solidify that plan with a television deal. And that's what we did."
Magnus is blunt on ESPN's role in realignment: It didn't want the chaos and never promoted it, he says.
Realignment was bad for network business, Magnus says, because "contracts had to be redone." That means more money for the conferences.
Of course, the AAC deal earlier this year, worth a reported $18 million to $20 million annually, didn't cost ESPN money compared to the original offer.
But the ACC increased its value from roughly $13 million per school annually to, according to one high-ranking ACC source, more than $20 million on average after the entrance of Pitt, Syracuse, Notre Dame and the grant of rights execution. A separate source with knowledge of the deal believes the ACC's television rights are worth somewhere just short of $20 million per school.
Also, departing Big East members West Virginia (Big 12) and Rutgers (Big Ten) will add value to their respective new leagues.
"Every move that got made really did end up costing us money from the perspective of making the adjustments of where they were coming from to where they were going," Magnus said.
A conference might ask a network how to enhance future media value, said Aresco, who points to one common answer: Play more primetime games.
"It's not ESPN telling them where to play," Aresco said. "It's ESPN telling them they might not have other windows to show them."
In a statement to CBSSports.com, Pac-12 commissioner Larry Scott -- whose conference talked with Oklahoma/Texas a few years ago about potential expansion moves -- said he includes the interests of rights holders ESPN, Fox Sports and Pac-12 Networks into league decision-making.
"For example, in decisions around scheduling, it is vital that we balance all the interests from our schools, teams, student-athletes, fans and media partners," Scott said. "There's no way to be perfect, but we will always focus on trying to strike the right balance."
The scheduling crunch
A lingering question in the SEC is: Should the most powerful conference move to a nine-game schedule? With the league's SEC Network launching in 2014, a new question has emerged: Would television prefer more conference games for ratings purposes?
A nine-game schedule would allow cross-divisional teams to play more often (a solution to, say, Florida-Alabama not playing in 2012, 2013 or 2014). League coaches not named Nick Saban would rather stay at eight games while strengthening non-conference schedules.
Delany says it's "inaccurate" to say television doesn't like nine-game league schedules, though he didn't consult with his partners when the Big Ten approved a nine-game slate in 2016.
Magnus and SEC scheduling guru Larry Templeton both say ESPN was not involved in recent league meetings about scheduling.
That doesn't mean ESPN won't be a consideration.
"We're committed to taking a long, hard look at all the scheduling options, and one of the elements in discussing scheduling is how it affects television," Womack said.
For logistical reasons, networks must be heavily involved in scheduling -- primarily, when to play.
With this process, networks often get creative to maximize matchups. Some conferences are more receptive to that creativity than others. The Big Ten, for example, won't budge on weekday games beyond pre-Labor day or post-Thanksgiving.
Bowlsby said ESPN might like the Big 12 on more Friday nights. Kansas State hosting North Dakota State on Aug. 30 is the league's only Friday game in 2013.
According to its contract with ESPN, the SEC is scheduled to play two Thursday night games per year. ESPN might prefer more than two, a concept that's "certainly something we would look at," Womack said.
Magnus said he gets 10 "no's" for every "yes" on creative scheduling matters, which ESPN understands because the conferences have several factors to consider, especially travel.
Bowlsby said television partners might point out a "lousy" weekend lineup and the need for enhancement. Bowlsby wants to help, but he only can go so far. He probably doesn't want West Virginia, his new member that's more than 1,000 miles from the league office, traveling to Texas Tech on a Thursday night for football. But that plan might work for TCU.
"I don't expect the people managing TV to necessarily be as conversant on what the issues are for our student athletes," Bowlsby said. "A lot of it's situational. Does ESPN have the same responsibility for looking out for a student-athlete that I do or an athletic director does? Probably not. They have their own priorities and express them to us."
Sun Belt commissioner Karl Benson, formerly of the WAC, remembers when ESPN first approached his old league about weekday games in the early 90s.
Playing on Thursday nights "wasn't an easy pill to swallow" back then, Benson said. But the exposure of a primetime slot was an obvious plus.
"Sometimes the one party is advantaged over the other," Benson said. "At the end of the day, you want what's advantageous for both parties. For over 20 years it's been very positive and very favorable. Have we disagreed on items? Of course we have."
It's in the contract
Decision-making powers between conferences and networks are typically spelled out in long-term media rights contracts.
The legwork is done in advance, commissioners say, from the network's scheduling capabilities to expansion to what topics prompt in-person meetings. A network might have an exclusive window to select a primetime matchup, for example. That would be spelled out in the deal.
Most contracts with ESPN contain a "conference composition clause" that addresses expansion, Magnus said. Assuming a new school adds equal or greater value to the conference, that addition might trigger a "pro rata" share. If a 14-team league is worth $14, for example, then add a dollar for the 15th team.
Benson said contractual negotiation points should not be mistaken for television strong-arming conferences on major decisions.
"No one is forcing you to do it," Benson said. "The terms are what they are. The contracts are often very clear about how many games on a certain day a conference will provide."
Before the deal is signed is the best time for conferences to set firm lines. Delany eschewed beer advertisements on the Big Ten Network, even if those ads could have increased revenue.
If a conference has leverage, Delany says, it can define the "rules of engagement" on matters such as scheduling.
"You could then align the programming and the start times, and you could have more control," Delany said. "The more powerful you are in the marketplace, the more control you exert, not less."
Contracts can be reworked. Take the CBS-Mountain West restructuring that allowed the Mountain West to sell secondary games to ESPN. CBS decided to release the MWC content, but not in a vacuum.
"We definitely prefer to work through issues as partners and look for solutions that benefit both parties," CBS Sports president David Berson said.
Every FBS conference has a television consultant that might negotiate on its behalf or provide objective feedback.
Chuck Gerber out of Los Angeles works with the SEC. Jordan, of Wasserman Media, works with the ACC, Big Ten and others. In 2012, the Big East hired Chris Bevilacqua, who helped the Pac-12 secure a long-term deal, to lead negotiations on its television contract. Joel Lulla has worked with the Big 12 and Sun Belt.
A good consultant gauges a league's proper worth, Swofford said, sometimes through a "dose of reality."
"Sometimes you can overestimate value and sometimes you can underestimate value," Swofford said.
What's next?
Until the Big Ten's media rights deals expire in 2016, TV-conference upheaval should be minimal. There's not much to negotiate. The ACC is looking into a network, but there's not much to shop -- either ESPN is on board with the idea or it's not.
The looming College Football Playoff will drive serious ratings, garner close to $500 million per year from ESPN and will have a selection committee to enrage fan bases every December.
The commissioners have been fiercely protective of this delicate transition from the BCS, and that includes the television component.
What happens if a semifinalist doesn't have the same ratings prowess as the first team left out? Does ESPN intervene?
"They don't have a vote at the table," said Steinbrecher about television and potential involvement in the selection process.
Despite the sizable money invested, Bowlsby said he'd be "very disappointed" if television helped determine the selection of games.
"They may have some input into format, for instance -- scheduling of media events, things like that," Bowlsby said. "In terms of when games will be played and who will play in them and how teams are selected, I've never experienced that involved with the NCAA basketball tournament. I know those people very well. I just can't imagine having that conversation with a TV person. I think people of high integrity would push back if they ever did have that."
Considering how conferences work to position themselves for the college football arms race, even the most naïve fans understand television is influential.
But many conference officials reject the perception that television gets special privileges out of their deals.
"You pay for rights, not for the conference," TCU athletics director Chris del Conte said.


The Nittany Lions want the Crimson Tide after dismantling the Wolverines

The Nittany Lions and Fighting Irish are storied programs but newbies as CFP contenders

Plus, people need to start paying attention to Matt Campbell and Iowa State
Barkley scored three touchdowns and made some big plays in Penn State's massive win

Projecting the many changes in the new AP Top 25 poll college football rankings after Week...

Keeping tabs on the biggest scores and highlights from Week 8 of the 2017 NCAA football se...