In college football's playoff era, posturing has already begun
There will be more than one approach to selecting teams for the four-team playoff, but taking a cue from basketball might be wise.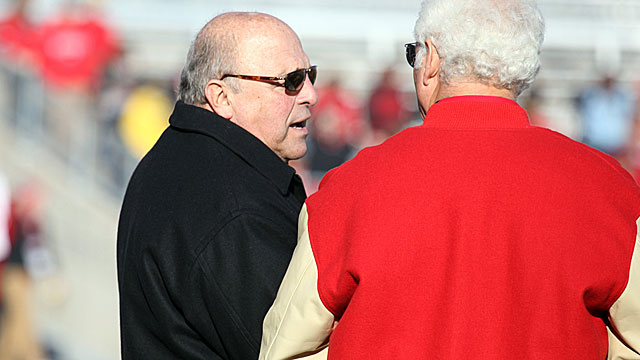 AMELIA ISLAND, Fla. -- Before the first four-team college football playoff kicks off, the sport already looks like it's set up for a nice, neat round of quarterfinals.
Eight teams spread out over the country as follows, winners advance:
• The Pac-12 championship game in the 49ers new stadium in Santa Clara, Calif.
• The SEC game in the Georgia Dome.
• ACC in Charlotte.
• The Big Ten in Indianapolis.
The Big 12 in, oh wait ...
That's not going to work is it?
Not now and maybe not for a while. Here we are, slightly more than 100 days from the 2014 kickoff and the postseason landscape never looked more abstract. Forget the bum rush to an eight-team playoff. It makes too much sense.
In the present, coaches, commissioners and conferences are figuring out exactly the best way to preen for that playoff selection committee.
Conference scheduling philosophies are set but the sport is not settled. Those leagues are -- figuratively as well -- all over the map. What could have been unifying moment -- and thus a unifying front presented to the committee -- has turned into Snowflake Central.
Every Big Five conference took a different approach, if only slightly, in how it is approaching the first playoff season.
One smart aleck media member here at the ACC spring meetings this week compared it to trying to work a ref: "We're playing nine [games]. They're only playing eight. That's weak. He's pushing off."
"Basketball coaches have been doing that for a long time," Notre Dame AD Jack Swarbrick cracked. "I love the conferences that have a culture that after a loss, 'That was a tournament team we beat tonight.' I think you're starting to see some of that."
Posturing, positioning. The announcement of home-and-homes series have become media events. In some cases we're talking press releases celebrating games to be played next decade.
"The irony in all this is you're building strength of schedule for 2025 right now," Swarbrick added. "You don't have any idea what position your program will be in when you get there."
Therein lies the current state of the playoff era after the ACC announced its scheduling philosophy on Monday -- eight conference games plus one non-conference game against one of the other four BCS leagues.
The difference with the SEC, which has a similar philosophy, is that the ACC has Notre Dame as a scheduling partner. The Irish begin this year making their way rotating through the ACC once every three years while remaining independent.
Meanwhile, the Big 12 and Pac-12 play nine conference games. But the Pac-12 plays that conference championship game. The Big 12 is the only Big Five league that doesn't. 
Should it? "I wish everybody would," Florida State coach Jimbo Fisher said.
The Big Ten has both a championship game and an eight-game schedule -- until 2016 when it goes to nine.
What's a selection committee to do that has never done this before?
For one, lean on Mike Bobinski. The Georgia Tech athletic director has done this before -- at the highest level. The former chairman of the prestigious NCAA basketball committee was happy to weigh in on the issues facing the football committee.
"Human nature is sort of, 'OK, we've already got one from the Big Ten [in the field],' " Bobinski said. "In your own mind you could say, 'All right we're done with them, let's move on to the other folks.' "
"You've got to force yourself to talk through that. You know what, the field is open. It's the four best teams. It doesn't matter whether they're from the damn whatever [conference]. You've got to force that thinking. It isn't easy."
How many teams from one conference in the football bracket is slightly less important than who. The selection committee will be charged with selecting and seeding those top four teams in the playoff as well at least some of the remaining eight spots left in the four New Year's Six bowls.
In years when they are not involved in the semifinals, the Rose (Big Ten-Pac-12) and Sugar (SEC-Big 12) will be contracted to specific conferences. Same for the Orange Bowl, which will host the ACC champion. One of the 12 spots in the New Year's Six bowls is guaranteed to the highest rated team among the Group of Five (MAC, Mountain West, American, Sun Belt, Conference USA).
"That's going to be a challenge," said committee member Oliver Luck, the West Virginia AD. "You very well could have a Boise, a San Jose, an SMU and a Houston. Three 12-0, maybe 13-0 teams, and what do you do?"
Coaches are already posturing for inclusion in a postseason that doesn't quite have ground rules down yet.
"I don't think nine conference games are tougher in any way shape or form," said Fisher who has a good non-conference case to support him. "You telling me that us playing eight conference games and playing Florida and Oklahoma State and Notre Dame is tougher than [SEC] playing nine conference games? I don't buy that at all."
FSU's schedule should satisfy Barry Alvarez.
"You've got to show in non-conference games there's an intent of scheduling the right people," the Wisconsin AD and selection committee member told reporters on Wednesday.
"I think the committee has been fairly clear," Swarbrick said. "You'll be able to evaluate strength of schedule independent of [number of conference games]. It's how strong a conference in any particular year. It's what you do with those other [non-conference] games.
"They've made it pretty clear there's no one approach to solving it."
It's obvious the football committee was modeled largely after the basketball committee. They're both relatively small groups meeting behind closed doors. They both use elaborate, multiple ballots to pick the teams. The big difference is the football group is being sequestered for portions of seven straight weeks to produce a top 25 before Selection Sunday.
"Coming to town seven weeks in a row? That would never fly with the basketball guys. I can't see that," Bobinski said. "You couldn't get people to sign up for the damn thing."
For what is believed to be the first time, a committee member sort of questioned that philosophy. The committee will be together two days of every week in Dallas beginning in midseason picking that weekly top 25. They'll assemble that poll -- Monday and Tuesday -- much the same as the basketball committee does the 68-team field over one weekend a year.
"I knew [meeting together] was going to happen at least three or four times," a season said committee member Dan Radakovich, the Clemson AD. "It ended up being seven. It's a little much ...
"It's not the selection, it's being at all the meetings."
Radakovich and Bobinski chatted together here Wednesday at lunch time united by their professions and experience. Bobinski replaced Radakovich at Georgia Tech two years ago. Bobinski also chaired the roundball committee that bears a resemblance to the football counterpart.
"I'm going to rely on friends who have done it before," Radakovich said. "As we get a little closer, more focused, I'll make some calls."
Good luck, Dan, on your tour of Snowflake Central. It's a place where nothing is the same but every conference is supposed to be equal.
These Jayhawks got a tremendous surprise they weren't expecting

Jovon Durante announced on Twitter he's headed to FAU

From Week 1 through the title game, everything runs through Atlanta this season
A concert is a nice way to break up preseason camp

Mills was arguably Georgia Tech's most important player coming into the season

Hugh Freeze's phone records reportedly show another troubling pattern for Ole Miss