In Playoff era, Group of Five sees big payouts and big expenses
The American, Mountain West, MAC, Sun Belt and Conference USA navigate a new playoff era and new NCAA governance changes at the same time.
• 4 min read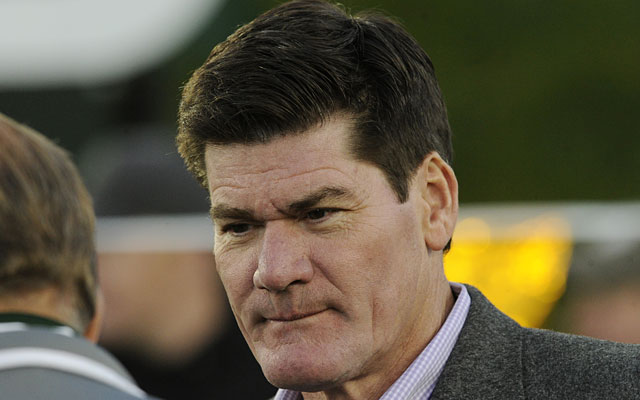 IRVING, Texas -- Unlimited meals.
Flight plans for families of recruits.
Better post-career health care.
Athletic department expenses will balloon as the power conferences recreate some of the rules, and commissioners from the smaller leagues have to consider all the financial implications.
Mainly, what are you willing to pay?
Because the player stipend -- often called 'covering cost of attendance' -- is just an appetizer. The push from the five biggest conferences -- SEC, Big 12, Big Ten, Pac-12 and ACC -- to approve different ways to spend their money on athletes could apply pressure on the American, Mountain West, MAC, C-USA and Sun Belt to keep up.
That's just fine with Mountain West commissioner Craig Thompson, who said at this week's College Football Playoff meetings outside of Dallas that his league can do what it wants, too.
This week is another reminder the smaller conferences are getting between $12 and $15 million annually from ESPN's 12-year deal with the playoff.
"If others can do it, we should have the same right and option to do it," Thompson said. "Not to say we can or will afford to, but we should have that option."
The unlimited meal plan already has been passed, and helping pay for recruits' family expenses on official visits is part of the new NCAA governance agenda that should be passed this summer. Big Ten commissioner Jim Delany told reporters this week more changes are looming.
Between litigation over amateurism and a union push from former Northwestern player Kain Colter, player rights is an emerging topic that bigger schools are eager to address -- without directly paying them a salary, of course.
Though the Group of Five's playoff payout is about one-sixth of the bigger conference's share, it's probably enough to cover new costs.
That's where "permissive" legislation comes into play. Last week, the NCAA Board of Directors agreed to evaluate the bigger conferences' plan for autonomy, with one caveat -- the proposed "actionable" legislation, which would let bigger conferences make changes without direct input from others, should be reworked.
The 'autonomy' label creates a clear assumption -- that this is a squeeze-out attempt from the traditional powers.
MAC commissioner Jon Steinbrecher believes that's not the case after the commissioners have had "some pretty blunt conversations" on the matter.
Regardless of their budget differences, the Group of Five faces similar challenges and vulnerabilities and sensitivities over unions, amateurism and concussions as the Power 5.
"I don't think we've interpreted it that way," said Steinbrecher when asked whether power conferences are attempting a squeeze-out. "I think there's a recognition in large part because of the sums of revenue they are generating, they have some issues and pressures on them. Which is not to say we don't have some of those similar issues, and we're going to have to address those in some form or fashion."
As Thompson puts it, if the bigger conferences want to "fly in recruits by helicopter," don't let the Mountain West stop them.
"For 125 years, the Pac-12 has had larger budgets than the Mountain West," Thompson said. "It's not that we aren't facing something we haven't faced in forever. It's just simply a matter of being able to do things that are similar."
The Mountain West formed in 1999, but you get the point. Budget differences didn't just happen.
Now conferences must decide which areas they want to spend -- and whether it's worth it.
While power-conference athletic budgets typically run from $40 to $125 million, the smaller conferences might max out at $50 to $60 million but many schools dip well below that. The range for C-USA schools is roughly $20-$35 million.
One concern of commissioners is whether schools should have discretion over what they pay or the conferences should mandate it.
The American hasn't made that decision yet, commissioner Mike Aresco said.
"But we have said as a conference we were going to support full cost of attendance," Aresco said.
The MAC and Mountain West are taking a similar approach with expenses. Steinbrecher is hesitant to speak for his whole league on cost of attendance because the figures aren't final -- will it be $2,000 per player? Or $4,000? -- but he acknowledges the MAC wants to play at the highest level of football it can.
The playoff will help. It's structured in such a way that will make a small-conference team making the playoff doubtful at best. The strength of schedule simply won't be there. Only independents such as Notre Dame or BYU would have a chance.
That's what the smaller conferences had to give up for what amounts to a nice return -- a huge financial boost and one guaranteed spot in one of the New Years Six contract bowls.
Seven non-automatic qualifiers have made a BCS bowl since 2005, averaging one every 0.77 years. That doesn't count the American, which had an automatic bid while the Big East.
"I don't think people understand how challenging it was to get one of those BCS berths as a non-AQ," Steinbrecher said. "When those provisions were put in, no one thought we'd be able to access it. As it turned out, we could get there. We had pretty good teams."
And a pretty big list of expenses coming.
Locksley has been the offensive coordinator at Illinois and Maryland during his coaching c...

Bidding for Salaam's trophy, which the auction house says was obtained legally, ends Satur...

Many NFL-eligible juniors ignore advice provided by the league and risk going undrafted each...
Snyder died in Manhattan, Kansas, on Wednesday

Locksley joined Alabama's staff in 2016

Saban reportedly wants to hire Freeze, but there may be things keeping that from happening