In push for athlete reform, will NCAA let its biggest conferences lead?
As the cries for student-athlete reform grow louder, the Pac-12, Big 12, SEC, ACC and Big Ten want autonomy to take the lead, but restructuring an outdated NCAA model won't come easy.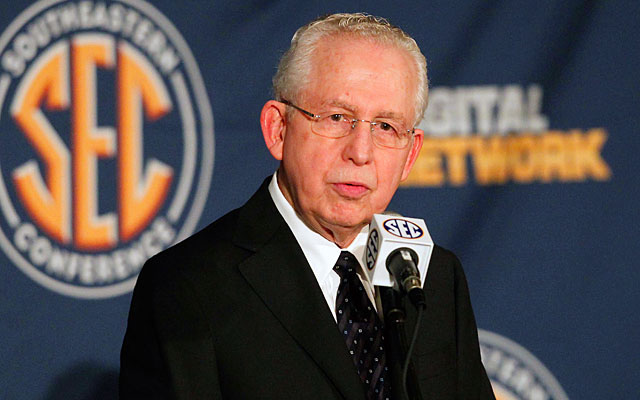 Small but discernible battle lines have been drawn in the ongoing struggle for voting power at the top of the NCAA.
Following Thursday's autonomy draft proposal by the association's board of directors, the buzzwords you hear most often are "substance" and "process." Everyone sort of agrees on the substance -- improving daily life for the athlete. But some inside the process were surprised last week at perceived hurdles thrown up before getting to that point.
At issue going forward is how much real power the Big Five conferences (Pac-12, Big 12, SEC, ACC, Big Ten) will gain in improving what they continually call student-athlete welfare.
CBSSports.com spoke to five stakeholders directly involved in -- or impacted by -- the process after Thursday's initial autonomy announcement. Conclusion: Restructuring of an ancient governance system is going to be anything but easy.
"I think all of us feel that we have not been able to make some of the changes we would like to make," Big Ten commissioner Jim Delany said, "because of ... impediments that go back decades and decades and decades."
Some Big Five commissioners and other stakeholders were initially surprised at the NCAA's super majority concept. The association's board of directors asserted Thursday that the 65 Big Five schools will have to pass legislation with at least a super majority (at least two-thirds in favor). In addition, four of the five conferences would have to pass legislation.
"We think," Delany said, "that's too high a bar."
He has supporters.
"We want to make sure autonomy means autonomy from start to finish," says SEC commissioner Mike Slive.
That those are the two most powerful commissioners in college athletics should not be forgotten. An implied threat of the Big Five conferences breaking away from the NCAA has existed for months, if not years.
"Trust us, we're not going to do anything to hurt you."
That's how one conference official outside the Big Five summed up the power leagues' stance.
God help us, though, if they don't get their way.
The Big Five also support an unprecedented model that would give almost 20 percent of the voting power to athletes. Two sources described a structure by which there would 80 total voters -- one for each Big Five school totaling 65, plus 15 athletes.
Each of those five leagues would be represented by three athletes. The model is still on the table as a comment period begins that lasts into June.
If passed, it would mark the first time in NCAA history active athletes would have such a hands-on effect on the rules-making process.
"They would have a voice which means they could speak up," one Big Five source said. "They would not be advisory, they would be substantive voters."
That would mark transformative change in how the NCAA makes policy. Based on history, athletes are viewed as a transient labor force that passes through the system more than manipulating it. In essence, the heavy lifting is left up to the scholars.
Board steering committee chair Nathan Hatch said has recently as January the student-athlete's role in the new governance structure hadn't fully been considered.
Board steering committee member Kirk Schulz, the Kansas State president, told CBSSports.com in March he had "mixed emotions" about players having a vote.
"We ask so much of our student-athletes now ...," he said. "My concern is not students don't offer great perspectives. I'm just trying to figure out what six hours per day that they're supposed to sleep? Are we going to have students able to show up and work with NCAA?"
Following last week's discussion, Schulz is fully on board with athlete participation. 
There has been a recent awakening of the influence and rights of those athletes. Northwestern's football team is considering a union. The brain trauma issue has become a scourge that has led to an explosion of lawsuits.
Not only must the student-athlete be kept safe, it must have a voice.
The autonomy concept took root following Big Five frustration over all of Division I (351 schools) having too much impact on the rules-making process. For example, a stipend for players was developed and proposed in October 2011. Then it was overridden by scores of lower-resource schools that couldn't afford the extra expense.
The resources, goals and budgets of those 65 are so different from the other 286 D-I schools that the current climate evolved. The Big Five said it needed voting autonomy on certain issues.
While autonomy is still in the beginning stages -- Thursday's announcement was merely a draft proposal -- a formal vote is expected to take place in August. Implementation would begin in January. That's a 100-meter sprint in terms of the NCAA legislative process.
"Changing the NCAA is like moving a battleship," Slive said. "I think timing is of the essence."
So while a lot of this is still preliminary, there is still a curiosity as to how much autonomy will be granted. Those Big Five conferences are responsible for the large majority of revenue in college athletics. They also invite the most scrutiny.
On Thursday, the Big Five were given leeway in developing the much-discussed cost of attendance concept, along with long-term medical and educational benefits for athletes.
But the board stopped short allowing the Big Five to start cutting into players' time demands.
"You can't have people doing the undoable," Delany said, "which is carrying a full-time [class] load and spending so much time with sports."
One source speculated that the board didn't go further because of concerns over affordability of cost of attendance and also hang-ups over student-athlete participation.
Hatch told USA Today last week that other hot-button issues would eventually be "folded in." Those included time demands, increased career opportunities for athletes, oversight over coaching staff size and transfer issues.
The nut of the discussion is cost of attendance -- expenses beyond room, board, books, fees and tuition. The concept is largely lauded in NCAA circles, at least in theory. Now comes the hard part, figuring out exactly what it means and who can afford it.
Essentially in the future, everyone's going to be on board with a Bowling Green quarterback who makes no extra money going against a USC defensive back who might make $6,000 additional. The measure is considered optional for schools across the board.
Adoption of that measure alone would bring the NCAA into a new era. For too long, the NCAA was hung up on competitive balance instead of common sense. Whether that USC defensive back is paid or not, his program has an inherent recruiting, athletic and financial advantage over Bowling Green.
So if USC can afford a stipend that helps a player make rent that should be allowed. Autonomy is meant to reflect that philosophy.
"I have no problem with any support of the cost of going to college," Delany said.
The question is how to get there. The Big Ten has proposed a lower bar for passing legislation:
• If three of the five conferences approved of a measure, the overall approval would only have to be 60 percent (39 schools).
• If four of the five conferences were in favor, only a simple majority (33 schools) would be needed.
It's not clear how those athletes' votes would be weighted.
"We want to make sure there are no barriers that would prevent us from doing it [achieving autonomy] in an expeditious way," Slive said.
Faculty athletic representatives are also lobbying for a bigger representation in the voting process.
"Super majority … is a big problem," Nebraska faculty representative Jo Potuto said in an email. "I think it will mean that ... little will get done except cost of attendance and guarantee of degree completion."
The NCAA likely didn't go through this upheaval just for those two issues to be addressed. That star USC defensive back, for example, could also launch a career that could make him a music star. How is that a competitive advantage as long as the kid isn't profiting from gold records?
"There is still some unknown as to what [the Big Five] are going to be able to do without any oversight," Sun Belt commissioner Karl Benson.
Meanwhile, there is the existing pressure both inside and outside the association. While restructuring itself, the NCAA is dealing with several high-profile lawsuits that are challenging its very existence.
There is the feeling that if the NCAA doesn't change itself, the courts will.
"That will just play out," Delany said. "That's very different than what we're doing here. That will all get resolved in time."
It should be interesting this week when the 10 Football Bowl Subdivision commissioners gather in Dallas for their annual meeting. They'll consider playoff selection committee issues. But they'll also consider issues of wealth and power and class.
And the future.
They'll consider themselves and their place in the collegiate universe.
"It's not necessarily a line in the sand," Benson said. "It's the issues that are most important to the Big Five."
Those Big Five commissioners began to express their distaste publicly last summer with an NCAA system they perceived had become too bogged down. They essentially demanded that more power be put in their hands as well as those of athletic directors and players at the highest level of college competition.
That process has just begun.
"... How will we pass these things [new rules]?" Delany asked. "I think we're only on second base on that."
Patterson is a former No. 1 recruit in the country

Baker Mayfield and two Sooner teammates made the first team

SportsLine simulated every college football bowl game 10,000 times for pick'em leagues and...
The SEC regained its throne as the top conference in the country this season

Rhoads led Iowa State to three bowl games in seven years as head coach

The Georgia middle linebacker is one of the most valuable players in college football