InfoGraphic: Most popular college football team by state
Which college football teams are the most popular by state? You might be surprised. TicketCity used social metrics, google analytics, and ticket pricing data to determine the results state by state.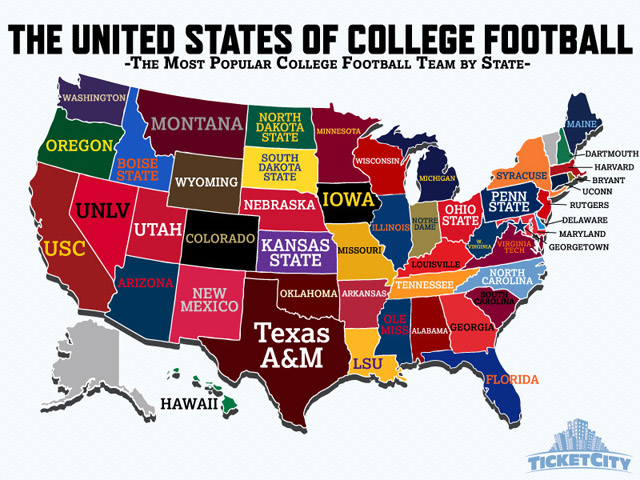 We've seen Hate Maps, but now it's time for a Love Map.
This one courtesy of TicketCity, which used social metrics, Google analytics and ticket pricing data to determine which college football teams were loved the most in each state.
Some states aren't much of a surprise -- Notre Dame in Indiana, USC in California, but what's going on in the state of Texas?
According to TicketCity, Texas A&M has a huge following on social media with twice as many Twitter followers and five times as many Facebook fans. Couple that with the fact that their tickets are averaging a higher price than the Longhorns and the Aggies easily are now the most popular team in the state.
Florida might be home to the national champion Florida State Seminoles, but the Gators are still the most popular team in the state of Florida.
Ross Bowsher claims KSU was well aware of his certification status during his employment

Find out which of your favorite team's players are among the nation's best entering the 2017...

Rosen, a junior, will be eligible for the upcoming NFL draft
Texas A&M has to be better defensively to stand a chance in the SEC West

A letter indicated that there is a growing awareness of the persistent problem in college...

The series will follow the Navy football program throughout the 2017 season