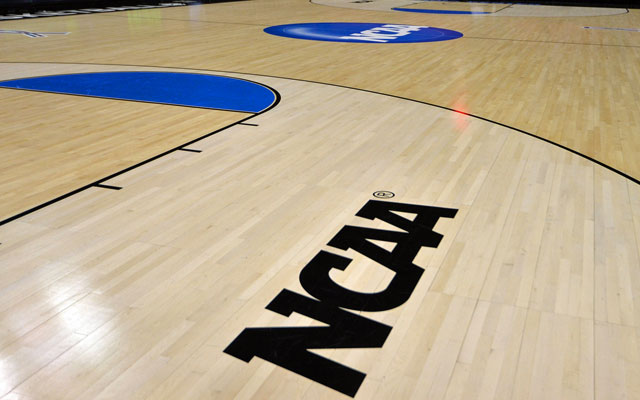 Welcome to the debut of my Inside College Sports column. This will be a weekly notebook looking at issues occurring off the field in college sports — money, court cases, NCAA governance, health and safety, etc. Have a tip, idea or question about a certain topic? Email me at jon.solomon@cbsinteractive.com or hit me up on Twitter @JonSolomonCBS.
The costs of doing business for the NCAA continue to increase. NCAA president Mark Emmert received approximately $1.8 million in compensation during the 2013 calendar year, and the NCAA's legal fees rose 59 percent to $13.8 million, according to the association's latest federal tax return released Tuesday.
Emmert made about $100,000 more in 2013 than the previous year. He had a base salary of $1,365,298, received $201,127 in other reportable compensation, and was credited with $235,700 in retirement/deferred payment that he can receive in 2017. Emmert was credited with less money than all five major conference commissioners: Pac-12's Larry Scott ($3.5 million), Big Ten's Jim Delany ($3.4 million), Big 12's Bob Bowlsby ($2.5 million), ACC's John Swofford ($2.1 million) and SEC's Mike Slive ($2.1 million).
The NCAA's legal expenses rose to $13.8 million in 2013-14 as the association fights a number of lawsuits, up from $8.7 million the previous year. As recently as 2010-11, the legal costs were $4.1 million. The increase is because the NCAA "continues to defend its mission and core values," NCAA spokeswoman Stacey Osburn said.
The NCAA has been a defendant in several lawsuits associated with compensating athletes, concussions and the Penn State scandal. Latham & Watkins, which has represented the NCAA in the Penn State and concussion lawsuits, received $6,457,041 as the association's highest-paid firm in 2013-14.
The higher legal costs for the fiscal year ending Aug. 31, 2014, covered the period of the Ed O'Bannon trial in June 2014. A federal judge ruled the NCAA violated antitrust laws, a decision the NCAA is appealing.
Like many coaches and athletic directors, salaries continue to increase for NCAA administrators. In 2007, the NCAA reported spending almost $6 million to compensate 14 of its highest-ranking executives. In 2013, the NCAA's 14 highest-ranking officials totaled $8.5 million. Some compensation amounts include:
• Chief operating officer Jim Isch: $1,071,086 (Isch has since left the NCAA)
• Executive vice president Donald Remy: $777,652 (25 percent increase after a promotion)
• Executive vice president Mark Lewis: $631,295 (59 percent increase after a promotion; his total pay was 36 percent higher than what his predecessor, Greg Shaheen, received in 2012 with an interim title)
• Executive vice president Bernard Franklin: $590,825 (4 percent increase)
• Vice president David Berst: $480,159 (2 percent increase)
• Chief medical officer Brian Hainline: $454,094 (first year of the new position)
• Vice president Dan Gavitt: $372,009 (first year in his job)
• Vice president Kevin Lennon: $371,851 (5 percent increase)
• Vice president Jonathan Duncan: $360,699
Duncan became the NCAA's vice president of enforcement, replacing Julie Roe Lach, who was fired in February 2013 after an external report detailed abuse of power in the NCAA's investigation of Miami. Roe Lach was credited with $402,011 in 2013. The NCAA said Roe Lach received $246,423 in severance payments during the 2013 calendar year.
NCAA revenue increased 3.6 percent to $906 million and expenses were up 6.7 percent to $898 million. The NCAA distributed $564 million to its members, representing 62 percent of the NCAA's total revenue. Osburn said new NCAA expenses included $21 million more in distributions to members; $19 million to create a reserve for health and safety programming; and $6.2 million in expanded coverage of the NCAA's catastrophic insurance program.
***
Jeffrey Kessler case slowly moves ahead
The lawsuit by prominent attorney Jeffrey Kessler to allow players to be paid is slowly moving ahead and following a similar playbook to the Ed O'Bannon case. The Martin Jenkins suit wants the court to allow schools to pay football and men's basketball players based on an open market. The strategy at this stage by the defendants -- the NCAA and the FBS conferences -- is similar to what transpired in O'Bannon. One way to avoid the class being certified is for the NCAA and conferences to show there's a conflict between different players in the class that's attempting to be certified as a class action.
In an expert report for the NCAA, economist Janus Ordover predicts that 41.5 percent of FBS football players and 57.1 percent of Division I men's basketball players would be worse off if the NCAA rules restricting payments were lifted. Ordover argues players would be hurt by the "substitution effect," meaning more participants would play under the new rules and some players would lose their current scholarship money. Ordover also asserts that some schools couldn't afford the increased salaries and many would abandon their sports programs.
Economist Daniel Rascher, an expert for the plaintiffs, counters in a heavily-redacted report that Ordover has twice incorrectly predicted that cost of attendance payments would divide the marketplace. Rascher's report shows that at least 84 percent of FBS schools have decided to provide cost of attendance stipends to players in 2015-16. "The market provides strong evidence that schools have found 'many margins on which the school can adjust' to pay full COA to its (scholarship) athletes in the sports in suit, without exiting the market, reducing other class members' compensation, or creating class conflict," Rascher wrote.
The certification hearing will occur either on July 23 or Oct. 1. The date depends on whether U.S. District Judge Claudia Wilken allows certain expert reports to be submitted, resulting in the NCAA and conferences having an opportunity to respond.
Deadline nears for EA video game claims
Current and former college football and men's basketball have until Thursday to file a claim for money from the $40 million Electronic Arts and NCAA video-game settlement. Players can make a claim here.
Eligibility is based on whether a player was listed on the roster of an NCAA football or men's basketball team and that team appeared in an EA video game between May 4, 2003, and Sept. 3, 2014. Lawyers had said that a player who appeared in a video game with photos over four years could receive up to $19,000, depending on the claims rate.
The final approval hearing before a federal judge is July 16. The settlement marks a rare instance when current college players will be allowed to make money off their name, image and likeness. The NCAA has said that players who accept settlement money won't have their eligibility impacted.
In a court filing Thursday after the deadline passed, plaintiffs said only five class members opted out of the settlement, two objections were received, and 16,172 class members have completed forms (16 percent claims rate). The parties said that the claims rate was 16 percent for the EA settlement and 24 percent for the NCAA settlement. The court-appointed notice was sent to more than 90,000 likely class members, posted on a settlement website and advertised in sports publications.
The most any current or former player would get from the NCAA settlement is about $2,440, and the most from the EA settlement would be about $4,260, according to a document filed Thursday. If the settlement is approved, the smallest amount an athlete could receive is $74. The amount of money varies based on whether a player's name appeared on a team roster, a jersey number appeared on a virtual avatar, a photograph appeared in a game, and which years a player appeared in the game or had a photograph used.
Filings show the tentative value for appearing on a season roster is $129 for the EA settlement and $74 for the NCAA settlement. This comes after estimated attorneys' fees, incentive rewards and administrative expenses.
There were 111,174 real football roster players and 21,309 real basketball roster players who matched virtual avatars in the video games, according to economist Andy Schwarz, who reviewed EA's data from 2003 to 2014. At a 25 percent claims rate, Schwarz said a player with a single avatar match would receive $1,893 per year and a roster appearance would generate $183 per year.
Objections came from former Connecticut basketball star Tate George, who was once a named plaintiff in the Ed O'Bannon case, and Darrin Duncan. George objects to lawyers potentially receiving 33 percent of the settlement fund and claims each named plaintiff should receive $417,000 as a participation award. The participation awards range from $2,500 to $15,000. The objections are "mistaken to what the Settlement actually entails and include one Class member's attempt to seek a larger share of the Settlement itself -- to the detriment of other Class members," a lawyer for the O'Bannon plaintiffs wrote.
NCAA considers family expenses in all sports
The NCAA gets beat up for all sorts of things so here's a decision worth applauding. The NCAA recently extended its new program that will pay for travel expenses to players' families traveling to the Final Four for men's and women's basketball and to football's championship game. That it took Urban Meyer publicly shaming the NCAA for this to happen wasn't ideal. But it's here to stay and that's a positive. The NCAA will pay up to $3,000 per family for Final Four trips, plus another $1,000 if the player's team reaches the championship game. Schools decide how and when to distribute funds to family members.
The next question: When will this benefit expand to other sports championships and into the regular season? The NCAA says the Competition Oversight Committee, which oversees sports other than football and basketball, is studying the issue for other championships, and the Football Oversight Committee is considering expanding the program into the FCS championship.
Even better would be this: Give schools the option to pay for family travel in any sport to any competition during the season. This topics falls under NCAA autonomy and would require a Power Five conference to sponsor the legislation for a vote among its well-off member schools. If reimbursing family travel is not an extra benefit in the postseason, why would it not be permitted during the regular season? Let schools decide if they can afford to pay for the benefit. They'll have to consider how much they believe they can afford and understand Title IX gender-equity issues could surface if too much travel money goes to families of football and men's basketball players.
Alabama royalties skyrocket
Alabama's royalties from licensing have increased 83 percent in the past five years and 250 percent since 2005, according to Collegiate Licensing Company. Alabama received $5 million in incremental royalty revenue generated from the 2009, 2011 and 2012 football national titles. CLC, the licensing affiliate of IMG College, trumpeted the figures while recently announcing a 10-year extension with Alabama. The extension was no surprise. What's interesting is CLC's apparent push to sell itself in the marketplace. CLC represents nearly 200 colleges and says it has signed more than 25 new school deals in 2015.
The press release comes at a time when the Pac-12 wants to cut out the licensing middleman -- i.e., IMG College for many universities -- and create its own sales unit to generate more revenue for schools. The Pac-12 is giving schools the option to pool their multimedia rights together or stay separate. Combining rights with other schools doesn't seem to make sense for USC and UCLA, who can do just fine on their own. There will be a lot of interested eyes around the country watching this latest Pac-12 experiment.
Read 'em
Each week this space will highlight some excellent recent work by college sports media on difficult topics to report.
* Why is Auburn's cost of attendance so much higher than its tuition, room & board? The Montgomery Advertiser's James Crepea digs into the minutiae of how Auburn's financial aid office set a cost of attendance number that inevitably will make some coaches suspicious.
* Texas AD Steve Patterson is facing heat. Chip Brown of HornsDigest.com writes a damning profile about the backlash against Texas' athletic director over his personality and the claims that he puts money above everything else.
* Harvard welcomes the first openly transgender swimmer in NCAA Division I history. David Freed and Jake Meagher of the Harvard Crimson profile Schuyler Bailar joining the men's swimming team.
Quote of the week
"Don't screw it up."
-- New SEC commissioner Greg Sankey on the most common advice he gets since replacing Mike Slive, per Andy Staples of SI.com.