Inside conflicted world of agents repping college coaches, NFL players
Alabama and Texas Tech are the latest examples of top NFL prospects signing with their coaches' agents such as Jimmy Sexton -- and the conflicts that follow.
• 7 min read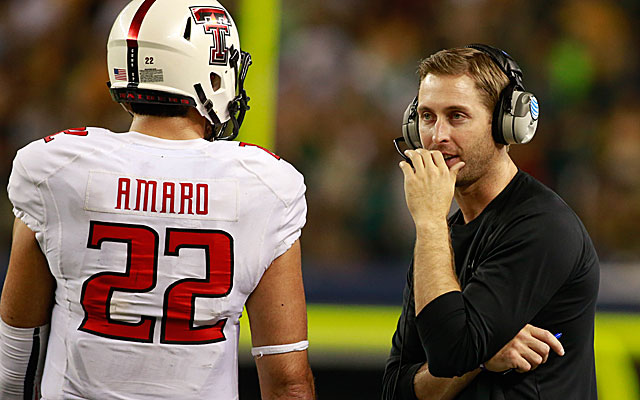 If the names of Alabama linebacker C.J. Mosley and Texas Tech tight end Jace Amaro are called as expected during the first round of the NFL Draft, to be held in New York on May 8, those players will stand to earn a minimum of $3 million in bonus money.
The agents who negotiate those deals -- Jimmy Sexton in the case of Mosley and Erik Burkhardt of the Houston-based Select Sport Group in the case of Amaro -- will walk away with a commission of roughly 3 percent, which will more than likely equate to a six-figure sum before their client has even strapped on an NFL team's helmet, with the promise of many more dollars to come.
Sexton and Burkhardt are talented agents. And if Mosley and Amaro were looking for endorsements of that sentiment as they sought representation for their move to the next level, they needed only to walk across campus. Their college coaches, Nick Saban and Kliff Kingsbury, are represented by the same men.
Mosley and Amaro joined a growing list of players who, out of 800-plus agents certified with the NFLPA, chose their college head coaches' agents, a practice that is completely permissible by NCAA or NFLPA bylaws as long as it occurs after a player has played his last college game. Not that everyone is comfortable with the allowance.
"It's an absolute conflict of interest," Big 12 commissioner Bob Bowlsby said of agents representing both college coaches and NFL players. "A rule or some sort of accepted practice to prohibit it would be appropriate."
Added Duke coach David Cutcliffe: "That's something that needs to be looked at."
The concept of double-dipping elicits strong reactions in the college football and agent communities.
Most of the dozen or so players-only agents I've talked to on condition of anonymity have a story they've heard through the recruiting trail. Coaching agents can get access to pro days and practices at schools where other agents aren't allowed in the stadium, they swear. They are given access to the practice field, interacting with players. As one NFL-coaches-only agent puts it, he can visit his client at any time and get on a practice field. In that scenario, the advantages seem, at worst, inherent. Another favorite: A coach's agent might be placed on the same floor as the players in a team hotel for the bowl game for easy access.
Perhaps there's jealousy influencing some of these stories, but they are told frequently enough to be noteworthy.
"It is a formula for a potential issue," Cutcliffe said. "I just think you're better off in this day in time, [coaches] need to try to keep that from being part of the process. … I'm never comfortable going to a player and recommending an agent."
In spite of any reticence on the part of coaches, the coach-player business for agents is fertile, to be sure. High-profile coaching agent Neil Cornrich represented Iowa's Kirk Ferentz and at least two of Ferentz's former players at draft time -- Riley Reiff and Christian Ballard. Former Utah first-round pick Star Lotulelei hired agent Bruce Tollner with Rep 1 Sports, which, according to the NFL business site InsideTheLeague.com, also represents Utah coach Kyle Whittingham. Athletes First is one of the biggest NFL player firms around -- with well over 100 clients -- and CEO David Dunn recently got into the coaching business. Former Oregon coach Chip Kelly and Bobby Petrino are among his clients.
Several agencies rep mostly players but have a coaches division, which some see as less of a problem because there's a layer of separation. Phil de Picciotto is the president of Octagon Worldwide, which represents dozens of NFL players but also has a coaching branch of which de Picciotto plays a large role, including the representation of Stanford coach David Shaw.
De Picciotto says quite often coaches will ask agents not to interfere to avoid the perception of unfairness or impropriety.
Despite the appearance of a system wrought with problems -- mainly favoritism, or the perpetuation of the sense that a coach filters players to an agent -- those directly involved in the process say the two relationships are separate.
Texas Tech athletic director Kirby Hocutt says he talks with the parties involved to ensure parameters are understood with such coach-player-agent overlap.
"We've talked about it and it's got to be the student-athlete's decision," Hocutt said. "I can't imagine [Kingsbury] not putting as many options as he can in front of a young a man so they can make the best decision."
Vann McElroy, president of Select Sports Group, says Select is careful about the player-coach dynamic from a company model. Select briefly repped West Virginia quarterback Geno Smith before the second-round pick switched to Jay-Z's Roc Nation. Select also reps WVU coach Dana Holgorsen. Having established coaches adds credibility to the company, McElroy said, but the connection is not used to land players.
"I think everybody involved knows the boundaries of that [relationship]," McElroy said. "You have to be careful how you recruit college athletes. It can almost put you at a disadvantage. They'll say that a guy is trying to sway a player because that coach has a player, and that's not always a comfortable thing."
An Alabama staffer says Sexton, who could not be reached for comment, doesn't get additional access in the football offices despite signing first-rounders Mark Barron and Trent Richardson in 2012. Sexton also represents former FSU first-rounders Christian Ponder and Bjoern Werner, who played for Sexton client Jimbo Fisher. Even Cutcliffe, who was once repped by Sexton but no longer has an agent, says Sexton has high ethics. He also has an expansive coaching client list, as highlighted in a recent Sports Illustrated profile, representing five of the 14 SEC coaches.
Former NFL executive Lal Heneghan with Cornerstone Sports Consulting -- which has helped Alabama, Washington, Arkansas and many others navigate the NFL-agent process – says he's never experienced an agent getting preferential treatment because that agent represented the coach. His examples include Nick Saban and now-USC coach Steve Sarkisian, who's repped by coach-and-player agent Gary Uberstine. Players sign "by virtue of who recruits them," Heneghan said.
As one BCS-level athletic director points out, a coach's agent can be good for a player because if the coach trusts him, that's better than the alternative – signing with an untrustworthy agent.
"On one hand, the motivation may be somewhat noble," said Darren Heitner, an attorney at Wolfe Law in South Florida and author of the Sports Agent Blog, of coaches who might recommend their agent to a player. "The coach may think 'the agent has done a really good job for me, he'll do a really good job for my players.' The other side is, let the players decide."
A player may see that his coach has a good relationship with his agent and want that for himself. There's nothing questionable with that on the surface as long as a coach isn't pushing players to his agent. What's clear is a coach receiving compensation for steering a player "would be an issue," said Jason Gray, Memphis' compliance director.
Save rule changes to level the field, Heitner says, "there's no way you can erect this Chinese wall that restricts agents from having that sort of competitive advantage."
Even legislation might not stop the attraction between agents and coaches, or agents and middlemen posing as coaches.
Cutcliffe's current home state taught college football a harsh lesson through former North Carolina assistant John Blake, who in 2011 faced NCAA charges that he steered players to agent Gary Wichard. The NCAA stripped UNC of 15 scholarships and a postseason appearance in 2012 as part of a wide-ranging investigation that determined Blake had received money from Wichard, who died in March 2011.
The mushrooming coaching agent business creates another layer for athletic departments to monitor with players, two compliance directors agree. Decades ago, having an agent was taboo. Now, not only head coaches have them -- assistants do, too.
For agents blanketing both sides, the double-dip is an extra revenue source, which means the trend likely won't stop unless enforced.
At least one power-conference leader would like to see that revisited.
"Conflict of interest requires disclosure," Bowlsby said. "Even under the best circumstances it doesn't pass the smell test."
It's your last full Saturday of the season, enjoy it

It's rivalry week, and these are the college football games you are going to want to see --...

South Florida and UCF played the most entertaining game of the 2017 season
Bielema completed his fifth season with the Razorbacks on Friday

Friday's upset to Pittsburgh was bad, but it's not a season-ender for Miami

Pittsburgh pulled the upset of the weekend with a 24-14 win on Friday afternoon