Inside look: Georgia DC Grantham got mixed results from LSU prep
Georgia DC Todd Grantham hunkered down before facing LSU QB Zack Mettenberger. From meetings before UGA's wild win to fallout after, we see some successes and some misses.
• 5 min read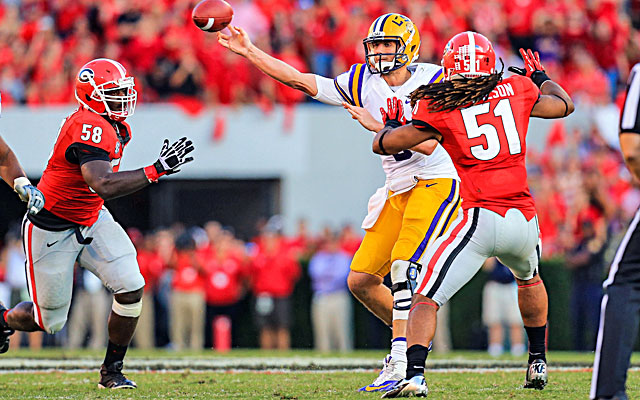 ATHENS, Ga. -- One of the season's most intriguing storylines is LSU's efficient passing attack under new coordinator Cam Cameron and his comfort level with quarterback Zach Mettenberger, who looks like a different guy from a year ago.
That challenge prompted a serious week of game prep for Georgia defensive coordinator Todd Grantham, who was responsible for trying to contain LSU in last Saturday's 44-41 classic that showcased top-shelf quarterbacks Mettenberger and Aaron Murray going blow-for-blow.
Grantham allowed CBSSports.com into the Bulldogs' defensive meeting room the day before the game to explain the plan of attack for Georgia's defense -- at times, the plan worked well. Others, not so much, especially a 3rd-and-22 prevent defense that Grantham said wasn't executed properly.
This is a before-and-after glimpse, from the coordinator's eyes, into how a young defense -- which returned three starters from last season -- handled a big week and how that preparation played out on the field Saturday in Sanford Stadium.
Georgia produced four sacks and held LSU to 2.2 yards per carry but also gave up three passing touchdowns.
"There are going to be mistakes every game regardless," said Grantham on Friday. "So let's give players a chance to make big plays. You can't be vanilla in my opinion."
Most of what Grantham showed CBS in a half-hour film session highlighted how Georgia's safety play would affect the game.
To Grantham, the game's outcome overshadowed giving up 372 passing yards.
"We won the game," Grantham said.
Run vs. pass
Before: LSU plays with a fullback and a running back in the backfield more than half the time. Georgia was prepared for one of two scenarios when it saw a two-back formation.
The Tigers would either run the ball or check into a passing play that could burn Georgia deep, likely a post route with Odell Beckham and a comeback route with Jarvis Landry. Using the big screen in the defensive meeting room, Grantham found an example of a similar play from LSU's win over TCU, a 16-yard pass to Landry off Mettenberger's back foot. If the deep guy's covered, Mettenberger can "go underneath" for a first down, Grantham said.
"They would either run or go vertical," Grantham said. "They are going to go for explosive plays more than you'd think."
As a result, Grantham didn't want to overcommit his safeties, but he did want to give the appearance of overcommitting.
After: To Georgia's surprise, LSU didn't take many deep shots. Mettenberger's throws were rarely deeper than 30 yards in the air. Grantham knew Mettenberger would read the safeties from the line of scrimmage; Georgia kept two safeties deep for much of the game (about 85 percent, Grantham estimated).
Georgia showed a lot of what Grantham called the "7 1/2-man box," where a safety creeps up to show run defense but returns to his original spot. Grantham wanted to give LSU a "picture," then change that picture after the snap.
"It's that cat-and-mouse game," he said.
LSU's deep game did burn Georgia early on, though. The safety was rushing the passer and left a cornerback all alone. It didn't end well.
The safety blitz
Before: Grantham said the number of called safety blitzes would depend largely on the "flow of the game" and whether Georgia was stopping the run with the front seven. They did just that, holding LSU to 77 yards on 36 rushes.
But Grantham knew he had to apply pressure on Mettenberger, with or without a blitz. Just get to him somehow. As an example, Grantham used the big screen to show TCU Jason Verrett sacking Mettenberger in the second quarter of the opener against TCU.
"Breakdown in protection, he can't do something," said Grantham of the play. The 6-foot-5, 235-pound Mettenberger isn't considered a mobile quarterback such as SEC counterparts Johnny Manziel and Aaron Murray and Connor Shaw.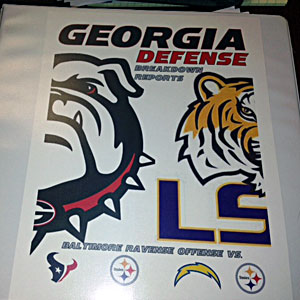 The playbook: Georgia's plan delivers a big win.
Grantham was ready to get creative with his safeties Saturday assuming he saw a matchup he likes.
After: Georgia blitzed the safety twice, both off the right edge. The results couldn't have been more different.
The good: Safety Josh Harvey-Clemons contributed to a gang tackle for a loss in the second half.
The bad: Quincy Mauger almost got to Mettenberger -- before Mettenberger found Kadron Boone downfield and uncovered for a 48-yard score on the Tigers' opening drive.
Grantham called the blitz on 3rd and 7 because he saw a clear lane to the quarterback and trusts his top cornerback, Damian Swann -- who led the team with four interceptions last year -- to cover Boone one-on-one.
"I'll take that matchup," Grantham said.
But Swann didn't get enough pressure at the line of scrimmage and also appeared to slip on the play, leaving Boone open downfield. Mauger wasn't there to help.
Georgia took a calculated risk that didn't work.
"Should have been a sack," Grantham said.
Grantham calls Mettenberger an "NFL guy" because his arm can exploit a defense.
"From a drop-back, throw-the-ball standpoint, he's got as good an arm as anybody coming out next year," Grantham said.
Third down and 22
Before: In Friday's session, Grantham didn't cover what to do in a third-and-22. Defenses rarely face such a situation midway through a critical fourth quarter while up three points. That topic simply didn't come up.
But there was Georgia on Saturday, lined up in a prevent defense with three safeties around LSU's 40 yard line, and five players waiting at around 25 with a three-man rush up front.
The play didn't go as planned, in part because of Mettenberger's perfect throw and Beckham's playmaking. But Georgia felt they had a potential turnover that could have put away the game for good.
After: LSU had Beckham in the slot with Boone to his right. When Beckham ran upfield, linebacker Leonard Floyd was supposed to jam him and force him to re-route.
Beckham got free and found space between Floyd and linebacker Ramik Wilson. Mettenberger fired it in. Mauger was coming to help but couldn't get to Beckham in time.
"That's a young player going up against a veteran guy and [Mettenberger] threw a tight ball into an area," Grantham said.
What Georgia learned: The Bulldogs walked away from the game with a few concerns. This week, players questioned the communication flow from the sideline, from where Grantham signals to linebacker Amarlo Herrera every play. Grantham called any confusion "bull," and said players know the calls.
Georgia coach Mark Richt said after the game he'd like to see his cornerbacks be more physical at the line of scrimmage, a sentiment Grantham echoes.
But Grantham likes the growth of his young unit after a brutal September stretch that included three top-10 teams. There's playmaking on this D. Grantham wants to see it more often.
"There's a lot of resiliency in this group," Grantham said. "We were able to stop the run and apply some good pressure against a physical front."
MetLife Stadium is about 10 miles away from where the World Trade Center buildings once st...

The Terps will wear these against Indiana on Oct. 28.

The coach of the Eagles isn't here for no science talk
These are the teams that are getting too much -- or too little -- love before the season

The Crimson Tide start atop the AP Top 25 poll for the second straight season

Taking a close, detailed and opinionated look at the ACC a week before the start of the 2017...