Inside the Nick Saban autograph tsunami at SEC media days
The tsunami that is the Nick Saban autograph scene lasted 11 minutes in the hotel lobby. In reality, though, it's the culmination of an eight- to 10-hour wait for some of the couple hundred fans hoping to interact with Saban for a fleeting moment.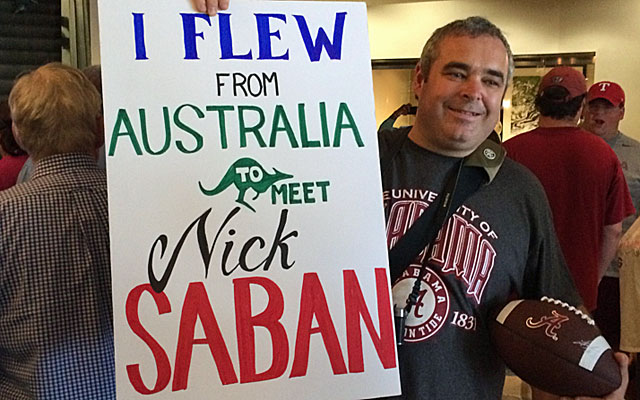 More CFB preseason: Fowler: Will Saban get tougher? | Bama picked to win SEC
HOOVER, Ala. -- Antony Hands was getting panicked as he eyed Alabama coach Nick Saban's autograph path.
The guy flew from Australia precisely this week to meet Saban for a couple seconds at SEC media days on Thursday in a hotel lobby. But now the direction Saban was taking to sign autographs as he departed was changing on the fly.
Hands positioned himself near one set of elevators, but Saban went the other way. Hands moved near the hotel exit, but there was no guarantee Saban would stop at that point. Hands even stood on some furniture to raise as high as he could a sign decorated with a kangaroo that read, "I Flew From Australia To Meet Nick Saban."
"Get off the furniture, sir," a hotel staffer told Hands.
The tsunami that is the Saban autograph scene lasted 11 minutes in the hotel lobby. In reality, though, it's the culmination of an eight- to 10-hour wait for some of the couple hundred fans hoping to interact with Saban for a fleeting moment that becomes deeply personal for many of these people.
"We happen to be in Alabama, but I think if we were somewhere else it would be the same group from a different school," SEC commissioner Mike Slive said. "I like it, actually. Believe it or not, they ask me for autographs. Me? I like it. It's who we are."
Who are they?
Say hello to Ashley Ward, an Alabama fan who successfully violated Saban's one-autograph-per-person rule. This is often a strict rule with no exceptions. Fans complain about the rule. One man said he helped a child get an autograph and still needed his painting signed by Saban.
Ward found a way around the rule. She got a football signed by Saban and then begged and pleaded for him to sign a helmet, telling the nearly $7 million-a-year coach she would be fired if she doesn't get the item autographed.
"Come on," someone in Saban's entourage grumbled. Muttered another in the Saban entourage: "I've heard all kinds of things. That's a first."
Saban signed both items. Ward explained later that her boss only let her off work to get the helmet signed.
"I swear, I can show you the text messages I've been getting all day to get the helmet signed," she said. "It was don't come back unless you get it signed. But my husband said you can't get him to sign something for him and not for me."
Oh, by the way: Ward is pregnant and was on her feet for six hours in the lobby. "It was amazing, so much fun."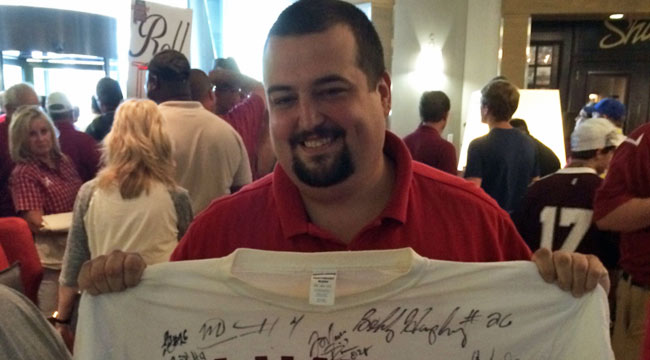 Say hello again to Eric Blackerby. Longtime observers of the Saban autograph tsunami may remember him as the "I Hate Auburn" T-shirt guy from 2011, the first SEC media days after Alabama fan Harvey Updyke poisoned Auburn's famous oak trees.
Three years ago, Saban told the media that Blackerby shouldn't take the rivalry personally and that fans should respect the opponents. More painful words couldn't have been etched in Blackerby's obituary if you tried. He responded that day by uttering, "It's like I went to church and God told me He didn't approve."
Blackerby returned to SEC media days on Thursday for the first time in three years and brought the "I Hate Auburn" T-shirt with him. It had autographs from former Alabama players Jay Barker, Bobby Humphrey, Antonio Langham and Mark Barron, and current players Amari Cooper and Landon Collins.
Just as Blackerby's world changed when Cam Newton led Auburn to a stunning comeback over Alabama in 2010, the same thing happened when the Crimson Tide lost in 2013 on Auburn's last-second touchdown return from a missed field goal.
"I didn't watch the Oklahoma game [in the Sugar Bowl] because I was still mad," Blackerby said. "It's the first Alabama game I haven't watched since the '90s. When recruiting came around, I was like whatever. I was still mad. I'm over it now."
Meet Antony Hands, the Australian who became a die-hard Crimson Tide fan seven years ago because he married an Alabama graduate. "I'm just thankful my wife wasn't a Kentucky grad or it would have been really disappointing," Hands said.
Hands, a wedding photographer in Australia, normally watches or listens to Alabama games online. That means when the Crimson Tide plays early games, it's 3 a.m. when he has to get up and listen to football.
"My wife doesn't really take well to me starting to drink beer at 3 in the morning," he said. "But I kind of figure it's a game tradition, right?"
So when Hands' wife wanted to visit her family in Alabama, he insisted that the $8,000 trip happen now during SEC media days. He crafted the sign to get noticed by Saban. In the process, he became a mini-celebrity with the media during one of the more lackluster SEC media days events in recent years.
"I didn't realize I'd make a fuss with anybody else," Hands said. "I figure you guys like any story. You know, [the coaches] never say anything. I read the interviews. You guys all come and you write the same stuff and it all says nothing. And Les [Miles] hasn't even had a beer, so that was boring."
The Saban autograph scene is a well-coordinated plan by his handlers and the hotel staffers, who wear ear pieces and strictly keep fans inside ropes. But fans can't be exactly sure where to line up.
As Saban made his way through the maze and chasing television cameras, Hands finally got in the right position. Saban looked at the Australia sign, glanced back at Hands' item, and signed the autograph.
"Such a privilege to meet you, sir," Hands said. "Can I shake your hand?"
Saban obliged. And that's the story of how a mate from Down Under met the king of Alabama.
Patterson is looking to play immediately after transferring from Ole Miss to Michigan

From Chip Kelly to Billy Napier, did these schools and coaches make the right calls this silly...

SportsLine's computer model simulated every college bowl game 10,000 times, with surprising...
Everything you need to know to watch and pick the Boca Raton Bowl on Tuesday

College football recruiting begins earlier than normal with a National Signing Day in Dece...

Getting Leavitt back was obviously high on Cristobal's list of priorities