Iowa's Ferentz: 7-5 bowl eligibility cutoff worth 'a discussion'
Iowa coach Kirk Ferentz has been to Orange Bowls but also experienced six- and seven-win seasons, and didn't always deserve to go bowling when eligible, he says.
• 1 min read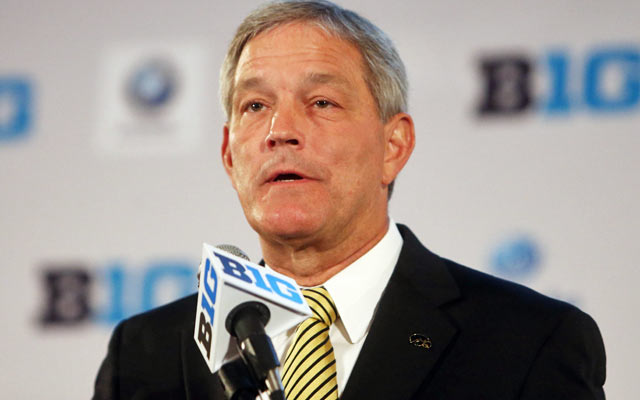 CHICAGO -- Kirk Ferentz values the bowl system but wonders if 7-5 teams should be the cutoff for eligibility, the Hawkeyes coach said Tuesday.
The bowl system will expand to 40 games (or 78 teams awith the playoff championship game featuring semifinalists) by 2015. That means more than 60 percent of the 128-team FBS field will be eligible.
"You could argue that, certainly...That's a discussion," said Ferentz of a 7-5 cutoff line. "We didn't go in 2007. We were 6-6, bowl eligible. I had no argument. To me we were bowl-eligible and not bowl worthy. No sour grapes on my part. You get what you deserve." 
A 7-5 cutoff wouldn't come close to fulfilling 40 bowl games, but that's sort of the point. Are there too many bowl games?
"You could argue that. I have an opinion on that," Ferentz said.
In seven of his 16 years at Iowa, Ferentz finished the regular season with six or seven wins, including a winning record in four of those seven. He's also been to two Orange Bowls.
"I thnk it's important we have bowls for teams that are 7-5 or 6-5 in the old days," Ferentz said. "That's a different discussion. When you're climbing up that ladder, it's important." 
Regardless of the flaws with the bowl system, the market supports 40 games. The New Mexico Bowl can get a million-plus viewers. Seems unlikely the number will dwindle any time soon.
Freeman will not play in the New Mexico Bowl on Saturday

SportsLine simulated every bowl game 10,000 times for pick'em leagues and confidence pools

Grier will return to West Virginia for the 2018 season instead of entering the NFL Draft
The Chick-fil-A Peach Bowl just got spicy

Anderson had been under investigation for an incident at a bar in Cleveland County, Oklaho...

Between Arizona State and Tennessee, no one would have guessed how this coaching cycle turned...