Irish's Brian Kelly will find way to adapt after Everett Golson loss
Notre Dame will miss Everett Golson, but coach Brian Kelly is getting a raise because he's like other great coaches -- he knows how to adapt
• 2 min read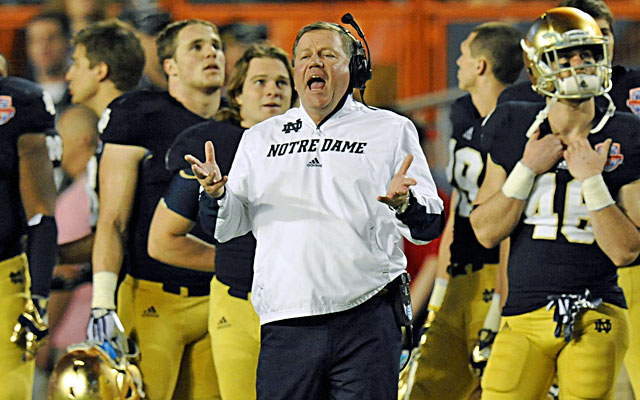 Notre Dame won't miss Everett Golson's 58.8 completion percentage, his 2,405 passing yards or even his six rushing touchdowns. Those numbers are replaceable.
Golson's sizable potential might not be. Throughout benchings and erratic play and inexperience masked behind a seasoned line and two-tight-end sets, Golson still made enough plays to create a hopeful 2013 campaign -- one now derailed after Golson told ESPN on Sunday that he's suspended for the fall semester because of academic performance. He intends to return to the team after the fall, per ESPN.
Oklahoma defensive coordinator Mike Stoops saw the ability last season when Golson plunged into the end zone for a 1-yard touchdown run in the fourth quarter to accompany his 177 passing yards in a 30-13 win over the Sooners.
"The quarterback has a chance to be a great player when he becomes more consistent," Stoops told me in late March.
Stoops also credits coach Brian Kelly with his ability to integrate a young quarterback by not forcing his basic principles and playing to Golson's strengths as a runner in wide-open sets last season.
That's why Kelly's presence is crucial through this transition to senior Tommy Rees, incoming freshman Malik Zaire or whoever takes the snaps in 2013.
A steady program can trump potential. And one of Kelly's best coaching traits is adaptability. The Irish minimized mistakes on offense, didn't force the ball downfield, looked Tyler Eifert's way early and often and let the defense do the rest.
Kelly was patient, Stoops said, and the plan paid off for the Irish.
It will for Kelly, too -- in the form of a sizable contract extension. A new contract for Kelly likely will be finalized this summer, and Kelly has earned the right to be among the top-five-to-seven coaches in yearly salary (after hearing about the gobs of money that Kelly and the Philadelphia Eagles were discussing in January, it's obvious Kelly is well positioned in contract talks).
As EDSBS' Spencer Hall astutely put, Kelly won at Cincinnati with "a ficus plant on a skateboard at QB."
If that ficus plant is Dustin Grutza or Tony Pike or Chazz Anderson, at least they never had a defensive front as good as the one that Kelly has coming back.
Good coaches find creative ways to win. Kelly is getting a raise because he has figured that out.
Kelly might play two or three quarterbacks next season, depending on who's hot or even lukewarm. Kelly came to Notre Dame with an offensive rep, but it turns out Notre Dame is built to withstand passing-game lapses because of its defense and running game. That won't change this season.
Rees is a safe landing strip for Kelly, which is ironic because he has more interceptions (24) than career starts (18). Golson's ceiling is higher, but Rees is better than most backups and never has gotten the keys without a rental agreement.
The Irish hired Kelly to build a program that can handle roster upheaval, which happens to be his specialty. He has proven he doesn't need star power at quarterback to cultivate a winner. More important is finding someone who can tackle Alabama's Eddie Lacy (or the next Lacy) in the open field. 
If the Irish repeat a national title run, the outcome will hinge more on what Kelly's squad can do up front than some 300-yard passing game.
Kelly is presently deciding whether to start anew with the Gators or Bruins

There are a handful of conference championship games still to be determined

SportsLine's top college football expert, on a 30-18 run, locks in his top picks for a loaded...
Haynes was 14-45 in five years with the Golden Flashes

True romance isn't dead yet

The Egg bowl will be a Thanksgiving night treat for the college football world