IRS audits Alamo, Gator and Fight Hunger bowl games
Likely a consequence of the Fiesta Bowl scandal three years ago, the Alamo, Gator and Fight Hunger Bowls have been examined by the IRS in 2014.
• 2 min read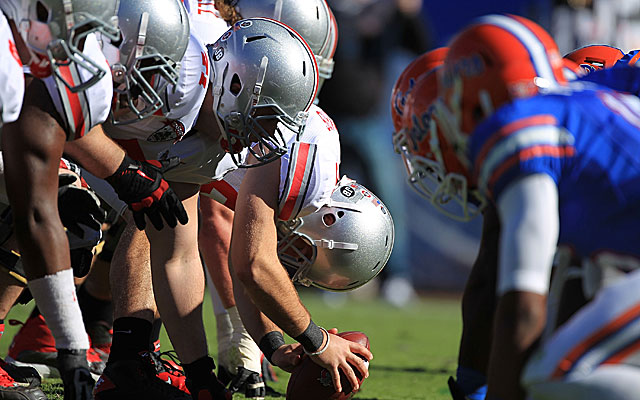 The games were over months ago, but some bowl games are still on clean-up duty.
The Internal Revenue Service has notified three bowls -- Alamo, Gator and Fight Hunger -- of audits over recent filings, bowl officials told CBSSports.com. IRS audits of non-profit organizations can be fairly routine or alarming, depending on the situation.
Either way, bowl games know they have their paperwork in order in the post-Fiesta-Bowl-scandal era.
In January, the Gator Bowl Association provided documentation to an IRS examiner for a "random audit" of the Jacksonville bowl's Form 990 for 2011, spokesman Cheri O'Neill confirmed. The bowl anticipates getting a response from the IRS sometime this month. The Gator Bowl just re-upped with sponsor TaxSlayer.com for the next six years.
The San Francisco Bowl Game Association, which puts on the Fight Hunger Bowl, received a "clean bill of health" in January after the IRS inspected financial spikes during the 2010-11 fiscal year, executive director Gary Cavalli said.  
The game's January 2011 matchup between Nevada and Boston College helped the bowl earn $3,843,572 in total revenue compared to $3,575,439 the prior year, according to the bowl's 990 for 2010.
The game hosted 41,063 fans, a sellout, and drew a 1.87 television rating, according to the return.
"It was a year we did very well," said Cavalli, who earned $359,119 for the fiscal year running from March 1, 2010 to Feb. 28, 2011, nearly $30,000 more than his 2012-13 earnings.
After no red flags, the SFBGA can continue as a non-profit organization, Cavalli said.
The Gator Bowl also did well in its audited year, earning $9,337,137 in total revenue according to its 2011 fiscal year ending March 31, 2012, compared to $8,304,131 the prior year.
Florida and Ohio State played in the January 2012 Gator Bowl, a dream matchup for a bowl in the middle tier of SEC and Big Ten postseason matchups. Executive director Richard Catlett made $336,373 during that span, according to the 990.
Alamo Bowl reps could not be immediately reached for comment, but a well-placed bowl source said Alamo's internal auditor is speaking at the Football Bowl Association convention in April about how to respond to an IRS audit.
FBA director Wright Waters recently informed his executive committee of several bowls receiving audits, Cavalli said. The NCAA also randomly audits five bowls per year. Last year the NCAA audited Las Vegas, Buffalo Wild Wings, Fiesta, Alamo, Pin Stripe  and they were scheduled to audit Heart of Dallas but it was delayed because of sale to ESPN.
This year's NCAA report has not raised any significant problems yet, according to a source, who added IRS audits are relatively uncommon for the bowl system.
Of course, these searches come three years after the Fiesta Bowl nearly lost BCS bowl status and fired CEO John Junker for allegedly reimbursing employees for political contributions and conspiring to cover it up.
Cavalli said an IRS official told him audits often stem from tips or media reports, which led him to believe bowls with rising revenues and CEO pay would spark interest.
With bowls constantly fighting the perception game, Cavalli hopes every bowl that gets audited has a favorable outcome.
"The Fiesta Bowl experience really changed a lot of things in the bowl industry," Cavalli said. "There were a lot of charges levied against bowls and bowl directors that were almost all false, but there was a little bit of truth to some of them, and the Fiesta gave credibility to some of those charges."
"Thirty-four of 35 bowls were doing things right."
The movie will zero in on former Penn State coach Joe Paterno during the Jerry Sandusky sc...

Bidding for Salaam's trophy, which the auction house says was obtained legally, ends Satur...

Locksley has been the offensive coordinator at Illinois and Maryland during his coaching c...
Many NFL-eligible juniors ignore advice provided by the league and risk going undrafted each...

Snyder died in Manhattan, Kansas, on Wednesday

Locksley joined Alabama's staff in 2016