Is Nick Saban underpaid? Forbes thinks so
According to Forbes magazine, Nick Saban draws a 'modest' salary when compared to the financial benefits of his football dynasty.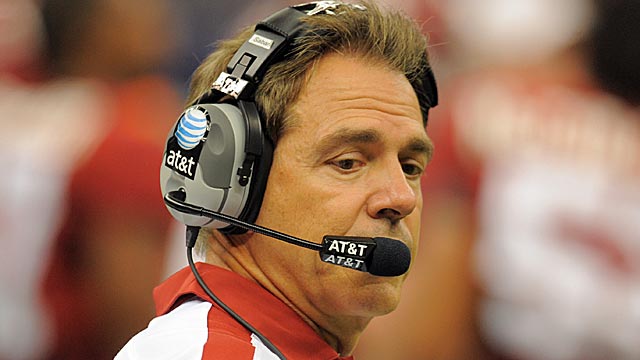 At $5.3 million a season, Nick Saban is the highest-paid coach in college football. And given that that's millions more than your average University of Alabama professor will earn, thousands upon thousands more than many of his players will see their entire lifetimes and far more than the salary of any other public employee in the state of Alabama, you won't find too many people outside of the Crimson Tide faithful who'd argue Saban is actually underpaid.
But that doesn't mean those people don't exist, and one of them is Tom Van Riper, sports reporter for Forbes magazine. In a piece titled "The Magic Of Nick Saban: Everyone Wants To Go To Alabama," Van Riper argues that Saban's $5.3 million salary is, in fact, "modest" -- that "if you think that a top college football coach earning seven figures is overpaid, think again."
Van Riper points to the usual athletic revenues statistics used to justify such enormous contracts, statistics that are as friendly to the "underpaid" argument as at any school. But he also connects Saban's arrival with a lucrative boom in Alabama's out-of-state enrollment:
Since 2007, Tuscaloosa has swelled its undergraduate ranks by 33% to over 28,000 students. Faculty count has kept pace: up 400 since 2007 to over 1,700. But it's more than growth -- it's where the growth is coming from. According to the school, less than a third of the 2007 freshman class of 4,538 students hailed from out of state. By the fall of 2012, more than half (52%) of a freshman class of 6,397 students did. Various data from US News and the New York Times shows that the school's out-of-state tuition cost – nearly three times higher than the rate for in-state students – rose from $18,000 to $22,950 a year during that period.

Add it all up – more students from outside Alabama paying ever-increasing premium tuition bills – and the school realized $50 million more in out-of-state tuition revenue for last fall's incoming class than it did for the same class in 2007 ($76 million vs. $26 million).
Van Riper describes how Alabama has turned that money back around into personnel hires and campus improvements that have only encouraged further spurs in enrollment.
The only problem is that Van Riper's evidence connecting Saban's football dynasty to the enrollment numbers is a little shaky; both might date to 2007, Saban's first year in Tuscaloosa, but correlation doesn't necessarily equal causation. To support his hypothesis that Saban is responsible for the influx in out-of-state students, Van Riper simply refers to the "national marketing platform" provided by the Crimson Tide's success and provides an anecdote of a single New York high schooler and college football fan who wants to attend Alabama -- but ends up at Delaware anyway. Alternative or additional factors for the application spike (southern-trending national demographics, a stronger recruitment office) aren't considered. This also happens to be the same magazine that slapped Saban on its cover and proclaimed him "the most powerful coach in sports" in 2008, then followed that up by calling him the best college football coach of all time in January; in other words, Forbes shading towards hyperbole where Saban is concerned isn't new.
In the end, though, whether the evidence for holding Saban up as the singular catalyst for Alabama's financial uptick is compelling or not, the question is whether he's worth that $5.3 million a season -- and given that his football program surely has something to do with the increase in out-of-state applications and tuition revenues and plenty to do with the athletic department's overflowing coffers, there's little question the answer is yes. Can the highest-paid football coach in college football also be underpaid? He very, very likely is.
Haynes was 14-45 in five years with the Golden Flashes

True romance isn't dead yet

The Egg bowl will be a Thanksgiving night treat for the college football world
Mayfield disappointed a lot of people with is most recent antics, NFL scouts among them

Gary Danielson previews the Iron Bowl on the 247Sports College Football Podcast

The Fornelli 50 ranks teams based on nothing but their performance in 2017