Is Ray Lewis really worthy of being in the College Football Hall of Fame?
Why the rush to put Ray Lewis in the College Football Hall of Fame? Other proven, more worthy candidates without the off-field concerns are still waiting for the call.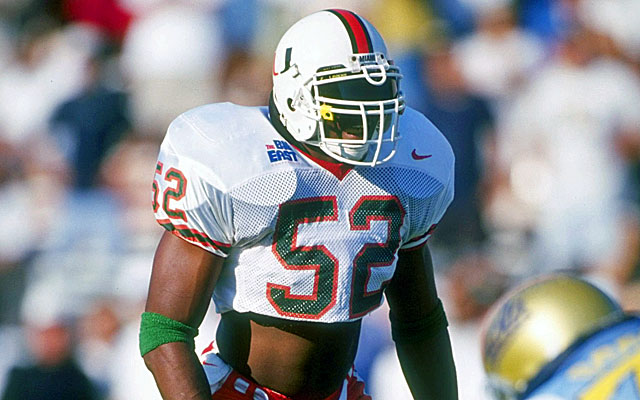 Ray Lewis is up for the College Football Hall of Fame in his first year of eligibility. A debate rages with a new twist: Does Miami's great linebacker belong?
Of the 75 FBS players listed on the 2014 ballot released last week, 22 are there for the first time -- none quicker than Lewis. Following his retirement from the Ravens, Lewis had to wait barely a year for the beginning of what promises to be a cavalcade of post-career honors.
Never mind that Lewis might not even be the best Hurricane on the ballot. (Warren Sapp and Jerome Brown are also on the list.) Lewis' Miami teams won one outright conference title in his three college seasons. He didn't win the Butkus Award as the nation's best linebacker.
If Lewis gets in -- the 2014 class will be announced in May -- his candidacy will be more than enhanced by an outstanding 17-year pro career. College achievements are of "prime consideration," according to the College Football Hall of Fame voting criteria. But candidates must also prove themselves "worthy as a citizen."
Lewis' character is an issue to be taken up now by the National Football Foundation's Honors Court. It picks the inductees. Ultimately the biggest surprise is that Lewis made it through the district screening process on his first try at all. Of the 21 other players who are appearing on the ballot for the first time, he's the only one who pleaded to obstruction of justice.
True, that was 14 years ago. Two things seem to be in place here: 1) Lewis' massive NFL credentials which include his rep as a leader, gamer and Super Bowl winner clearly overshadowed his college career in College Football Hall of Fame consideration; 2) folks continue to have largely dismissed any off-field issues.
"Whatever happened in that incident pretty much changed his life," said Butch Davis who coached Lewis is final year at Miami. "He was respected. There were a lot of good things, more good things than potentially negative things."
But in an age when a Heisman has been returned (see: Bush, Reggie), should the standards for awards, honors, halls of fame be raised? This is not doubting Lewis' talent. This is having a serious discussion about what we want halls of fame and accompanying awards to mean.
Lewis -- in this age of scandal -- could be the test case. Let's start thinking of the College Football Hall of Fame -- and those like it -- as an elite private club. Go ahead, raise a velvet rope behind which only the best players and best people have to stay behind. Any doubts, keep 'em out.
Such a standard wouldn't make Lewis any less of a player. It just begins to set some basic ground rules. Lewis doesn't appear on my annual just-for-fun College Football Hall of Fame ballot. It's mostly because his college career doesn't measure up, even at his own school. As mentioned, his NFL achievements swing the perception.
The National Football Foundation already hints at some sort of exclusivity. Five million humans have played college football. Less than three one-thousandths of 1 percent have made it to the hall.
The Heisman voting criteria does the same. There probably needs to be more, stricter standards. Everybody wins -- candidates, fans, voters. The guess here is Lewis will be a slam dunk for the Pro Football Hall of Fame when his time comes. But even that process will come with the requisite national discussion that last erupted before the 2013 Super Bowl.
Essentially, these days do we want to risk a sport's hall of fame reputation on an individual's personal reputation? The hallowed halls of the Heisman already include an admitted counterfeiter (Billy Cannon) and O.J. Reggie Bush was the first player to have his Heisman vacated.
It's hard to find a dead, solid lock for a hero these days. Lewis is on that list of 22 first timers that includes two Heisman Trophy winners (Rashaan Salaam, Ricky Williams) and the all-time, two-season leader in total rushing yards (Iowa State's Troy Davis).
They had to wait for College Football Hall of Fame consideration. Lewis, comparatively, didn't. Salaam last played in the NFL in 1999. Davis lasted in the CFL until 2007.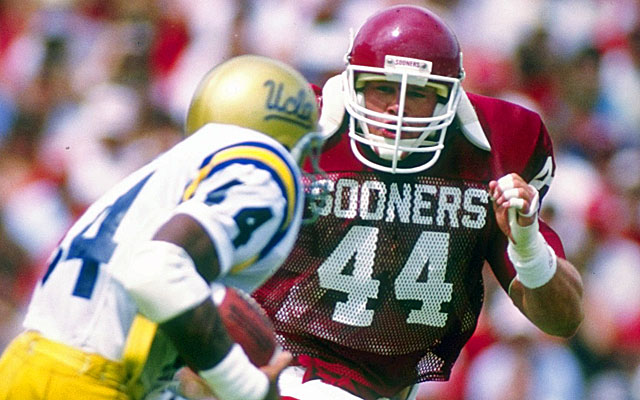 Some more comparisons:
• Brian Bosworth is the most decorated college linebacker in history. This marks his 15th year of eligibility. He is still not in the College Football Hall of Fame. The PC police apparently still hold a sizable grudge.
Should they? Bosworth also graduated in 3½ years and was an academic All-American.
•Bosworth's coach Barry Switzer wasn't automatic despite having, at the time, the fourth-highest winning percentage in the sport's history. The winner of three national championships was eligible in 1991 -- returned to coach the Dallas Cowboys -- but wasn't inducted until 2002.
•Two Heisman Trophy winners had to wait a total of 32 years after their pro playing days before being inducted. Cannon was inducted in 1983, 24 years after his LSU playing days ended. His induction was later vacated because of Cannon's admitted role in a counterfeiting scheme. He then was re-elected in 2008.
Notre Dame's Paul Horning was suspended in 1963 by the late NFL commissioner Pete Rozelle for associating with unsavory characters. Nineteen years separated his retirement from the Packers (1966) and College Football Hall of Fame induction (1985).
So what makes Lewis special? Maybe he isn't. SMU star and 2,000-yard rusher Eric Dickerson has been on the ballot for at least seven years. North Carolina's Dre Bly was a three-time All-American who won a Super Bowl. He also made it to the ballot for the first time last week, but had to wait four years just to get there. There are others. The question remains: What makes Ray Lewis so special, so fast, after his career?
These Jayhawks got a tremendous surprise they weren't expecting

Jovon Durante announced on Twitter he's headed to FAU

From Week 1 through the title game, everything runs through Atlanta this season
A concert is a nice way to break up preseason camp

Mills was arguably Georgia Tech's most important player coming into the season

Hugh Freeze's phone records reportedly show another troubling pattern for Ole Miss