It's officially time to do away with conferences having own officials
The fallout from blown calls and the inconsistency surrounding the new targeting rule proves that it's time to get rid of conferences having their own refs and nationalize officiating.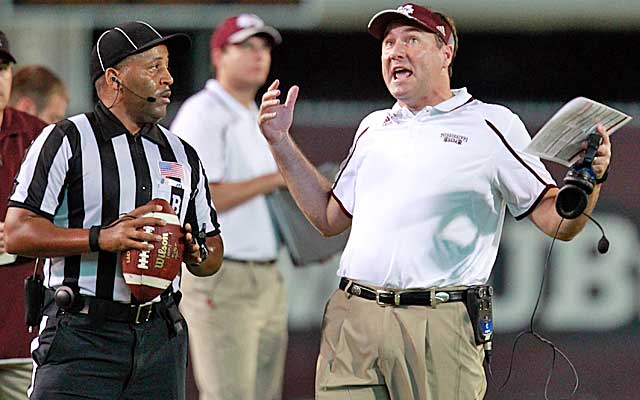 The notion of "nationalizing" college football officiating makes sense.
Call it "One Nation Under Stripes." Whatever. The concept of conference labels for officials has to be eliminated. The NCAA rules committee can still manage the rulebook, but the officials themselves should be overseen by a national body, instead of the individual conferences.
I had a prominent AD tell me last week that some prominent commissioners are warming to the idea. Get rid of the concept of each conference overseeing "their" officials. Think of them as a bunch of M&Ms in a giant Mason jar. You need some officials? Grab a handful.
"We don't want guys flying all over the country," one commissioner told me.
You mean, like basketball officials who seemingly grind themselves into the hardwood routinely working 100 games a season? OK, fine. Make the Mississippi River the dividing line. Or divide the country up into quadrants. The key, here, is for officials to project the perception of objectivity.
Mike Leach once pounced on the fact a guy from Austin was working a Texas game Texas Tech was involved in. He was fined and reprimanded but he had a darn good point. The less affiliations, the better. One main reason: Every conference's fans seem to think their officials are the worst.
The Pac-12 already endured another embarrassing episode in its sordid officiating history. Not only did the crew get it wrong in the Wisconsin-Arizona State game, they waited two days to offer a vague explanation.
The Big 12 was a bit more prompt in explaining Texas' non-fumble against Iowa State. But might I recommend some brevity in this statement? All officials supervisor Walt Anderson had to say was that there wasn't a camera angle to support evidence of a fumble.
At least when the SEC screws up, it usually owns it promptly and identifies officials who have been reprimanded/penalized.
Too often, though, who got what wrong and why varies from league to league. Why shouldn't officials be identified for their mistakes, the same way players are when they commit a penalty? In an age where transparency is a precious commodity, we need more when it comes to the arbiters of the game, not less.
Pay them a salary, give them benefits. Lord knows, the FBS commissioners can afford it. A nice starting point would be an across-the-board policy to list the replay official at each game in items distributed to the media. There's a thing called a "flip card" we get before each game that contains the numbers, rosters and two-deep chart. Sometimes lists the replay official, sometimes it doesn't.
Obviously, the replay official has become an integral part of officials' game management.
Sun Belt commissioner Karl Benson doesn't sense a change for nationalization. But he noted that nonconference games are going to become more important in the playoff era because of schedule strength.
"I've always been a proponent in nonconference games that you need neutral officials," Benson said. "Next year, how important nonconference games are going to be, you want to remove all doubt about fairness." 
Rogers Redding sits in the middle of the discussion. 
"This can't be proven but I know there is tons better cooperation [between] coordinators and conferences than there used to be," said the game's national officiating supervisor. "Part of it is technology has transformed the way we evaluate officials. We don't hear the complaints about consistency, intersectional play. That's not to say it's perfect."
Redding was hired for his current position in 2011 by College Football Officiating, an L.L.C., a group formed by the Collegiate Commissioners Association and the NCAA in 2007. The idea was to create more uniformity in officiating.
Good idea. Let's expand Redding's power. He is widely respected. There shouldn't be any such thing as an "SEC official" or "Conference USA official." Labels imply something that shouldn't be there. Put them all in that Mason jar. Pay them all the same wage. Let some national body rate them. Not doing so implies that SEC officials have a much harder job -- that the game means more to its fans, players -- than anyone else.
Part of that statement may be true but I'm guessing Sun Belt players and coaches are just as committed. And that's a further problem. It's a socialist structure. Conferences compete for the best officials. The SEC might have its eye on an up-and-coming Big 12 official, and can pay more money than another league.
(To be fair, the Big 12 and Mountain West have an agreement to share officials as do the Big Ten and MAC. "There are some baby steps in that direction," Redding said.)
College football's zebras should be the same as baseball umpires. The more anonymous, the better.
Instead, we have the likes of Gordon Riese basically run out of the game after the Oklahoma-Oregon fiasco. Hey, I know Oklahoma got screwed but does that make it right that a replay official's life was impacted?
We are bordering on a national officiating crisis if only because of the new targeting ejection rule. Targeting interpretation has become an acquired taste. Officials know it when they see it. That's not good enough. In the first half hour of play on Saturday, three SEC East players (Georgia, Florida, South Carolina) were automatically ejected for targeting.
While the ejections themselves can be reviewed and overturned, the penalties themselves cannot. Alabama's Ha-Ha Clinton Dix had a targeting ejection overturned in the Texas A&M. The penalty stayed.
However, the officials avoided an embarrassing situation that day. Dix was playing the ball so well that he almost intercepted it. There happened to be upper body contact as he played it, nothing malicious. Think of a scenario where a player like Dix essentially could have been ejected after an interception.
In another variation of the rule, the Big 12 suspended a player in the week after his game. Officials had missed the targeting call. There was no penalty during the game.
There have been cries to refine the targeting suspension rule. (The rules committee will address the issue early next year.) But it was the FBS commissioners who asked the rules committee to implement the rule in the name of player safety.
It isn't going away anytime soon.
"Some coaches have said it's going to change the game," one commissioner told me emphatically. "Yes, it's going to change the game."
All we need now is that Mason jar.
Kevin Sumlin addressed Texas A&M's decision to cancel a rally scheduled for Sept. 11

Expectations are high for Charlie Strong at South Florida, and Houston looks to take the next...

There are new names to learn every season, and here are five to keep an eye on from the AA...
Taking a close, detailed and opinionated look at the AAC a week before the start of the 2017...

These Jayhawks got a tremendous surprise they weren't expecting

Jovon Durante announced on Twitter he's headed to FAU